6 Top Bloggers Share Their Summer to Fall Transition Tips
It's time to say a familiar farewell to sweet summertime and an excited hello to autumn! From dreamy sweaters to luxurious leather, we turned to six of the fashion sets top beautiful bloggers.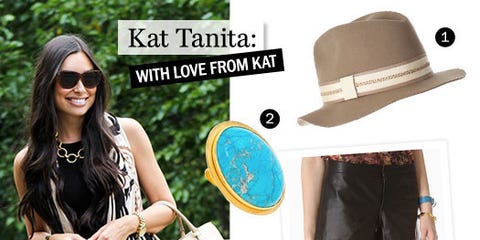 It's time to say a familiar farewell to sweet summertime and an excited hello to autumn! From dreamy sweaters to luxurious leather, we turned to six of the fashion set's top beautiful bloggers — Julia Engel, Rachel Parcell, and Shea Marie, for starters — to give us the low-down on fall fashion.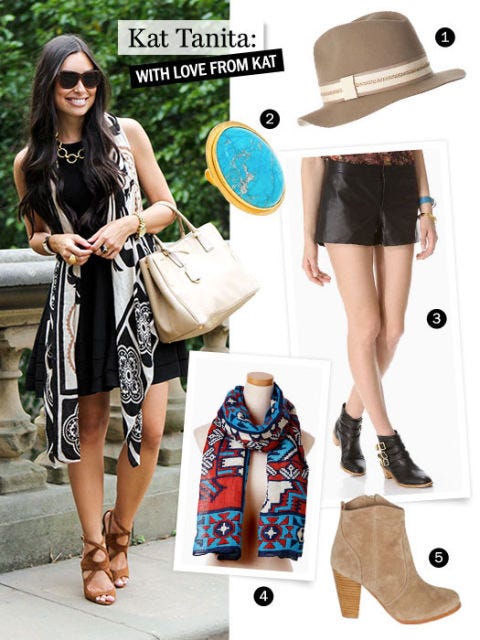 Kat Tanita (With Love From Kat)
I love wearing bright, bold scarves year round. This Theodora & Callum number doubles as a sarong in the summer and scarf in the fall.
A neutral pair of booties like these Joie ones look cute with denim cut offs in the summer and dark skinny jeans in the fall.
Pair leather shorts with a white T in the summer and then a denim button down and boots in the fall.
A floppy hat like this Rag & Bone one is always chic. I can see myself wearing it with black-coated jeans and an oversized sweater in the fall.
I plan on wearing my turquoise jewelry throughout the year. This bold cocktail ring is just the pop of color that a neutral fall wardrobe needs.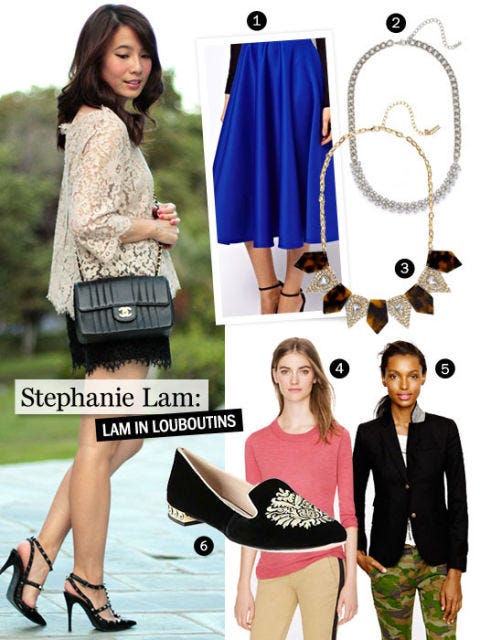 Stephanie Lam (Lam in Louboutins)
Change your shoes. For fall I prefer pointy toe pumps, oxfords or velvet loafers!
Layer a light sweater or cardigan over a crisp button up.
Add a blazer over your summer dresses to take them into fall.
Layer on jewelry. Stack an ornate chunky necklace with a simpler necklace that has a similar element to tie them together.
Work with fall color schemes. I usually love navy, burgundy and cobalt blue.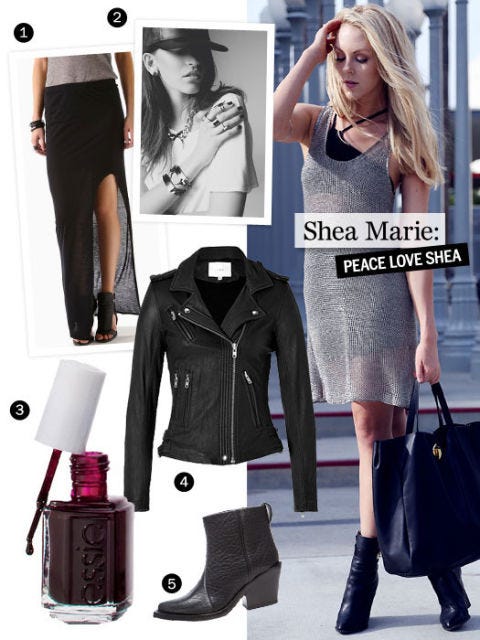 Shea Marie (Peace Love Shea)
Lucky for me, living in Southern California where seasons consist of "summer" and "those couple of 'not-summer' months," summer-to-fall wardrobe transition is quite easy. To set the tone for my fall wardrobe without breaking the bank, I have a few tricks.
Step 1: Swap out your strappy sandals for black or brown ankle booties. One small change and you've already said a lot about the time of year of your outfit.
Trade that babydoll pink nail color for a more earthy tone — burgundy, taupe, olive or even black.
Stack up the accessories. Add a felt hat, lots of metal bangles and cuffs.
Spending most of the summer beachside with a natural makeup-less face to avoid post-swim mascara raccoon eyes, it's time to add a little golden brown eyeliner and wine-colored lip stain.
Here's where you invest in a great leather jacket that will be your fall/winter staple piece. I'm not quite ready to sausage my legs into skinnys all winter though, so my trick is a black maxi skirt or a pair of black tights.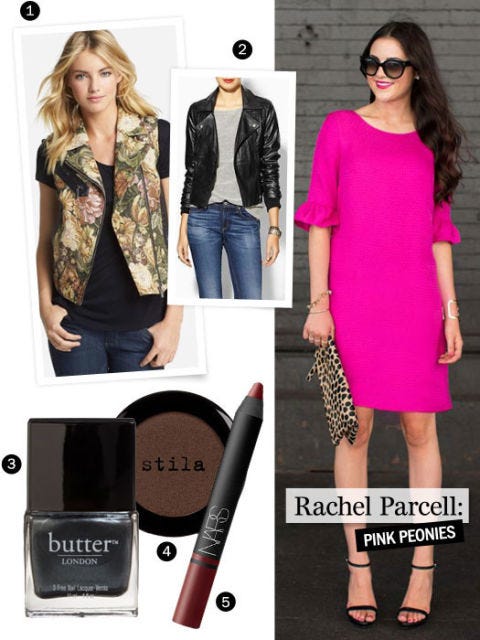 Rachel Parcell (Pink Peonies)
As the summer season begins to shift, so does my wardrobe. However, I love to utilize pieces I already own and mix them in with new to create a fresh and updated look as we make the transition from summer to fall.
I use my wardrobe staple pieces like my leather jacket, blazers or unique vests for layering.
Next, I start infusing jewel tone colors in and pairing them with softer colors and finally, I add deeper hues to my beauty routine whether it's a charcoal nail polish, a burgundy lip or a chocolate brown eye shadow.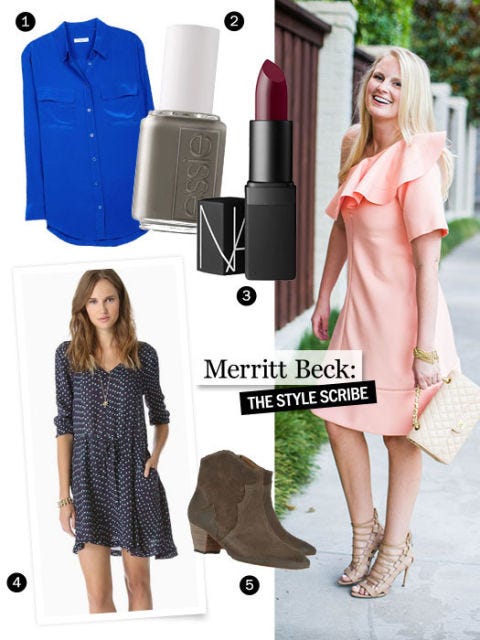 Merritt Beck (The Style Scribe)
I wear Equipment blouses 24/7. I pair wear them with everything from mini skirts to boyfriend jeans to leather pants. They're also a great layering piece with sweaters, vests and jackets, so it makes them a perfect transitional item from summer to fall.
Grey nail polish is one of my favorite fall beauty looks - it's edgy but still sophisticated to wear to the office or a more formal event. It's a crisp look on well- manicured nails. My pick is Essie in Power Clutch.
Booties are a year-round favorite for me. They go great with sundresses and jean shorts during the summer, but transition really well with heavier pieces for fall. Rag & Bone makes a few really excellent pairs in a variety of colors - I love this pair by Isabel Marant.
Silk dresses are a staple in my closet and another good go-to for any month of the year. During warmer months they're lightweight and breezy with sandals, but when you add a leather jacket and booties it's a fun fall ensemble. I'm currently lusting after this Band of Outsiders dress.
Wine-hued lips are one of my favorite looks to sport during the autumn/winter season. It adds a pop of drama to your look in just the right way - just be sure to go light on the rest of your face so you don't look too overdone! Lipstick is one way to liven up your fall look without spending a fortune on a ton of new pieces! My favorite shade is NARS Semi Matte Lipstick in Scarlett Empress.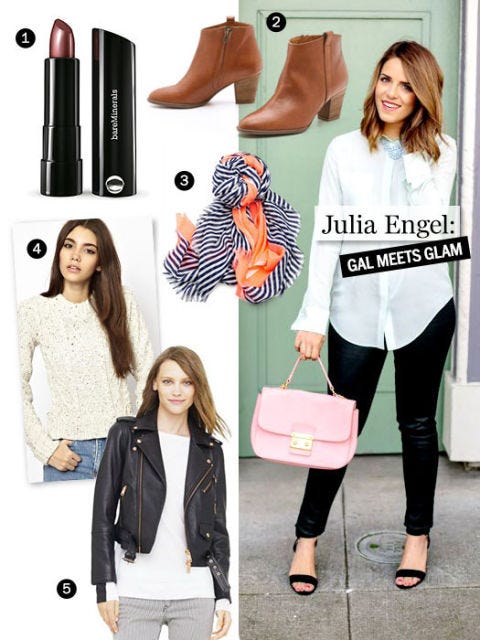 Julia Engel (Gal Meets Glam)
I love wearing lipstick, so for fall, I switch from my usual bright hues to warm, more rich shades. My favorite is bareMinerals Moxie in "Make Your Move."
I've had my leather jacket for years and wear it year round in San Francisco. To transition between summer and fall, I'll pair it over one of my favorite summer dresses. This one from Club Monaco is the perfect edge to any outfit.
Living in a city that hardly ever gets above 70 degrees, I always have a scarf on hand. It's a great accessory to make an outfit look fall appropriate. I think of stripes as a neutral that will go with anything.
One of my favorite summer to fall looks is pairing a chunky knit sweater with my summer maxi skirt- I love the mix of the two textures as well!
Camel is has always been my favorite color for fall (and works year round), so naturally I pair my camel colored booties and handbag with everything.
This content is created and maintained by a third party, and imported onto this page to help users provide their email addresses. You may be able to find more information about this and similar content at piano.io