Alcohol Can Improve Your Ability to Speak a Foreign Language, New Study Reveals
Cheers to science!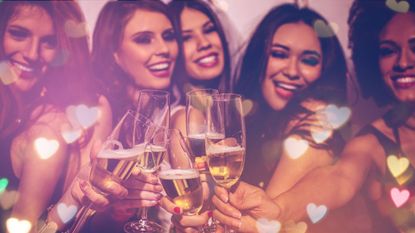 (Image credit: Getty Images)
Have you ever felt like you have simply mastered the French language after a few glasses of champagne? Well, it's not just you. A new study revealed acute alcohol consumption can indeed improve your ability to speak a foreign language.
Yes, it's widely known that alcohol can have some unexpected yet amazing benefits on your health: wine can reduce the risks of cardiovascular disease, and champagne can prevent dementia and memory loss. But the question of how alcohol affects your foreign language ability is not as well understood. Enter: the genius British and Dutch researchers who conducted this study.
The study, which was recently published in the Journal of Psychopharmacology, involved 50 native German speakers who had recently learned Dutch. Every participant said they drank alcohol sometimes, and all had recently passed a Dutch language proficiency exam, Time reports. Half of the individuals in the study were randomly given a low dose of alcohol, while the other half received a non-alcoholic beverage. The amount of alcohol given to each subject was determined by their body type: for example, a 150-pound man was given just under a pint of beer, the Huffington Post reveals. The participants were then asked to have a two minute conversation with an interviewer in Dutch, which was recorded and rated both by two native Dutch speakers and by the participants themselves.
The researchers found that the native Dutch speakers rated participants who drank alcohol as being more fluent compared to those who didn't drink. Specifically, the two Dutch raters said those who consumed alcohol had better pronunciation than the non-drinkers.
While the native-speaking observers saw this improvement among those who drank alcohol, the study notes that the ratings participants gave themselves did not differ between those who drank and those who did not. Meaning: to the casual observer, your language skills really do improve with a drink, but to you they seem exactly the same with alcohol and without. And part of the reason a low-to-moderate dose of alcohol might improve foreign language skills is that alcohol can reduce "language anxiety," according to Time. When you're less anxious about perfecting your performance, your foreign language can improve.
The authors of the study point out that the dose of alcohol was low, and drinking too much may have the opposite effect on foreign language skills, the Huffington Post reports. Additionally, the participants' emotional states and stress levels were not taken into account, both of which can have an impact on an individual's ability to communicate. The authors believe the study should be conducted on a range of foreign languages to see if their findings hold true.
Cheers to improving your foreign language skills! All it takes is a drink or two.
Maggie Maloney is the associate editor at Town & Country and ELLE Decor, where she covers style, beauty, jewelry, and the many members of the royal family. She also manages social media and content strategy for both brands.