7 Reasons You Need to Be Drinking Matcha Right Now
Move over, green juice. This drink is the buzziest new health blend on the block.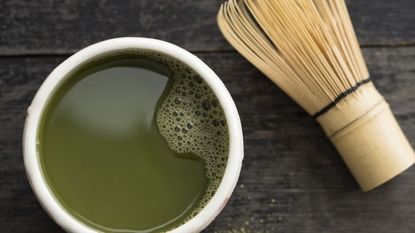 (Image credit: ARCHIVES)
Caffeine addicts, rejoice! There's an even better alternative to coffee and tea—allow us to introduce you to the magic that is matcha.
Even though the vibrant green tea powder has been a major part of Japanese culture for centuries, it seems like its popularity among tea drinkers, health gurus, and those who love a good afternoon pick-me-up is growing now more than ever before. With matcha's crazy-good health benefits and distinctive, bold flavor, it's no wonder so many caffeine drinkers are buzzing about it and starting to make the switch from espresso to the green stuff.
To make sure you're up to snuff on what the heck makes matcha so much more special than any other tea, here's a complete list of things you need to know about what the pretty dust has to offer.
1. It's the best tea for your health.
Matcha growers are super particular about how their tea leaves are grown to ensure its consumers are getting maximum nutrition. Traditionally, matcha leaves are shaded before they're handpicked and ground to ensure all the antioxidants found in the plant are preserved (those babies give it its vibrant hue), according to DavidsTea brand manager Erika Santillana. Not to mention you're actually consuming the entire tea leaf in its most natural and nutritional state, as opposed to only bits and pieces of the leaf typically found in tea bags.
2. It's loaded with nutritional goodies.
So you thought goji berries, dark chocolate, and blueberries had lots of antioxidants? Pssshhh. The amount of antioxidants found in matcha powder is a lot bigger than most other talked-about superfoods—about 143 percent more—and can help protect you against tissue damage, inflammatory issues, and visible aging. As if that wasn't good enough already, nutritionists believe matcha's antioxidants—including the ultra-potent EGCG—also aid in improving your metabolism speed, blood sugar, and cholesterol levels. In short, drinking this dust can help keep your immune system in check, improve weight loss efforts and help you look younger. Score.
3. You won't get a nasty caffeine rush and crash.


No more uncomfortable heart flutters or annoying jitters that typically accompany a coffee binge. Instead of feeling an obnoxious jolt right away, matcha will release energy gradually, says Max Fortgang, co-founder of MatchaBar in Williamsburg, Brooklyn. Even though it technically contains less caffeine than your average cup of joe (12-70 mg/cup versus 95-200), you feel much more balanced and energized because of the leaf's natural amino acid L-Theanine. Basically, when this compound is combined with the chemicals in your brain, you feel both calm and alert at the same time for a three to five hour period, and won't have a sudden crash later on in the day.
4. You don't have to be a hardcore tea drinker to love it.


Even if you prefer espresso, or you just aren't in love with matcha's earthy taste, you can easily incorporate the powder into your daily routine without making any serious taste sacrifices. To convert from coffee, even if it's just once a week, Fortgang recommends drinking a cup the same way you would your preferred beverage, whether that be with a little sugar and cream or in a soy latte form. All you gotta do is swap out the actual coffee beans for matcha.
5. You can put a scoop in anything.
Mix a little with your oatmeal in the AM or throw back a shot of it straight up mid afternoon—either way, the possibilities are pretty endless. When in need of a morning buzz, Santillana recommends putting a scoop or two in your yogurt, cereal, or smoothie for a subtle way to reap the rewards of the powder (don't worry, you won't even taste it). Fortgang and his brother and co-founder, Graham, say mixing some in guacamole or a hot stew is another tasty way to squeeze it in at lunch or dinner.
6. It's super simple to enjoy.


Although in traditional Japanese culture matcha is made in a manner that requires a lot of precision and time, tea-drinking enthusiasts have created innovative ways to make the drink more accessible andeasy to prepare. For those mornings when you literally have only two minutes to spare, Santillana recommends forking over a few bucks for a Matcha Maker travel mug to ensure you enjoy the delicious beverage on-the-go and free of clumps (the fine-mesh strainer filters the drink after you give it a complete shake—without it, things can get really gross, really fast). If you're a complete newbie, there are cute starter kits that come with directions, whisks, and delicious recipes.
7. You can customize the blend.


As cliche as it sounds, there truly is something for everybody— whether you like your matcha creamy, spicy, minty, sweet, bitter, bold, or light—there's a flavor for all palette preferences, and everything is adjusted with natural flavorings, rather than creepy ingredients you can't pronounce. Likewise, prices can vary anywhere from $8 to $30 for a 30 to 50 gram tin, making it pretty affordable to mix and match and try new kinds.
You should also check out:
Where Does Your Tea Come From?
32 Surprising Things That Ruin Your Skin
Celebrity news, beauty, fashion advice, and fascinating features, delivered straight to your inbox!
Kayla Keegan covers all things in the entertainment, pop culture and celebrity space for Good Housekeeping. She is the go-to TV consultant for the brand when it comes to shows like The Masked Singer, This Is Us, and America's Got Talent. Prior to joining the team, she worked at House Beautiful, Redbook, Cosmopolitan and Seventeen.