7 Cooking Secrets I Learned in a French Pâtisserie
Stocking up on liquid glucose is only the beginning.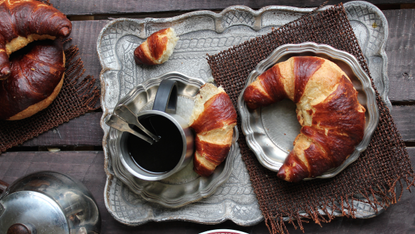 (Image credit: Archives)
After working my way through college as a bread baker, an early morning scone mixer, and a cupcake froster, it seemed only natural that I would take my passion for proofing to the country that has laminated dough down to a science: France. However, finding a pâtisserie that would take an amateur baker (read: I did not go to pastry school) turned out to be a huge challenge. I managed to get my foot in the door at a large pâtisserie in the center of Strasbourg, which sits in northeast corner of France.
In retrospect, it was a totally traumatic experience: Imagine a French chef purposefully making things complicated just so he can torture the untrained American girl. But I learned so much—and I wouldn't trade the experience for the world.
If the trans-atlantic flight and hours of bicep workouts (whisking for hours on end) is not up your alley but you still want to bake like a Parisian pro, I can offer you the next best (and much less expensive) option: the 7 tips and tricks that turned me into a pâtisserie progeny.
This simple sugar is widely used in professional kitchens as it keeps your desserts soft and moist. It can be a little intimidating because of the other-worldly consistency but it is also part of what makes it so fun. If you are looking for a dynamite recipe to start experimenting with, check out the Milk Bar cookbook (opens in new tab) where Christina Tosi (opens in new tab) uses it in all of her cookie recipes.
It does not matter if you are making a mug cake for one or baking all the desserts for your best friend's wedding: Always have a plan of action. Baking is a science and you don't want to remember at the last minute that you forgot to butter the pan or let your eggs come to room temperature. An easy way to create a game plan is to read the recipe first and mentally map out what makes since to do first, where to work, and how long it will take. If you are a more visual person, it never hurts to write it all down.
Mise en place is always a good idea. So stock up on small bowls and measure everything out before you get started. The whole baking process will go so much faster and you are 99% less likely to forget the salt.
Making cookies that need to be frozen, or dough that should be chilled? Think about making space in your fridge before you get started.
When you see glistening fruit tarts there is a reason they look so darn good: Glaze. We always used thinned apricot jelly. All you need to do is heat the jelly in a double boiler with water until it is a thin, drippy consistency (about ½ tsp of water to 1/2 cup of jam). Then, using a pastry brush, gently coat your fruit in a light layer of the glaze, too much and it will look lumpy. This will take your fresh fruit desserts to the next level of gorgeous. this trick also helps keep your fruit fresh a little longer. Win win.
Hear me out. In France they have special croissant butter that comes in large slabs ready for lamination (when you layer butter and dough together to create a flakey pastry à la croissant). So, if you plan on making croissants, or any pastry featuring a laminated dough, let your butter come to room temperature, then cut into 1/2- to 3/4-inch thick slabs, wrap in waxed paper, and put back in the fridge. You will thank me when you start the lamination process.
This trick holds true for chefs (opens in new tab) and bakers alike: labeling is as important as the cooking. Whether you are freezing cookie dough or storing a little left over evaporated milk, always label it with the day you made/open/froze it and the name of what it is. Organization equals efficiency.
You should also check out:
7 Things Living In France Taught Me About Style (opens in new tab)
A Breathtaking 3-Minute Tour of Paris Like You've Never Seen It Before (opens in new tab)
The Hottest 'Hot Guys' Instagram Doesn't Even Need a Gimmick (opens in new tab)