4 Cocktails to Try Now
It's that special time of day again, as in: Friday! Check out the drinks that topped our happy hour list.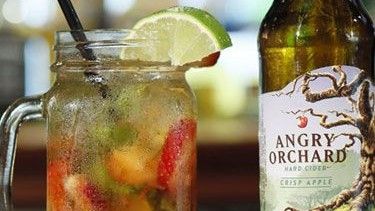 (Image credit: Marie Claire)
Rosy Cooler
Ingredients
2 medium strawberries, quartered
2 basil leaves, julienned (cut into thin strips)
2 lime slices
½ oz simple syrup
1 oz vanilla vodka (used Stoli Vanil)
4 oz Angry Orchard Crisp Apple Cider
Instructions
Muddle strawberries & basil in simple syrup. Squeeze & add the 2 lime slices. Fill glass with ice. Add 4 oz cider. Stir to incorporate ingredients. Garnish with strawberry & lime slice.
Angryosa
Ingredients
½ Angry Orchard (any style)
½ Orange Juice
Instructions
Mix and Serve in a champagne flute. Garnish with an orange rind.
Patron and Tonic
Ingredients
2 oz. Patrón Silver
Tonic Water
Lime wedge for garnish
Instructions
Combine Patrón Silver with tonic water in a well-iced highball glass. Garnish with a lime wedge.
The Stone Rose
Ingredients
1 ½ ounces Woodford Reserve
1 ounce Grand Marnier
½ ounce White Cranberry Juice
Splash of fresh lime juice
Splash of simple syrup
Instructions
Served up or on the rocks. Garnish with a stemless cherry.
Jacob's Shandy
Ingredients
1 part Jacob's Ghost White Whiskey
2 parts Lemonade
1 part Light Beer
Instructions
Combine and shake the lemonade and Jacob's Ghost White Whiskey, pour into a chilled glass and float the light beer on top.