Best Summer Side Dish Recipes
What would any picnic, barbecue, or al fresco meal be without an endless array of tasty, flavorful side dishes? Read up on the recipes for these these 10 easy, made-for-summer sides, courtesy of Delish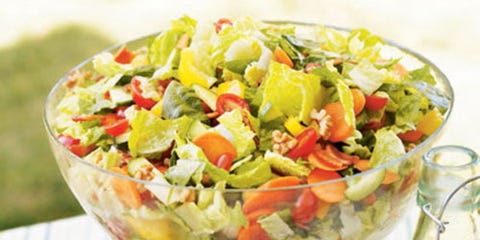 What would any picnic, barbecue, or al fresco meal be without an endless array of tasty, flavorful side dishes? From your staple potato salads to a watermelon creation that will make your mouth water, read up on the recipes for these these 10 easy, made-for-summer sides, courtesy of Delish. Relieve your hard-working taste buds with a glass of one of these 10 refreshing non-alcoholic drinks while these amazing burgers are on the grill.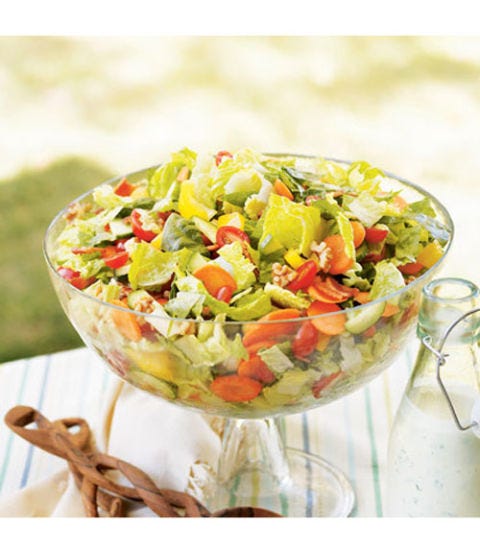 Garden-Fresh Chopped Salad with Herb-Ranch Dressing
Ingredients 1 pound green beans, trimmed and cut into 1-inch pieces 1/2 cup buttermilk 1/3 cup light mayonnaise 2 tablespoons cider vinegar 2 tablespoons snipped fresh chives 2 tablespoons chopped fresh parsley 1 green onion, minced 1/2 teaspoon salt 1/4 teaspoon coarsely ground black pepper 8 ounces hearts of romaine lettuce, coarsely chopped 4 pints red and/or yellow cherry tomatoes, each cut in half 2 red, orange, and/or yellow peppers, cut into 1-inch pieces 2 avocados, peeled and cut into 1/2-inch chunks Directions Heat 3-quart saucepan of water to boiling on high. Add green beans and cook 5 minutes until tender-crisp. Drain beans in colander and rinse under cold running water to stop cooking. Meanwhile, in medium bowl, whisk together buttermilk, mayonnaise, vinegar, chives, parsley, green onion, salt, and pepper until blended; set dressing aside. In 4-quart or larger cylindrical glass bowl or trifle dish, place half of lettuce, then half of tomatoes; top with all of beans, all of peppers, remaining lettuce, then remaining tomatoes. Arrange avocados on top. Spoon dressing over avocados to cover completely. If not serving right away, cover bowl tightly with plastic wrap and refrigerate salad until ready to serve or up to 4 hours. If serving bowl is not large enough for mixing, transfer salad to very large bowl and toss until well coated with dressing. Makes about 14 cups.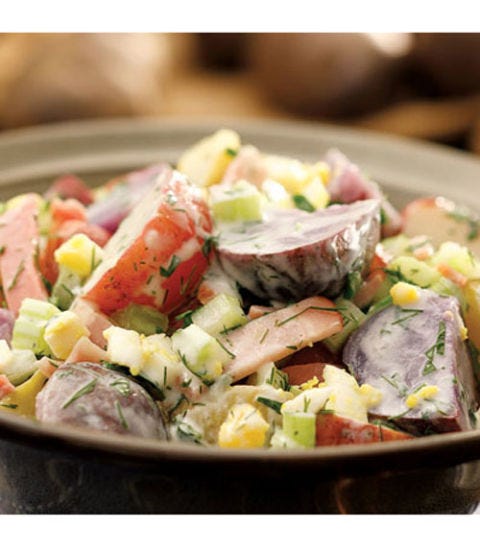 Country Potato Salad
Ingredients 2 pounds small potatoes, preferably heirloom 1 cup chopped celery 2 ounces smoked ham, sliced into strips 1/4 cup chopped fresh parsley 2 tablespoons chopped fresh chives, or scallions 2 tablespoons chopped fresh mint, or dill 3/4 cup nonfat buttermilk 1 tablespoon lemon juice 1 tablespoon peanut or canola oil 1/2 teaspoon salt Freshly ground pepper, to taste 2 large hard-boiled eggs Directions Place potatoes in a large saucepan, cover with water and bring to a simmer over medium-high heat. Reduce heat to medium and cook, partially covered, until just tender, 12 to 20 minutes, depending on their size. Drain and let cool for about 15 minutes. When the potatoes are cool enough to handle, taste a bit of potato skin-if it's bitter or tough, peel the potatoes. Otherwise, leave the skins on. Cut the potatoes into bite-size pieces and put them in a large salad bowl. Add celery, ham, parsley, chives (or scallions) and mint (or dill) to the potatoes. Toss to combine. Add buttermilk, lemon juice, oil, salt and pepper; stir to combine. Gently stir in chopped egg. Serve at room temperature or chilled.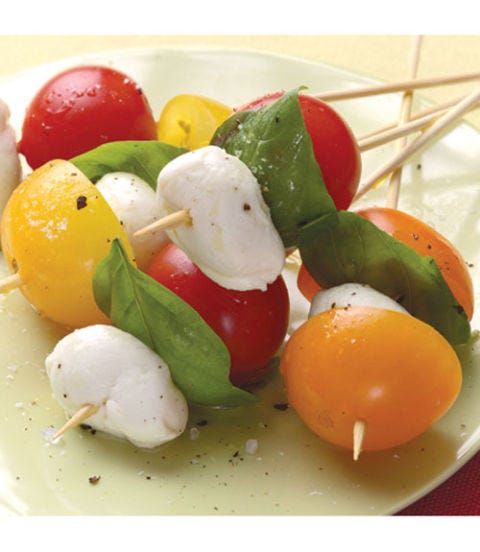 Tomato-Basil Skewers
Ingredients 16 small fresh mozzarella balls 16 fresh basil leaves 16 cherry tomatoes Extra-virgin olive oil, to drizzle Coarse salt, to taste Freshly ground pepper, to taste Directions Thread mozzarella, basil and tomatoes on small skewers. Drizzle with oil and sprinkle with salt and pepper.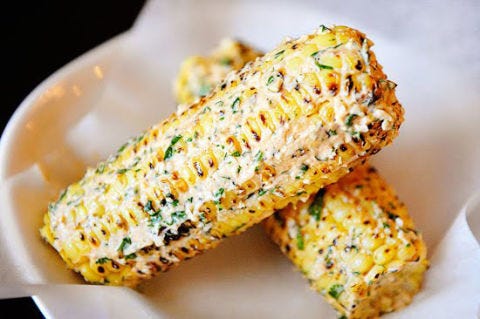 "Courtesy of Dishy Goddess"
Mexican Grilled Corn
Ingredients 2 tablespoons low-fat mayonnaise 2 tablespoons nonfat plain yogurt 1/2 teaspoon chili powder 4 ears corn, husked 4 tablespoon)s finely shredded Cotija or Parmesan cheese 1 lime, quartered Directions Preheat grill to medium-high. Combine mayonnaise, yogurt and chili powder in a small bowl. Grill corn, turning occasionally, until marked and tender, 8 to 12 minutes total. Spread each ear with 1 tablespoon of the sauce and sprinkle with 1 tablespoon Cotija (or Parmesan). Serve with lime wedges.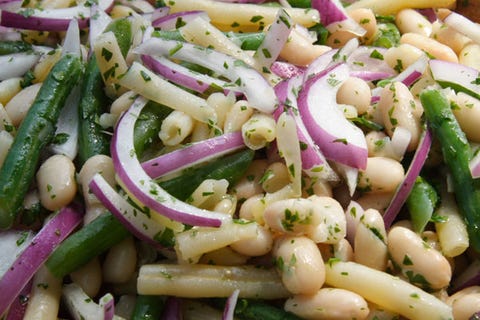 "Courtesy of Katie Brown Homework Shop"
Three-Bean Salad
Ingredients 3 tablespoons cider vinegar 3 tablespoon rice vinegar 1 tablespoon sugar 1 tablespoon whole-grain mustard 1 tablespoon canola oil 1/2 teaspoon salt Freshly ground pepper to taste 1/3 cup diced red onion 1 can (15-ounce) black-eyed peas or chickpeas, rinsed 1 package (10-ounce) frozen baby lima beans or shelled edamame 1 pound green beans, trimmed and cut into 1-inch pieces 2 tablespoons chopped fresh parsley Directions Put a large saucepan of water on to boil. Fill a large bowl half full with ice water and place next to the stove. Meanwhile, whisk cider vinegar, rice vinegar, sugar, mustard, oil, salt, and pepper in a large bowl until blended. Add onion and black-eyed peas (or chickpeas); toss to coat. Cook lima beans (or edamame) in the boiling water until tender, about 5 minutes. Remove with a slotted spoon and refresh in the ice water. Pat dry and add to the bowl. Cook green beans in the boiling water until just tender, 3 to 6 minutes. Drain and refresh in the ice water. Pat dry and add to the salad along with parsley; toss well.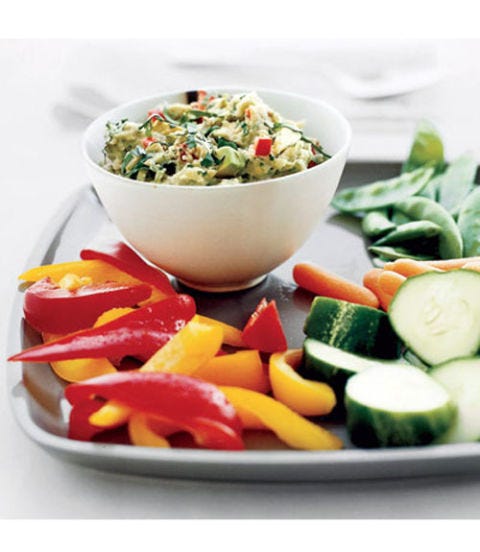 "Courtesy of Good Housekeeping"
Guiltless Guacamole
Ingredients 1 can (15 to 19 ounces) white kidney beans (cannellini), drained and rinsed 1 tablespoon (or to taste) lime juice 1 jalapeño chile, seeded 1/2 cup loosely packed fresh cilantro leaves 1/4 cup coarsely chopped sweet onion (such as Vidalia or Maui) Salt 1 ripe avocado, halved and pitted 2 plum tomatoes Baked tortilla chips or fresh-cut vegetables Directions In food processor with knife blade attached, puree beans and 1 tablespoon lime juice until smooth. Transfer to medium bowl. In same processor, place jalapeño, cilantro, onion, and 1/2 teaspoon salt; pulse until juicy and thick. With spoon, scoop avocado from peel into bowl with beans; mash with fork until mixture is blended, with some chunks remaining. Cut each tomato crosswise in half. Squeeze halves to remove seeds and juice. Coarsely chop tomatoes. Stir tomato-and-onion mixture into avocado mixture until blended. If you prefer a little more zip, stir in additional lime juice to taste. Guacamole is best served as soon as it's made, but you can also cover and refrigerate up to 1 hour. Serve with chips or vegetables.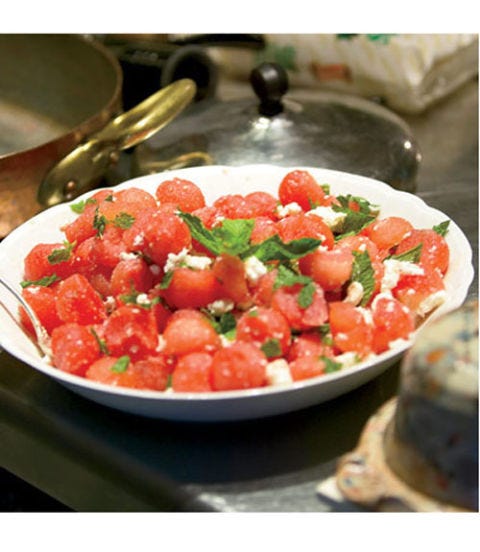 Watermelon Salad with Feta
Ingredients 1/3 cup extra-virgin olive oil 3 tablespoons fresh lemon juice 2 teaspoons kosher salt 1 teaspoon Tabasco 1/2 teaspoon freshly ground pepper 1 (8-pound) seedless watermelon, scooped into balls with a melon baller or cut into 1 1/2-inch chunks, chille 2 cups crumbled feta cheese 1 1/4 cups pitted kalamata olives (optional), coarsely chopped 1 small sweet onion, cut into 1/2-inch dice 1 cup coarsely chopped mint leaves Directions In a large bowl, whisk the oil, lemon juice, salt, Tabasco, and pepper. Add the watermelon, feta, olives, and onion and toss gently. Garnish with the mint and serve.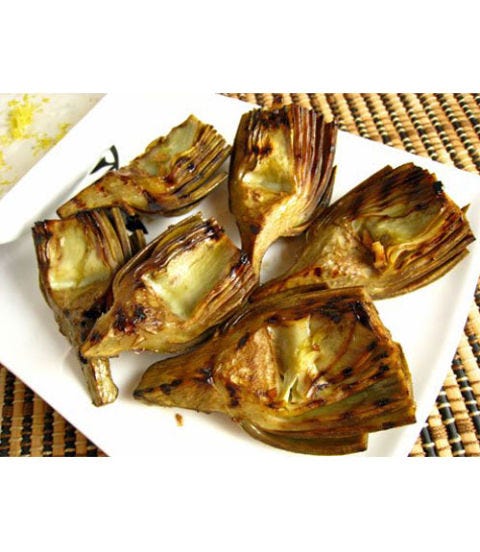 "Courtesy of Closet Cooking"
Grilled Artichokes
Ingredients 2 lemons 4 large (3-3 1/2 pounds) artichokes 1 tablespoon extra-virgin olive oil 1/4 teaspoon salt Freshly ground pepper to taste Directions To prepare artichokes: Fill a Dutch oven with water; add the juice of 1 lemon. Trim leaves from the top of an artichoke. Remove the outer layer(s) of leaves from the stem end and snip all remaining spiky tips from the outer leaves. Trim an inch off the bottom of the stem and use a vegetable peeler to remove the fibrous outer layer. As each artichoke is prepared, drop it into the lemon water to prevent it from turning brown. When all the artichokes are prepared, cover the pan and bring to a boil. Boil until the base of the stem can be pierced with a fork, 12 to 15 minutes. Transfer to a cutting board and let stand until cool enough to handle, about 10 minutes. Meanwhile, preheat grill to medium. Slice the artichokes in half lengthwise. Scoop out the choke and first few inner layers in the center until the bottom is revealed. Brush each half with oil and sprinkle with salt and pepper. Grill the artichokes until tender and lightly charred, about 5 minutes per side. Transfer to a serving platter, squeeze half a lemon over them and garnish with the remaining lemon half cut into 4 wedges. Serve warm, at room temperature, or chilled.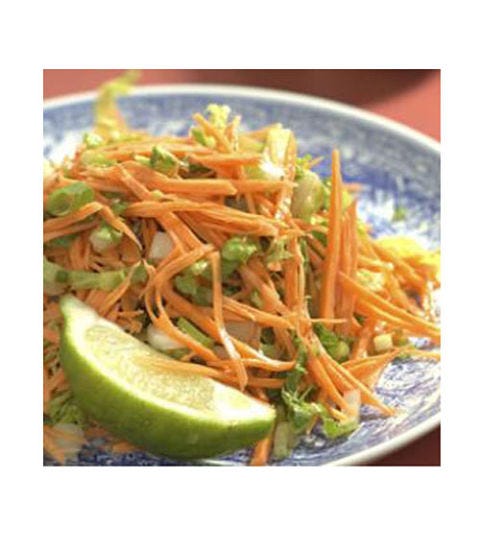 "Courtesy of Eating Well"
Sweet Potato and Cabbage Slaw
Ingredients 2 tablespoons canola oil 1 tablespoon lime juice 1 1/2 teaspoons toasted sesame oil 1/2 teaspoon salt 3 cups coarsely grated peeled sweet potato (about 1 large) 3 cups thinly shredded napa, or Savoy cabbage 4 scallions, trimmed and thinly sliced 1 teaspoon finely minced serrano, or jalapeño pepper with seeds (optional) Directions Whisk canola oil, lime juice, sesame oil, and salt in a large bowl. Add sweet potato, cabbage, scallions, and serrano (or jalapeño), if using; toss to combine. Serve immediately.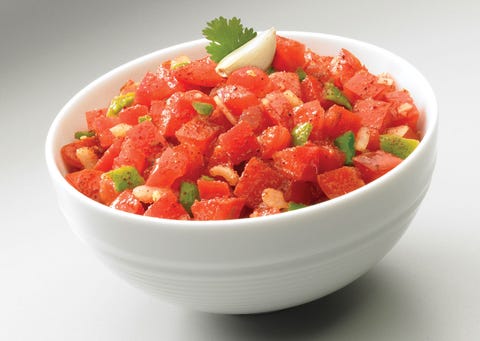 "Courtesy of E-Presscenter"
Orange-Chipotle Salsa
Ingredients 3 medium navel oranges 2 plum tomatoes, seeded and chopped, or 3/4 cup grape tomatoes, quartered 2 green onions, thinly sliced 1 tablespoon chopped fresh cilantro leaves 1/2 teaspoon chipotle chile puree, or 1 teaspoon chipotle hot sauce Salt Directions From 1 orange, grate 1 teaspoon peel; place in medium bowl. Cut remaining peel and white pith from all oranges. Holding oranges, 1 at a time, over bowl with peel, cut on either side of membranes to remove each segment, allowing fruit and juice to drop into bowl. Discard seeds, if any. With kitchen shears, coarsely cut up orange segments. To bowl with fruit, add tomatoes, green onions, cilantro, chipotle puree, and 1/4 teaspoon salt; stir to combine. Cover and refrigerate salsa if not serving right away.
This content is created and maintained by a third party, and imported onto this page to help users provide their email addresses. You may be able to find more information about this and similar content at piano.io