16 Delicious Summer Recipes from Industry Tastemakers
Here are 16 delicious dishes and drinks for summer from celebs and designers.
To kick off the sizzling season right, we asked our favorite industry tastemakers to share their go-to recipes for when the temps start to soar. From the salmon and asparagus roll-up that will make your skin glow to Zac Posen's sweet Pâte à Choux confections, here are 16 delicious dishes and drinks for summer.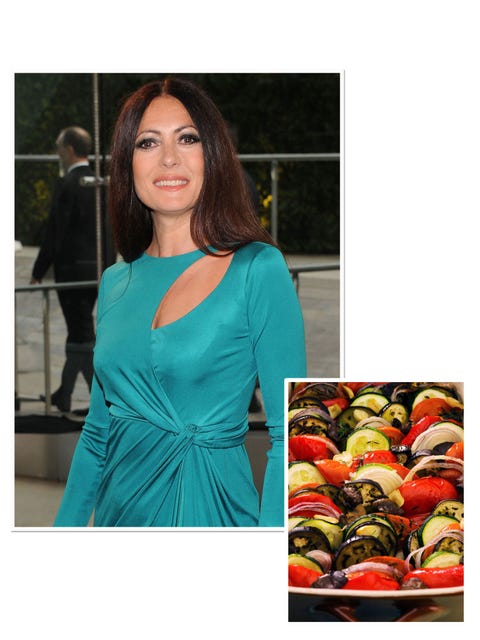 Catherine Malandrino
"With a glass of rosé it reminds me of Provence" Ratatouille 3 tablespoons olive oil 1 onion, thinly sliced 4 garlic cloves, peeled and sliced 1 small bay leaf 1 small eggplant, cut into 1/2-inch pieces (about 3 cups) 1 small zucchini, halved lengthwise and cut into thin slices 1 red bell pepper, cut into slivers 4 plum tomatoes, coarsely chopped (about 1 1/4 cups) 1 teaspoon kosher salt 1/2 cup shredded fresh basil leaves freshly ground black pepper Over medium-low heat, add the oil to a large skillet with the onion, garlic, and bay leaf, stirring occasionally, until the onion has softened. Add the eggplant and cook, stirring occasionally, for 8 minutes or until the eggplant has softened. Stir in the zucchini, red bell pepper, tomatoes, and salt, and cook over medium heat, stirring occasionally, for 5 to 7 minutes or until the vegetables are tender. Stir in the basil and few grinds of pepper to taste.
Stephanie Szostak
"This is a recipe my parents taught me and it is always a great appetizer in the summer." Exotic Kiwi and Prawn Salad: 2.2 lbs of Prawns Sea salt 2 limes Dijon mustard Olive oil Curry, salt, pepper 6 kiwis Preparation: 10 min Cooking time: 3min Add prawns to boiling salted water for 3 min. Let the prawns cool down in their juice and peel them. While the prawns cool down, prepare the sauce. In a bowl, combine the juice of 1 1/2 lime (save the last half to slice for presentation), 1 tea spoon of dijon mustard, 3 table spoons of olive oil, one generous pinch of curry, salt and pepper. Peel and slice kiwis into 1/4 to 1/2 inch slices. Place the kiwis on a plate in a circular shape, add the prawns and add the sauce. Serve cold and decorate with last half of lime cut in thin slices.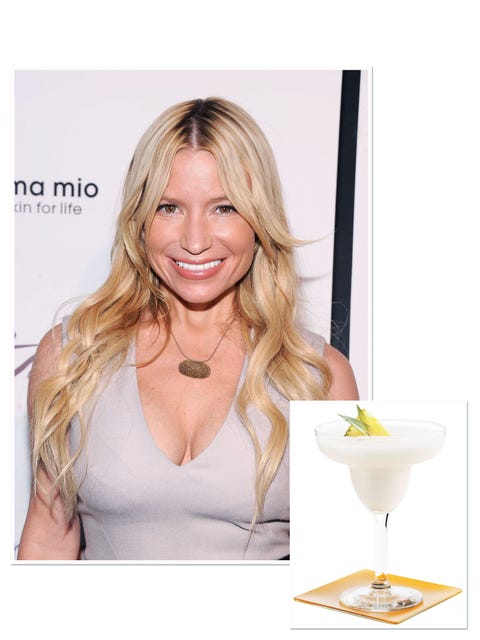 Tracy Anderson
"There are no benefits to an actual piña colada. [But this one] you can get the health benefits of the pineapple and it tastes like a shake!" Vanilla Pina Colada 1/2 cup unsweetened coconut milk 1/2 cup water 2 Scoops Tracy's Wellness Shake in Vanilla 1/2 cup fresh pineapple Ice cubes to add in Blender Blend all ingredients in a blender until smooth. Pour into a fun wine glass and enjoy!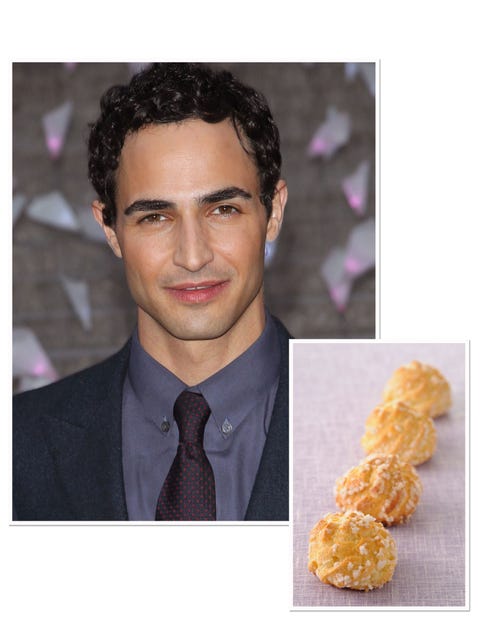 Zac Posen
"I wanted to share this recipe because it can be made sweet or savory. It's easy to make and includes ingredients you most likely have in hand in your kitchen." Zac Posen's Pâte à Choux 1 Cup of Water 1 Stick of butter 1 Cup of Flour 4 Large Eggs 1 Teaspoon of Caster Sugar Pinch of Salt Vanilla Bean Extract Pre-heat oven to 425ºF In a medium pot bring water and butter, sugar, and salt to simmer on medium heat. Take off heat and add flour. Whisk by hand. Once incorporated let it cool for 5 minutes. Add one egg at a time until ingredients are incorporated. Spoon the dough into a piping bag or zip-lock bag and squeeze into small puffs about 2-inches apart. Press down points with water and give light egg wash. For a more sweet pastry sprinkle with some caster sugar. Bake at 425ºF for 10 minutes, than 350ºF for 25 minutes.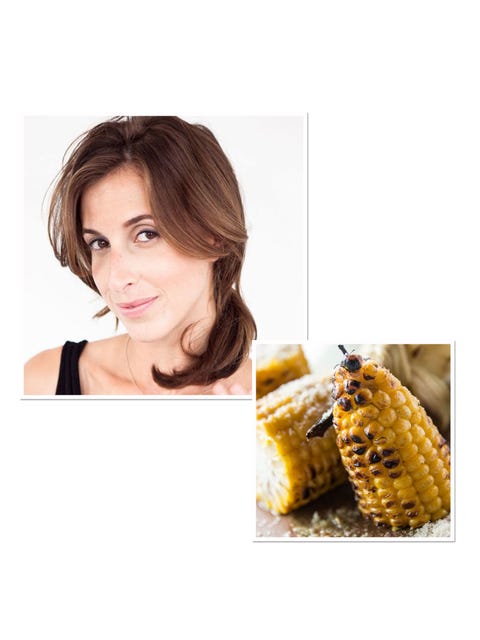 Getty Images/ Courtesy of Katia Beauchamp
Katia Beauchamp
"I love this recipe because you can make everything outside near the grill- perfect for summer. And, it spices up the traditional corn on the cob." Grilled Mexican Corn 6 pieces of fresh corn, (in the husks, but clean out the strands first) 1 stick of butter, melted 1/4 cup of sea salt 1/4 cup of ground red pepper 1tsp of cumin 1 cup ground parmesan 3 limes (cut into lime wedges) Fire up the grill. Once it is hot, put the corn directly on and cover it for 10 minutes (rotate once). While that is happening, melt the butter and put in a baking pan so you have room to roll the corn. Mix together the red pepper, cumin and parmesan cheese and spread onto another baking sheet.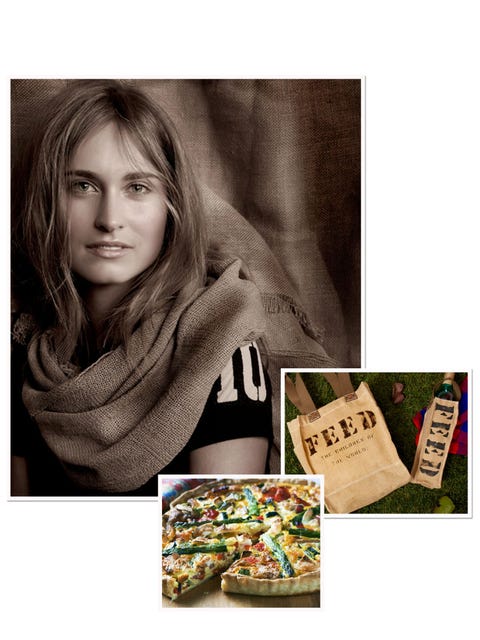 Getty Images/ Courtesy of Lauren Bush
Lauren Bush
"This quiche from Ricky Lauren's The Hamptons: Food, Family, and History is the perfect dish to serve during a casual summer picnic. Being a vegetarian, there's nothing I love more than finding a recipe that calls for delicious, fresh vegetables so this is a favorite. Pack it up with a jug of lemonade or a lovely bottle of rosé in our FEED 50 bag* (which gives fifty school meals to children globally) and you're all set for a wonderful time." Asparagus, Mushroom, and Red Pepper Quiche 1 1/2 cups of all-purpose flour Pinch of salt 6 tablespoons unsalted butter, cut into 1/4-inch cubes 1 large egg yolk 2 teaspoons cold water For the filling: 4 large eggs 1/2 cup of heavy cream 1 cup Parmesan cheese, grated 12 asparagus tips, blanched 6 cremini mushrooms, sliced and lightly sautéed in butter 1 red bell pepper, cut into strips Salt and freshly ground black pepper Freshly grated nutmeg Preheat the over to 350ºF To make the shortcut pastry: Put the flour, salt, and butter in a food processor and pulse until the mixture resembles bread crumbs. While still pulsing, add the egg yolk, and water, a little at a time, until the mixture comes together. Roll out the dough on a floured surface and fit it into a 9-inch pie pan. Line with parchment and pie weights or dried beans. Bake for 10 minutes. Let cool. Leave the oven on. To make the filling: Whisk the eggs and cream together in a large bowl. Stir in the cheese, asparagus, mushrooms, and bell pepper and season with salt, pepper, and nutmeg to taste. Pour the mixture into the cooled pie shell. Bake until the top is golden brown and the custard is set, 30 to 35 minutes. Serve hot.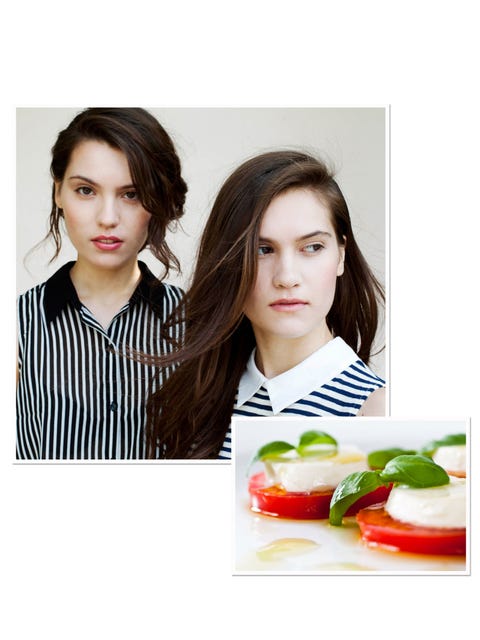 Getty Images/Allister Ann
Lily & Madeleine
Caprese Salad 3 large tomatoes cut in 1/2 in slice 1 lb. fresh mozzarella cut in 1/4 in slice 1/2 cup fresh basil leaves 1/4 cup olive oil 2 tbsp. balsamic vinegar Salt & pepper Arrange alternate slices of tomato and mozzarella on platter. Sprinkle with salt and pepper and spread fresh basil leaves over salad. Drizzle with olive oil and balsamic vinegar.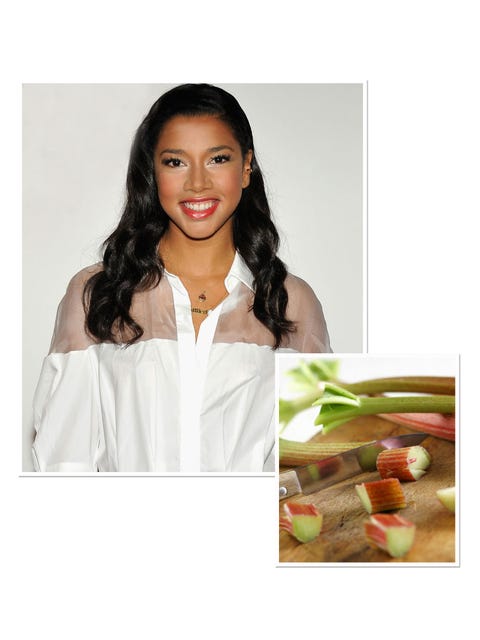 Hannah Bronfman
"I love this for summer because rhubarb is in season and I wanted to make a savory, rather than sweet/traditional dish. I found this recipe on Scissors & Spice and modified it by adding more vegetables. I love it because it's gluten and dairy free, but delicious and filling." Savory Rhubarb Lentil Curry 2 large yams 2 cups red lentils 6 cups of water 2 bay leaves 3 stalks of rhubarb (diced into small pieces) 1 red bell pepper (diced into small pieces) 4 cups tatsoi, chopped finely 1 cup purple/green cauliflower 2 TB olive oil 1 TB of mustard seeds pinch of red pepper flakes 1/2 tsp fennel seeds 2 TB minced ginger 2 TB cumin powder salt to taste Directions 1. Pour 3 cups of water in a saucepan. Add lentils and bay leaf. Bring to a boil, then simmer for about 30 minutes or until lentils are soft, but not falling apart. Drain excess water. 2. Bake yams at 425 for about 20 minutes or until the skin pulls away from the flesh and the potato is soft. 3. While lentils are simmering, cut your vegetables. Blanch cauliflower. 4. In a large sauté pan, heat oil and then stir in mustard seeds. Once they start popping, add red pepper flakes and fennel. Add ginger (careful here, this may lead to a minor explosion. Have a lid handy just in case or you will have mustard seeds all over your floor.) Add cumin. 5. Add red peppers and rhubarb to the pan. Sauté for a few minutes. Add spinach and sautée until fully cooked. Add cooked lentils, cooked yam and cauliflower and stir. Add salt to taste. 6. Serve alone or with a grain like rice or quinoa.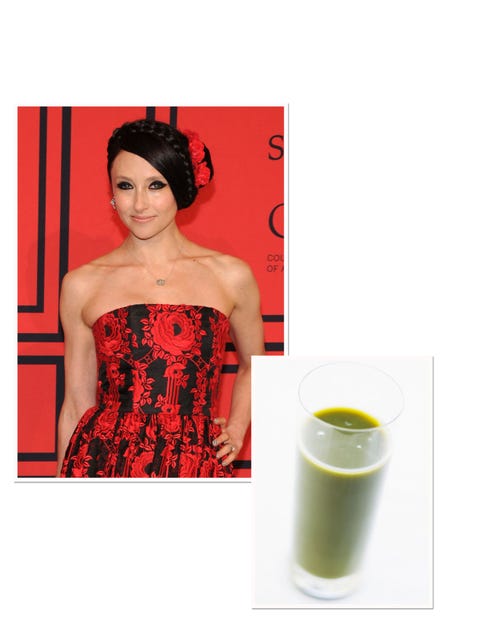 Stacey Bendet
"Refreshing, light and delicious. A great way to start your day, or as a healthy afternoon snack!" Green Milk 2 cups fresh almond milk (easy to make in a Soyabella mixer) 1 cup fresh coconut water 1/2 banana 1/2 cup of steamed spinach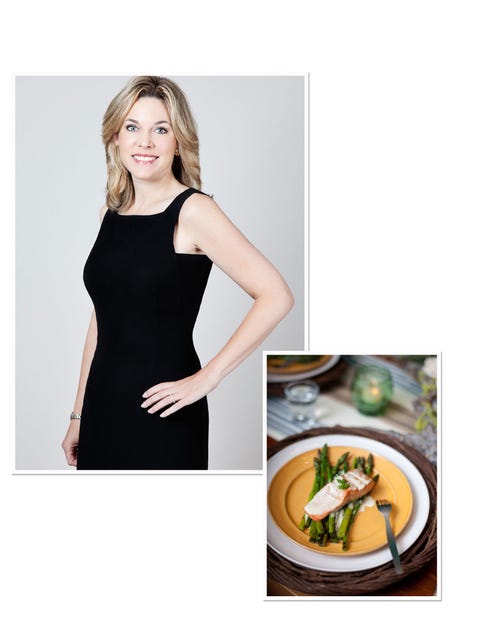 Getty Images/ Courtesy of Elizabeth Tanzi
Dr. Elizabeth Tanzi
"For skin purposes, this recipe is amazing because the salmon is anti-inflammatory, the goat cheese is easy to digest, and the whole thing is low-carb which is helpful for anyone with acne or rosacea. It's an all-around winner." A Salmon and Asparagus Roll-Up 2 tablespoons of shallots 1/4 cup chopped asparagus in olive oil 4 oz of fresh chèvre (goat cheese) Sushi-grade Salmon Slices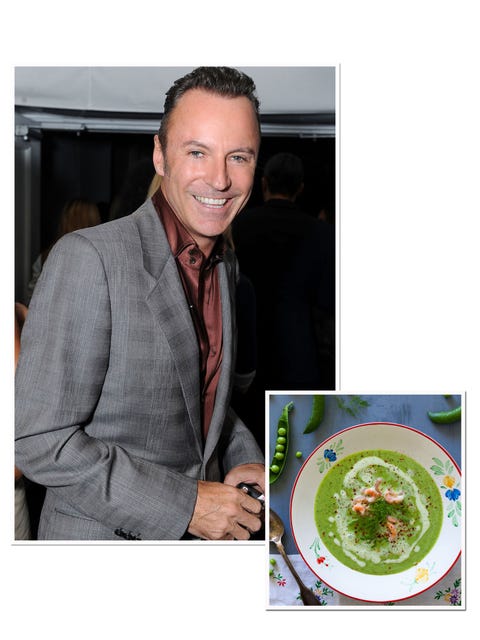 Colin Cowie
"I love the texture and the flavor of adding a little bit of crab to the bottom of the bowl. My guests always love it!" Pea and Crab Soup Ror 4 servings (served hot or cold): 4 tablespoons of unsalted butter 1 onion chopped - sautéed in the butter 2 garlic cloves sautéed in the butter 1 green jalapeno –seeded and minced3 cups of frozen peas Pinch of sugar 3 3/4 of a cup of chicken stock (or vegetable) Salt and pepper top taste Two tablespoons of chopped fresh mint Extra mint leaves for garnish Softly whipped cream - for top Add bits of crab to the bottom of the bowl Pour soup over crab Chives and whipped cream on the top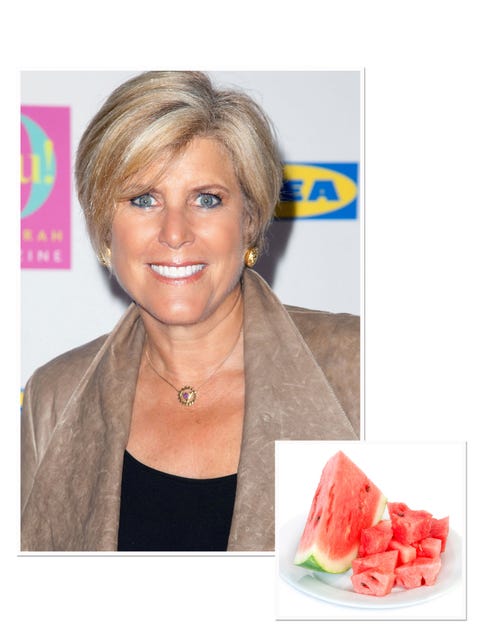 Suze Orman
"My favorite summer snack is a huge bowl of fresh watermelon chunks tossed with a few leaves of chopped mint, and a generous shake of sea salt!" Watermelon and Mint 1 ripe watermelon Chopped mint leaves Sea salt Use a melon baller to scoop pieces of watermelon into a bowl. Rinse mint leaves and coarsely chop, then add to the watermelon. Finally, add coarse sea salt to taste.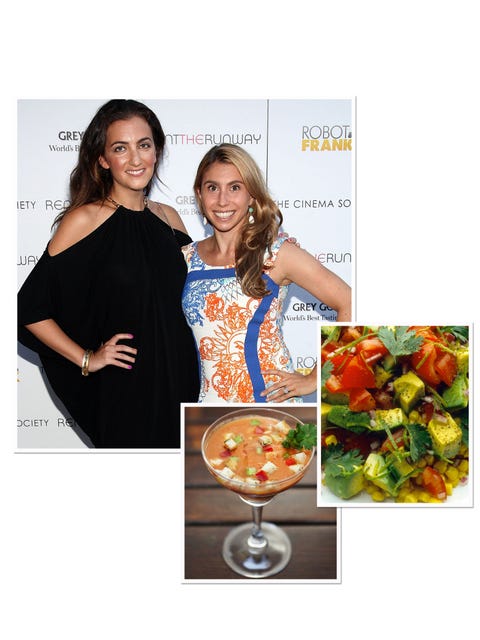 Jennifer Hyman and Jenny Fleiss
Mom's Gazpacho Sweet corn Baby tomatoes Cubed avocado Salt and pepper to taste Boil 6 ears of corn and then shave the corn off of the ear with a knife. Then, slice cherry tomatoes in half and add 2-3 cups of them to the shaved corn. Finally, cut 1 avocado into cubes, add to the corn and tomato mixture, and season with salt and pepper to taste.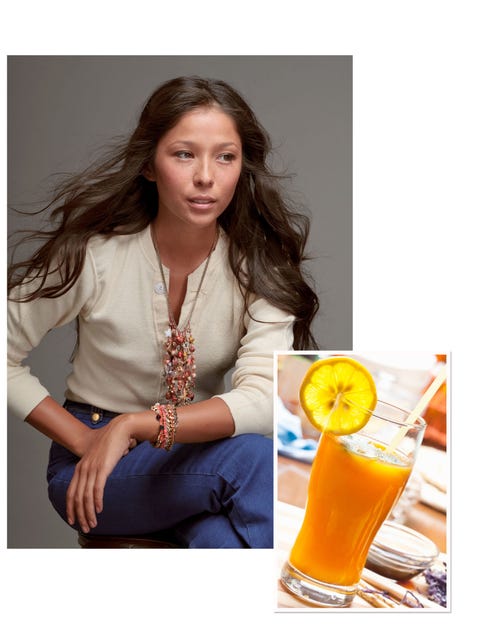 Getty Images/Courtesy of Venessa Arizaga
Venessa Arizaga
"Every morning, I look forward to making this juice before breakfast. Because I make it myself, I know exactly what kinds of nutritious ingredients are going into my body. The drink keeps me hydrated, full, and most importantly, super energized to help me get through my busy work schedule." Rising Sun Juice 4 Oranges 6 Medium Carrots 1 Cucumber 1 Small Beet 1 Broccoli Head 1 Lemon (Adds freshness) 1-2 Green Apples (This helps to hide the taste of the vegetables) 2 Inch Branch Ginger 4 Strawberries 1/2 Pint of Blueberries After juicing all of the ingredients, I like to store the juice in a glass Ball Jar to preserve the freshness.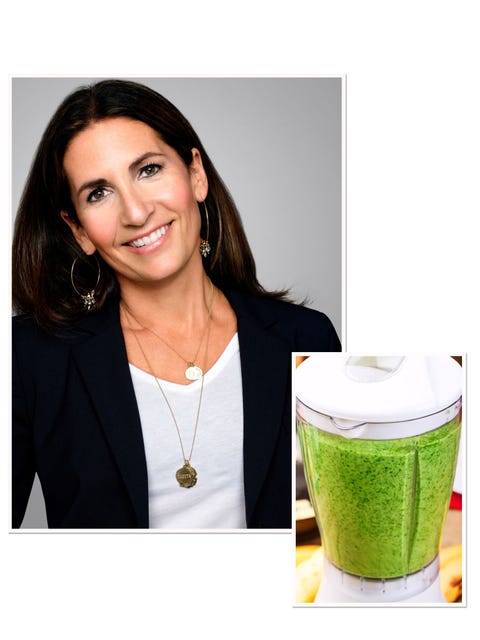 Getty Images/Courtesy of Bobbi Brown
Bobbi Brown
"I really believe in the power of kale for inner and outer beauty. I love this shake for summer because it is refreshing and filling, and healthy for those watching their weight during swimsuit season." Coconut Kale Shake 1 cup of ice 1 cup coconut milk ¼ cup of cocoa powder 2 tablespoons of chia seeds 2 scoops of chocolate protein powder ½ frozen organic banana A handful of frozen organic cherries ½ to 1 cup of frozen kale, depending on personal taste Add all ingredients to blender (Bobbi loves her Vitamix) and blend for one minute until you have a smoothie. Pour and serve.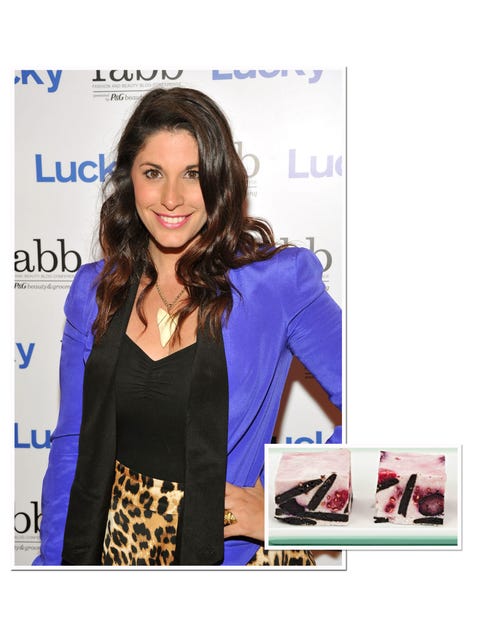 Getty Images/Courtesy of P.S-I Made This
Erica Domesek
"This summer, infuse DIY into your kitchen (as-in, Do-It-Yourself…without an oven!). This is a warm weather favorite!" No Bake Makery Retro Cake 3/4 cup of bluberries 3/4 cup of rasberries 3/4 cup of sugar 1 pack of gelatine 2 cups of heavy cream Wafer Cookies 8-inch square pan Aluminum foil Saran Wrap Nonstick spray Pour a pack of gelatin into a small bowl filled with 3 tbps of water; let mixture sit for 2 minutes. Combine 3/4 cup each of raspberries, blueberries, and sugar in a saucepan. Cook ingredients over medium-low heat. Once the sugar has completely dissolved, stir in the gelatin mixture and let dissolve, before removing from heat. Cool to room temperature. Next, use an electric mixer to mix 2 cups of heavy cream in a large bowl. Mix until stiff peaks form. Gently fold the berry mixture in with the cream. Cover the bottom of an 8-inch square pan with aluminum foil and nonstick spray, then line with wafer cookies. Pour the mousse mixture into the pan evenly, then vertically insert the remaining cookies. Cover with saran wrap and freeze overnight. Peel away the plastic wrap then slice and serve!
This content is created and maintained by a third party, and imported onto this page to help users provide their email addresses. You may be able to find more information about this and similar content at piano.io