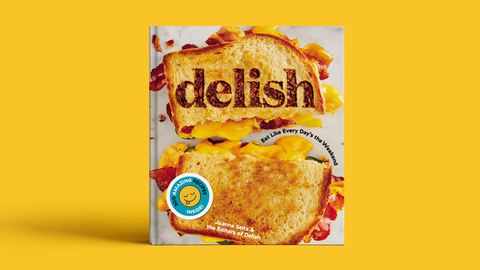 This fall, Delish has released its first-ever cookbook to bookstores everywhere. It's out now and contains more than 300 Delish recipes delivered to your door. Here's everything you need to know about what to expect from the book.
1
It's called Eat Like Every Day's The Weekend...
...because weekend eating is the best kind of eating. No good story ever started with "my sad desk lunch."
2
It's jammed with new recipes.
The Delish Cookbook has more than 300 recipes, and over half of them are brand spanking new. But it also has some of old favorites, like Jalapeno Popper Cups.
3
But it's also not your normal cookbook.
To quote the great Amy Poehler, it's not a regular cookbook, it's a cool cookbook. We've got entire chapters dedicated to pizza and tacos, crazy memes sprinkled throughout, some of our favorite celebrity soundbites, and way more fun stuff.
4
It's got tons of behind-the-scenes info.
Find out who's creating the recipes, what it's like to work around food all damn day, and the weird stuff Delish editors see on the reg.
It hits stores October 16, so it's great for the holiday season. Get a head start on your Christmas shopping now!
Follow Delish on Instagram.