Editors handpick every product that we feature. We may earn commission from the links on this page.
8 Best Iced Tea Makers of 2020
Get that sweet taste of sweet tea at home.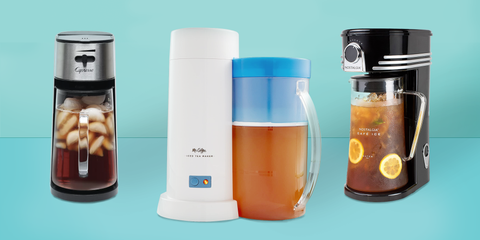 Few things say summer like a big ol' pitcher of an iced tea cocktail on the buffet at a backyard barbecue. It's a win-win, really — the refreshing treat is more inspired than an array of sodas, bottled tea, and water, but there's no need to break a sweat when brewing. With the right iced tea maker at your disposal, whipping up a big batch of tea is as easy as 1-2-3. These are the best iced tea makers for home use.

1
Best Large Capacity Iced Tea Maker
Mr. Coffee Adjustable Brew Strength Iced Tea Maker
If you go through iced tea faster than you can brew, try this electric machine. It holds up to eight cups, in a convenient pitcher. Reviewers also love the strength function, which allows you to choose between varying levels of intensity to achieve desired flavor.
2
Best Customizable Iced Tea Maker
Capresso Iced Tea Maker
Use the adjustable flavor enhancer button on the front of the machine to brew bags or loose tea at varying strengths, from mild to strong, directly into a dishwasher-safe glass pitcher.
3
Breville One-Touch Tea Maker
Though the most expensive option by far, this machine has plenty of bells and whistles that make it special. It automatically brews tea at five different temperature settings, plus allows the user to adjust between mild, medium, and strong settings. It also has a large removable tea basket that automatically lowers and retracts based on the programmed time to prevent over-steeping.
4
Best Non-Electric
Takeya Iced Tea Maker
This non-electric pitcher's claim to fame: It makes ice cold tea in just 30 seconds, thanks to patented flash chill technology that includes an insulated pitcher with an airtight lid. Use the included mesh basket to brew tea using hot water, remove, then fill with ice and shake.
5
Most Popular Iced Tea Maker on Amazon
Ovalware Airtight Cold Brew Iced Coffee Maker and Tea Infuser
Though marketed as a cold brew maker, this manual-style steeps tea just as well. Brew bags or loose tea hot like you would in a traditional tea pot, or brew it cold in the fridge. Though you'll likely drink it much faster, the leakproof lid is said to help maintain flavor for up to two weeks.
6
Best Iced Tea Maker for Parties
Brew To A Tea Cold Brew Coffee and Iced Tea Maker
To prepare enough volume for a crowd, consider this large-capacity non-electric brewer. The removable stainless steel filter holds even the finest loose tea to gently steep an entire gallon of tea that'll keep for up to 14 days. When it's time to serve, there's no need to transfer the beverage into a pitcher — simply place the vessel on your buffet and let guests serve themselves using the built-in spout.
7
Best Electric Iced Tea Maker
Mr. Coffee Iced Tea Maker
This electric tea maker functions much like a traditional coffee machine — simply place water in the reservoir and add your tea of choice (either loose or bags) in the brew basket. The main difference is you also add ice to the pitcher prior to brewing for up to two quarts of the icy cold treat in just a few minutes.
8
Brentwood Iced Tea and Coffee Maker
This electric machine has the same basic functionality as other models — adjustable strengths, a reusable filter basket, and a built-in pitcher — but has one defining characteristic: It comes in a cheerful and summer-ready shade of blue.
This content is created and maintained by a third party, and imported onto this page to help users provide their email addresses. You may be able to find more information about this and similar content at piano.io