Editors handpick every product that we feature. We may earn commission from the links on this page.
14 Best Coasters To Tastefully Protect Your Tabletops
You've perfected what goes in your drink. Here's what should go under it.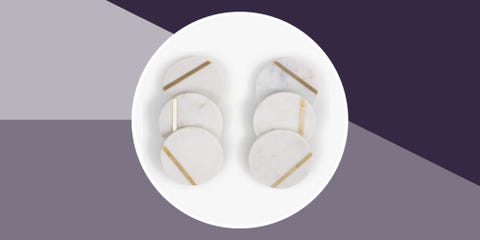 With all the effort surrounding what goes in your drink, a factor equally as important is what goes under it. There's nothing worse than picking up your beverage to reveal an unsightly (sometimes permanent) stain, left by the condensation from your glass. A simple coaster can save you from the hassle of trying to repair damaged furniture or spend money replacing it. Plus, nothing screams chic homemaker more than a tasteful set of coasters for a quirky pop to your tabletop. From boho fringe to sleek brass, here are our all-time favorite picks.
1
Cork & Mill Marble Coasters
The statement gold detailing and chic round marble design make these modern coasters work for all occasions.
2
COTTON CRAFT Glitz Beaded Coasters
Sophisticated and fun, these hand-embroidered coasters feature understated beading that sparkles in the light.
3
DuoMuo Vinyl Record Disk Coasters
Before you get up and groove to the music, set your drink down on one of these vinyl-inspired coasters.
4
ZKZNsmart Handcrafted Woven Coasters
These colorful handmade woven coasters are made from cotton and finished with a fun zigzag detail, with a sturdy structure that can be wiped clean.
5
IYYI Silicone Drink Coasters
These silicone coasters are the most practical and simple option you'll find, featuring a no-slip design that prevents spilling and traps condensation.
6
Pandoza Round Cup Rattan Coasters
Go for a beach house vibe with these natural rattan coasters, which feature a cork backing to prevent slipping.
7
Anthropologie Monogram Agate Coaster
Made with electro-plated agate, these monogram coasters are glamorous with a handcrafted feel.
8
ACKEIVTO Slate Stone Drink Coasters
Made of hand-shaped natural slate, these coasters offer an inherent sleekness, with uniquely chiseled edges for a natural look.
9
Jonathan Adler Full Dose Coasters
Jonathan Adler's signature bold graphics come to life on these retro coasters, depicting red lips and pills that pack a punch.
10
Godinger Silver Art Round Coasters
These white marble coasters are framed with luxurious gold, boasting a signature sheen that will stand out under a drink.
11
Comfortena Regal Drink Coasters
Sleek, polished, and practical, these gorgeous round coasters offer a metallic elegance with absorbent felt inserts.
12
Ankzon Brown Leather Drink Coasters
Elevate your tabletop with these equestrian-inspired coasters, complete with saddle leather and detailed stitching.
13
Viski Belmont Hammered Brass Coasters
The brass detailing and hammered rims of these coasters offer a timeless vintage elegance that will complement a range of decor.
14
GOH DODD Walnut Drink Coasters
A handy holder keeps these handcrafted walnut coasters organized, pairing natural wood with a classic design.
This content is created and maintained by a third party, and imported onto this page to help users provide their email addresses. You may be able to find more information about this and similar content at piano.io