6 Cocktails You Can Make in Your Slow Cooker
Because it's easy, you're lazy, and it's the weekend.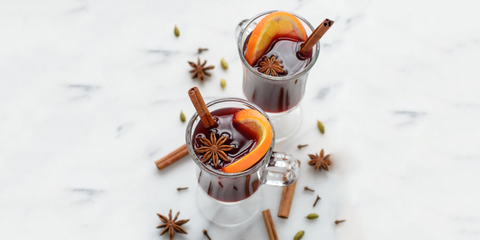 Cocktails are delicious. Cocktails you don't have to really think about? Even more so. With that in mind, it's time to break out that Crock-Pot, grab some ingredients, and make some drinks—then apologize to your slow cooker for underestimating its worth. (It can do way better than pot roast.)
1
Slow Cooker Spiced Wine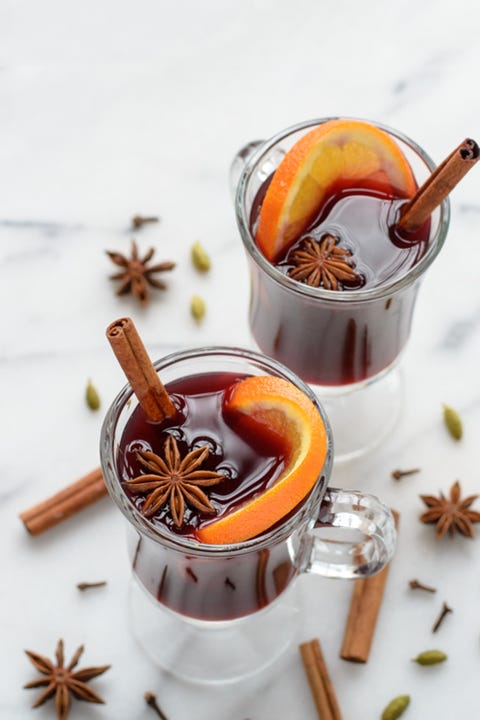 Ingredients:
1 (750 ml) bottle red wine (choose something fruity but not too sweet. Merlot, Zinfandel, or Cabernet Sauvignon all work well)
1/4 cup honey
1 orange, zested and juiced
2 cups apple cider
5 whole cloves
4 green cardamom pods
2 cinnamon sticks
1 whole star anise
1/4 cup brandy
Orange slices, for garnish
Cinnamon sticks, for garnish
To make:
1. Add wine, cider, honey, orange zest, and orange juice to a 3-quart or larger slow cooker. Stir to combine. Add the cloves, cardamom, cinnamon, and anise. Cook on low until warm, 30 minutes to one hour, depending on your slow cooker. Stir in the brandy.
2. Ladle into mugs and serve with an orange slice and cinnamon sticks. To keep the wine warm, leave the slow cooker on the "keep warm" setting. If your slow cooker does not have a warm setting, alternate between "low" and off.
Courtesy wellplated.com
2
Hot Caramel Apple Cocktail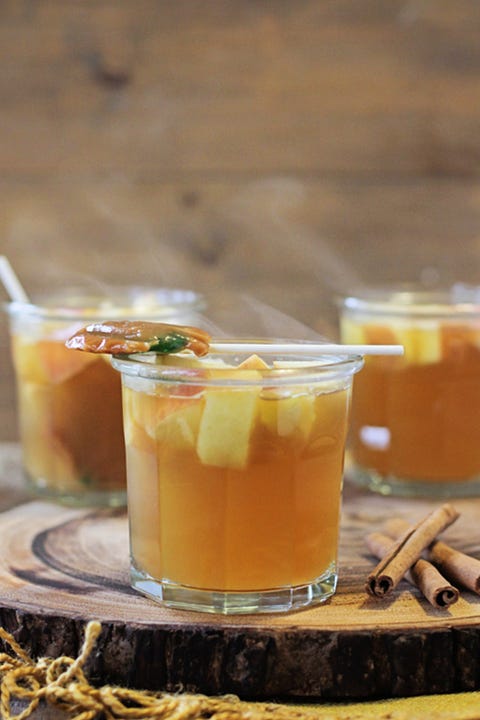 Ingredients:
1 quart + 1 1/2 cups apple cider
1 1/2 cups Apple liqueur
1 cup spiced rum
1/2 cup caramel-flavored syrup
3 apples, chopped
4 cinnamon sticks
Caramel apple suckers (optional)
To make:
1. Place everything in the slow cooker (except the suckers). Cook on the low setting for 1-2 hours. Serve warm.
Courtesy busy-mommy.com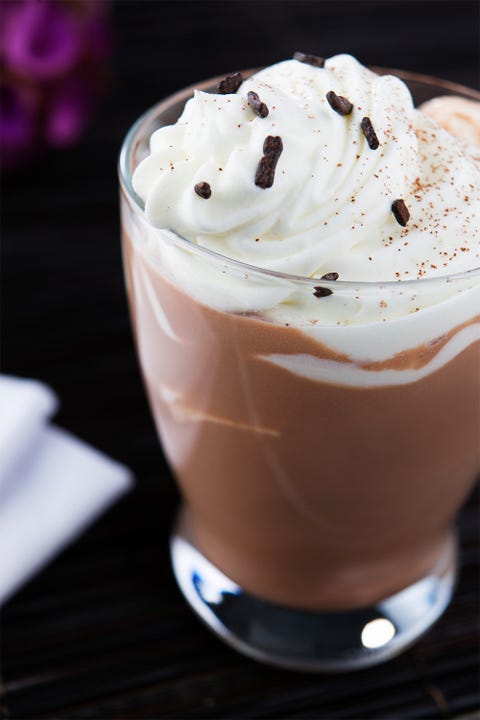 Ingredients:
1 bag andes crème de menthe baking chips (for peppermint recipe, use andes mint peppermint crunch baking chips) (around 2 cups)
2 cups rumchata
4 cups half & half
To make:
1. Put all three ingredients in a slow cooker.
2. Put on high until ingredients are melted together, stirring often.
3. Put on low after ingredients are melted and stir every 20 minutes. double the recipe for large crowd.
Courtesy thecookierookie.com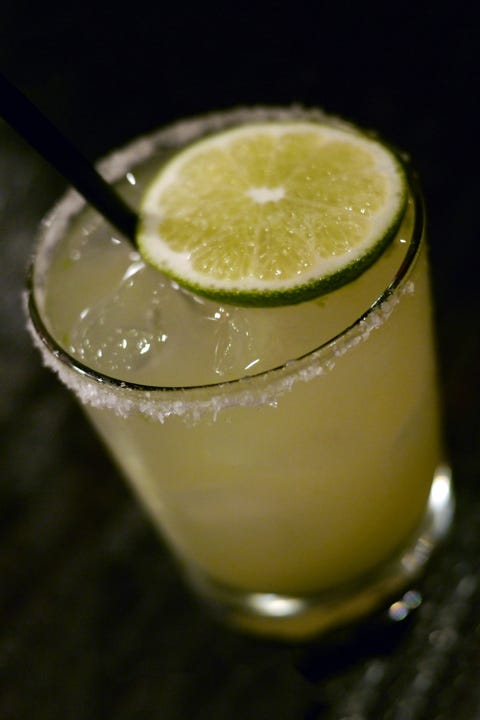 Ingredients:
Mulled Pineapple:
1 pineapple, skinned and cut into 1 inch chunks
4oz granulated sugar
1 vanilla bean, split
1 ancho chili (dried)
water to cover
Margarita:
1.5 oz silver tequila
1.5 oz pineapple mix
.5 oz lime juice
1 egg white
1oz ancho chili powder
1 oz kosher salt
To make:
1. Make the mulled pineapple mix by cutting up the pineapple and placing in a slow cooker with sugar, vanilla, and chili. Cover with water. Cook for 2 hours on low. Strain the liquid and chill.
2. Mix chili powder and salt together. Moisten the rim of the glass. Rim it with salt/chili mix.
3. In a cocktail shaker with ice, place tequila, pineapple, lime, and egg white. Shake. Pour over ice into glass.
Courtesy Chef Roxanne Spruance of KingsleyNYC.com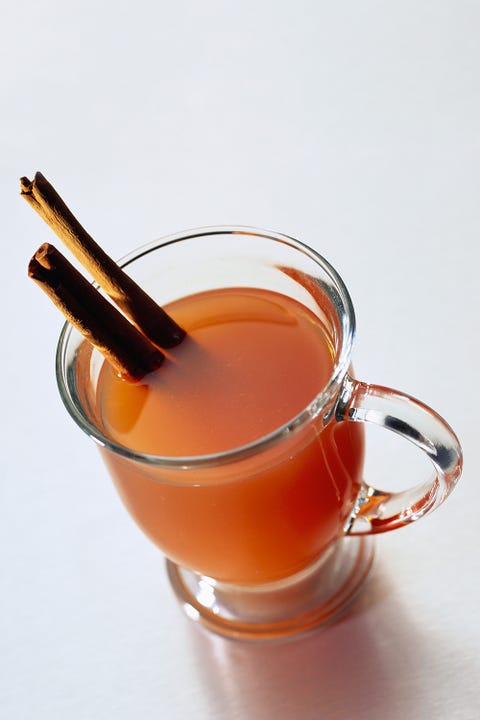 Ingredients:
8 oz. Jameson Black Barrel
1 pint fresh raspberries
2oz honey
3 cloves
2 cinnamon sticks
3 jasmine tea bags
10 oz. water
Lemon wheels for garnish
To make:
1. Add all ingredients to slow cooker on "medium" heat.
2. After 10 minutes, remove tea bags.
3. After 30 minutes, ladle into heat resistant mugs and garnish with lemon wheels.
Courtesy Kevin Denton, National Mixologist for Pernod Ricard USA.
6
Crock-Pot Cranberry Cider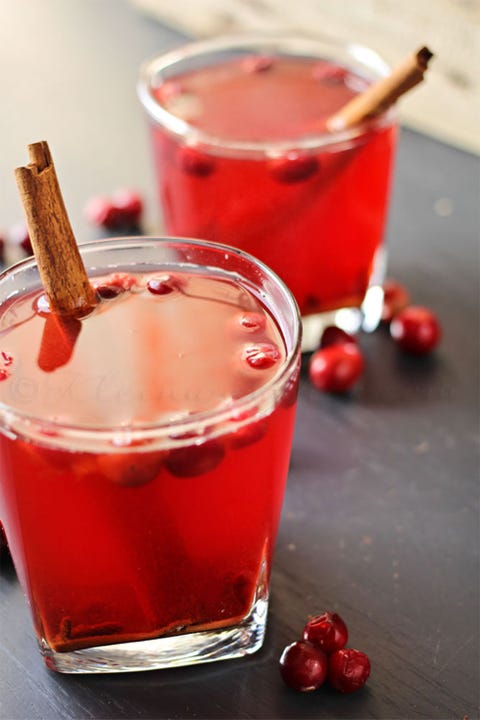 Ingredients:
8 cups (64 ounces) cranberry juice
4 cups (32 ounces) apple cider
1 cup fresh cranberries
2 tbsp packed brown sugar
4 cinnamon sticks (plus more for garnish)
1 tbsp whole cloves (tied in a cheesecloth to contain them)
1 ounce light or dark rum per served glass - *opt
To make:
1. Combine cranberry juice, apple cider, cranberries, brown sugar, cinnamon sticks & cloves in slow cooker.
2. Cook on high if you plan on using within 2-3 hours. Cook on low for longer.
3. Allow to simmer and warm until ready to serve- stirring occasionally.
4. Ladle into mugs, garnish with additional cinnamon stick.
5. Add in one ounce of rum per mug if desired.
Courtesy kleinworthco.com.
This content is created and maintained by a third party, and imported onto this page to help users provide their email addresses. You may be able to find more information about this and similar content at piano.io