11 Refreshing Mojito Recipes to Bookmark for the Hottest Days of Summer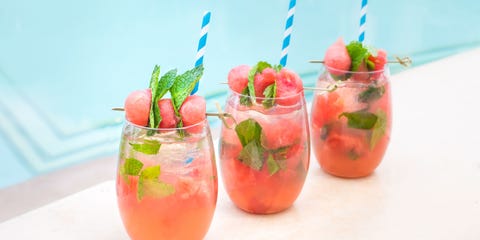 Courtesy of Azure Pool at the Palazzo
When a pitcher of beer is feeling too heavy in the dog days of summer, look to the minty goodness of a fresh mojito to save the day. Below, 11 of the most refreshing ways to cool yourself down, from Southern sweet tea mojitos to a lemon ginger cocktail that's just right for summer colds.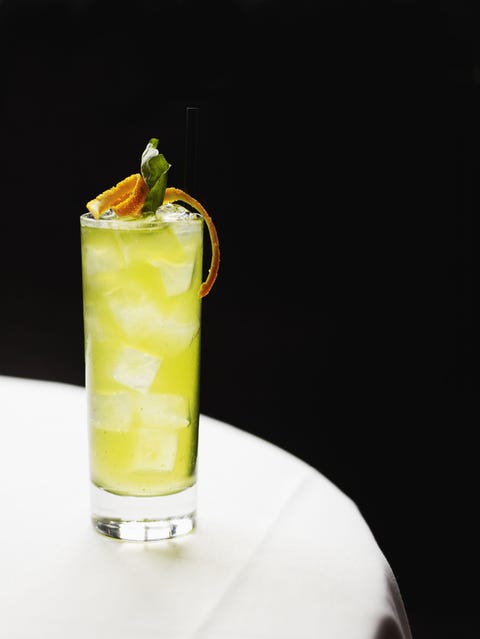 A Thai-inspiredbeverage with a boozy kick.
Ingredients:
1 cup Freshly Squeezed Orange Juice
½ cup Thick Simple Syrup
10 Large Fresh Basil Leaves, stems removed and discarded
1 cup White Rum
1 cup Club Soda
Crushed Ice
Orange Slices, for garnish
Additional Basil Leaves for Garnish
Directions:
In a medium pitcher, combine the orange juice, simple syrup, and basil. Use a wooden spoon or a muddler to crush the basil leaves in the bottom of the pitcher. Stir in the rum and club soda. Serve immediately in individual glasses over crushed ice. Garnish with orange slices and fresh basil.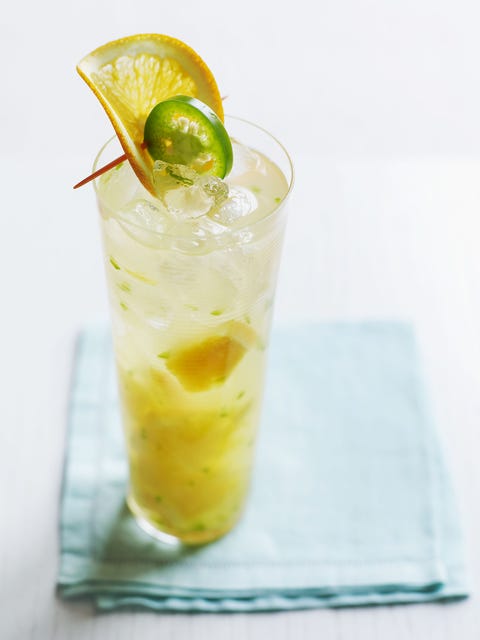 A spicy option that brings the heat.
Ingredients:
Half of a Large Mango, peeled and sliced
1 Lime
8-10 Fresh Mint Leaves
2 Jalapeño Slices (with seeds)
2 tsp. Sugar
1 ½ oz. Sailor Jerry Rum
Sparkling Water
Ice
Orange Slice and Extra Jalapeño slices for garnish
Directions:
Add mango slices to a food processor or blender. Cut the lime in half and juice half of it with the mango. Puree until smooth, scraping down the sides as needed. Juice remaining lime half into a cocktail shaker. Add mint leaves, jalapeño slices, and sugar and muddle to release mint and pepper flavor. Add mango puree and Sailor Jerry Rum and shake. Pour straight into an ice filled glass, top with sparkling water, and lightly stir.
When you need something super sweet and bubbly.
Ingredients:
10 Fresh Mint or Orange Mint Leaves
Mandarin Oranges, sliced into wedges
2 Sugar Cubes
Crushed Ice
1 oz. Fresh Orange Juice
1 ½ oz. White Rum
½ cup Canada Dry Sparkling Seltzer Water in Mandarin Orange
Directions:
Add sugar cubes and orange triangles to glass and muddle. Take mint leaves in one hand and slap it with the other to release flavor and add to glass. Add orange juice and rum. Add ice until just below the rim of the glass, using a spoon to stir. Top off with Canada Dry Sparkling Seltzer Water in Mandarin Orange. Garnish with additional orange triangles.
4
Sweet Tea Vodka Lemonade Mojito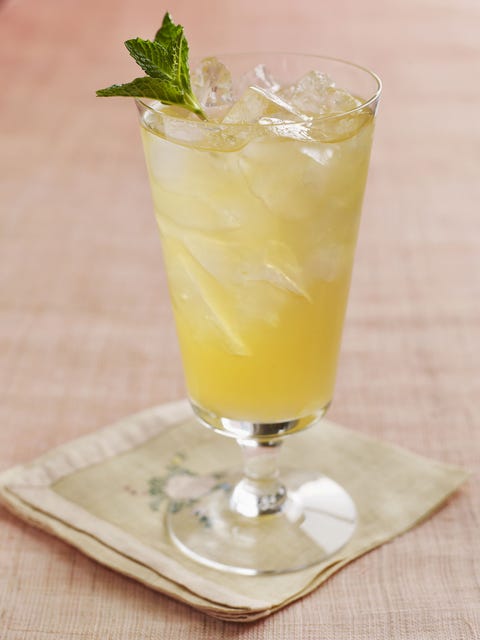 The most Southern mojito of them all.
Ingredients:
1 Lemon
10-12 Fresh Mint Leaves
Ice
4 oz. Sweet Tea Vodka
1 cup Lemonade
Directions:
Squeeze each half of the lemon into two 16 oz. mason jars or tumblers then place lemon half in glass. Add 5-6 fresh mint leaves to each glass then muddle with a wooden spoon. Fill glasses with ice then add 2 oz. sweet tea flavored vodka and 1/2 cup lemonade or club soda (or a mixture) to each glass. Screw on top and shake to combine or stir to combine then serve.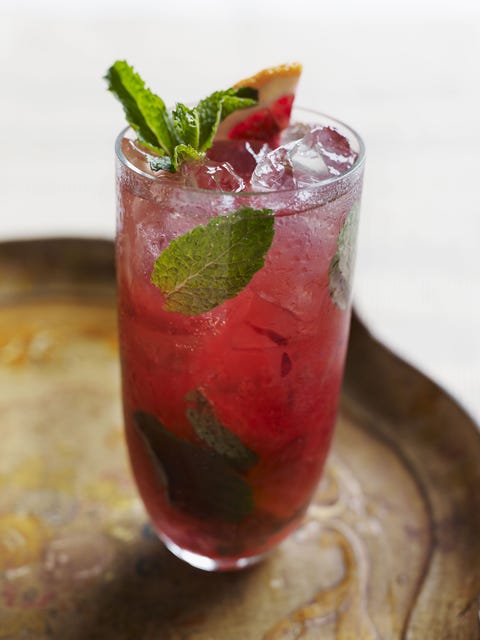 One with a sparkling touch.
Ingredients:
8 Sprigs of Mint
1 oz. Lime Juice
1 oz. light rum
1 oz. blood orange juice
1 tblsp. simple syrup
2 oz. sparkling water
Directions:
Add the mint and lime juice to a tall glass. Muddle together to extract the flavor of the mint. Add in rum, blood orange juice and simple syrup. Top with sparkling water and ice. Serve immediately.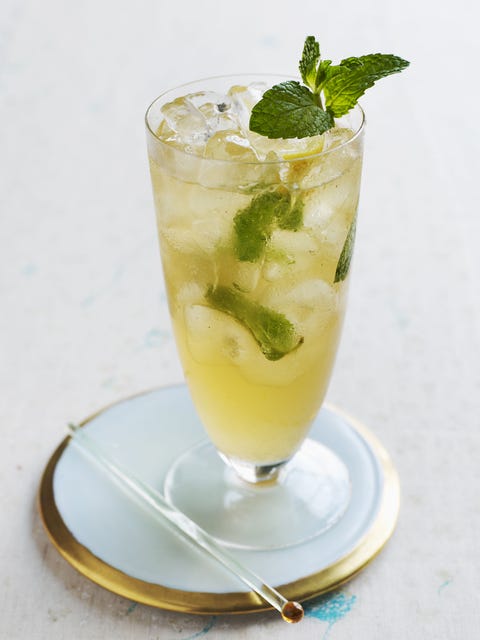 Bookmark for when you've got a summer cold and don't want to sweat through a hot toddy.
Ingredients:
5 MintLeaves
1 inch of Ginger, peeled and sliced thin
1 tblsp. Lemon Simple Syrup
1 1/2 oz. White Rum
White Soda
Directions:
In the bottom of a glass muddle the ginger, mint, and simple syrup. Add ice to the glass. Pour in the rum and then top with the soda, stir well to combine.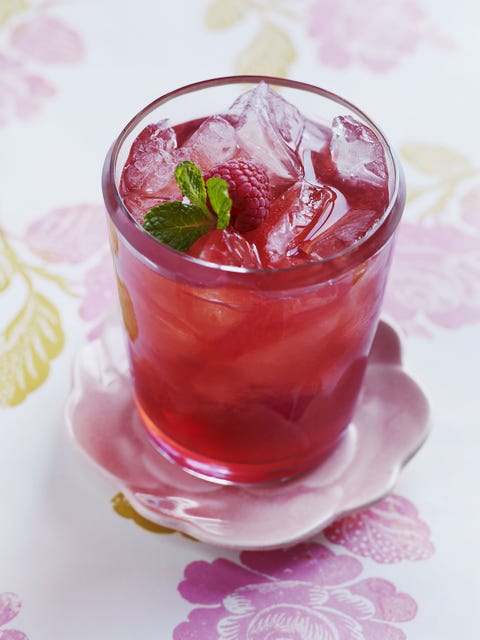 A delicious fruit cocktail that's the light treat you need on sweltering days.
Ingredients:
¼ lime wedge, with extra for garnish

12 spearmint leaves
1 tbsp. agave nectar
6 ripe raspberries
ice
1.5 oz. white rum
club soda
mint leaves for garnish
Directions:
In a glass, add ¼ lime, spearmint leaves, agave nectar, and ripe raspberries. Gently crush ingredients with a muddler and fill glass with ice. Add in white rum and top with club soda. Garnish with lime wedge before serving.
8
Pineapple Coconut Mojito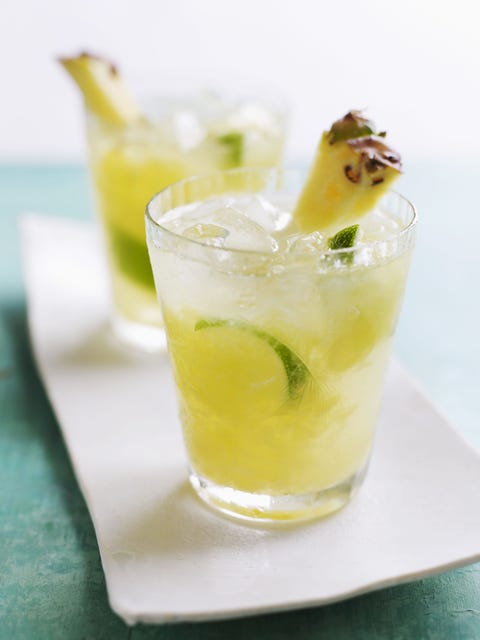 Like a piña colada, but better.
Ingredients:
1/2 Lime, cut into quarters
1/4 cup Fresh Mint
1 oz. Coconut Rum
2 oz. Pineapple Juice
1 tblsp. Lite Coconut Milk
2 oz. Club Soda
Ice
Directions:
Add lime quarters and mint to the cup of a shaker. Muddle the mint and lime. Add the rum, pineapple juice, and coconut milk. Add a handful of ice to the shaker. Place the lid on the shaker and give the mixutre a few vigorous shakes. Pour the mixture over ice and top with club soda. Garnish with a wedge of lime, fresh mint, and slice of pineapple.
9
Thousands Are Sailing (Irish Mojito)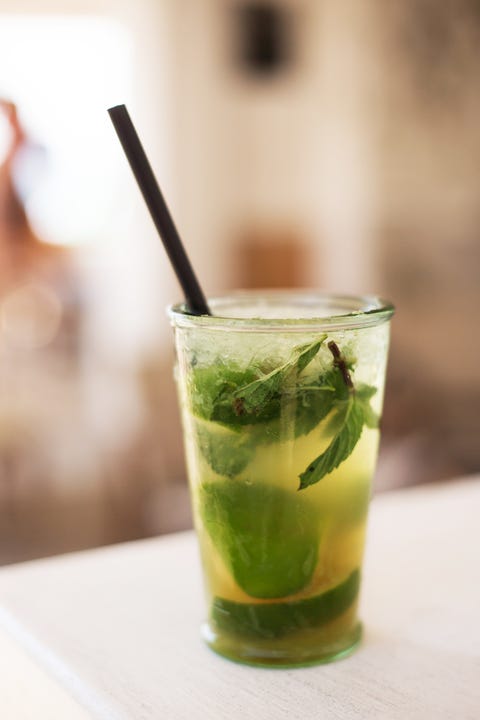 Your standard mojito, with Irish flair.
Ingredients:
5-7 Mint Leaves, gently pressed in a tall glass
1.5 oz. Pogues Irish Whiskey
.75 oz. Fresh Lime Juice
.75 oz. Simple Syrup
Directions:
Shake these ingredients with ice. Double strain over fresh ice in the tall glass that has the mint in it. Top with soda water and garnish with the mint.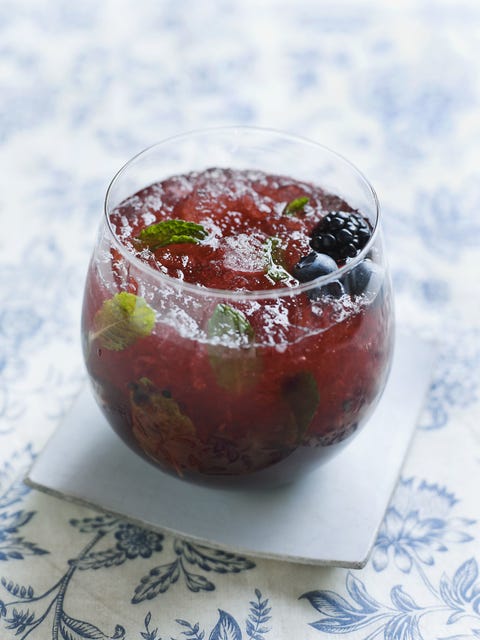 A fruit salad in drink form.
Ingredients:
2 tblsp. Fresh Blackberries
2 tblsp. Fresh Raspberries
6 Mint Leaves
2 tsp. Truvia Sweetener
2 Large Lime Wedges
4 oz. Rum
Seltzer Water
Directions:
Take two short cocktail glasses and fill with equal parts blackberries, raspberries, mint leaves and Truvia. Squeeze lime wedges into the glass and pour in rum. Muddle the mixture together breaking up the berries and bruising the mint. Add in ice and top with seltzer. Gently stir to combine.
11
Watermelon Mint Mojito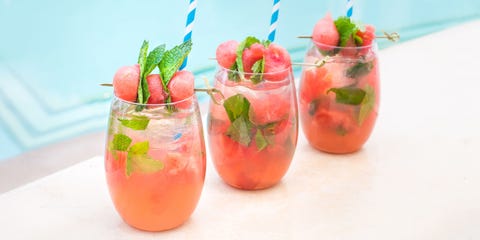 Courtesy of AZURE at the Palazzo
A fresh idea from Azure at the Palazzo for your next BBQ (and the best way to use watermelon leftovers).
Ingredients:
1 1/2 oz. Barcardi O
1 1/2 oz. Owls Brew "White & Vine" (White tea with lemon and watermelon)
3/4 oz. Marie Brizard Watermelon Liqueur
1 1/2 oz. Fresh Lemon/Agave Sour (see above recipe)
8-10 Fresh Mint Leaves
4-5 1" Cubes fresh Watermelon
Directions:
In a mixing glass gently muddle mint and watermelon. Add remainder of ingredients with ice and shake. Pour contents into a Double Old Fashioned glass. Garnish with fresh mint.
This content is created and maintained by a third party, and imported onto this page to help users provide their email addresses. You may be able to find more information about this and similar content at piano.io