If You're a Girl Who Likes to Eat and Drink, Marie Claire Happy Hour Is for You
Bringing the festivities to wherever there is wifi.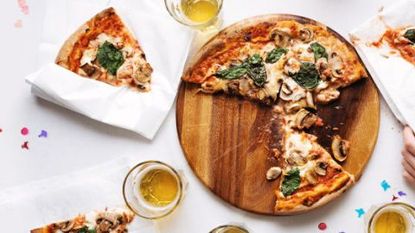 (Image credit: Future)
If you're ever in need of a snack—or a drink—just stop by the Marie Claire office. We like our libations and are never ones to turn down a nosh. Popcorn? Sure. Candy? Why not. Rosé when the clock strikes 5 p.m.? I meannnnn, duh.
Which is why we decided to launch a new Facebook page dedicated solely to all things food and drink, aptly named Marie Claire Happy Hour. We wanted a space to share our favorite cocktail recipes and funny memes about overeating (hey, it happens). A place so lively it could transport you from the doldrums of your desk to a table sticky with margaritas where endless chips and salsa are within reach—er...mentally, at least.
So check it out! (And bookmark it, and tell your friends, and maybe your family...oh, and your dog, too, if you feel like it.) Let us know what you want to see more of!
Follow Marie Claire on Facebook for the latest celeb news, beauty tips, fascinating reads, livestream video, and more.
As Cosmopolitan's deputy editor, Rosa Heyman oversees a team of whip-smart editors and hilarious writers who bring you some of the best investigations on the internet, from dissecting the latest Kardashian drama to uncovering the link between white supremacy and misogyny. She currently manages the news and social teams and develops the strategy for how the brand best distributes content. You can usually find Rosa glued to her phone workshopping a cheeky caption for Cosmo's Instagram account.