Spring Party Ideas to Steal from Our Fresh Faces Event
Get excited: greatness lies within.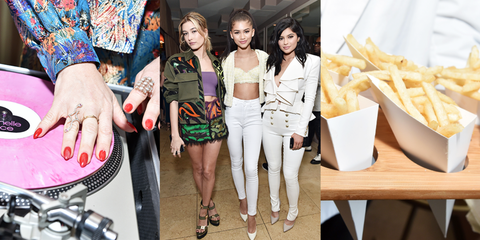 Marie Claire's Fresh Faces party at Los Angeles' Sunset Hotel was so fab (not to mention gorgeous) that we're feeling inspired to recreate the entire evening. Sure, we're no longer chilling with Kylie Jenner and Zendaya, but the party's just getting started as far as we're concerned.
Scroll through the gallery to nab tips from Marie Claire's fête so your next event is just as spectacular.
1
Fresh Faces Means Fresh Flowers
A spring-themed party without flowers is like pizza without cheese. Just, what is the point? However, flowers can be expensive—especially when decorating a large space. Get more mileage out of your arrangements by creating small bouquets to scatter around the room instead of one larger floral focal point. (We picked green and white stems for an extra fresh feel.)
2
Sippin' on Gin and Juice (or in This Case, Vodka)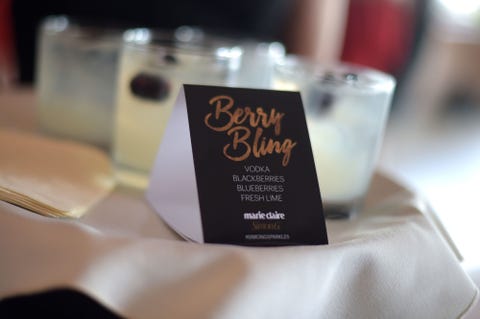 Guests at our Fresh Faces event were served Berry Bling, a signature drink made from vodka, blackberries, blueberries, and fresh lime. Yum. Creating your own specialty cocktail (or borrowing ours) is a small detail, but one that goes a long way in making the night one-of-a-kind.
3
Crown a Cover Girl (or Boy)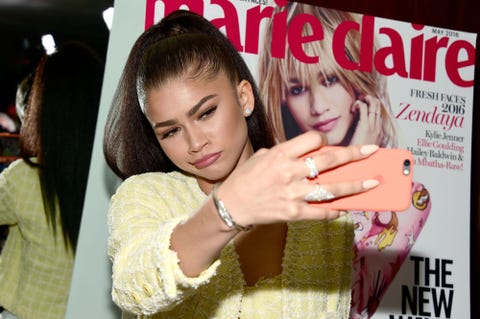 We put our VIPs on the cover of Marie Claire's May issue, but you can do us one better by grabbing a flattering photo of your guest of honor, blowing it up, and framing it for picture-taking purposes. In other words, pull a Zendaya.
No party is complete without a photo booth. Either throw down some coin and rent one, or create a "photo zone" in your event space and use a polaroid camera (or even just your iPhone!) to snap pics. Add in silly costumes, or the wedding favorite of late, paper mustaches on sticks. No matter what, memories will be made.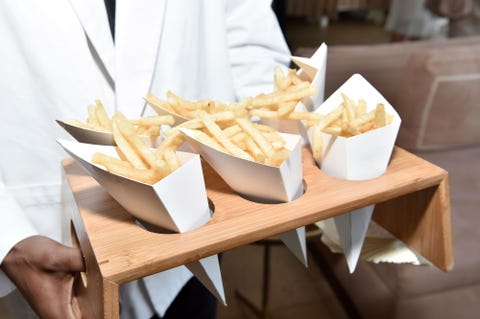 Let's talk food, because really, it's the only reason we show up at parties. Even if you don't do passed hors d'oeuvres, keeping serving sizes small and self-contained looks slightly more chic that throwing everything together buffet-style. Seriously, have French fries ever looked more attractive? No.
This content is created and maintained by a third party, and imported onto this page to help users provide their email addresses. You may be able to find more information about this and similar content at piano.io