Who Is Joe Lieberman? 6 Things to Know About Trump's Onetime Pick for FBI Director
He has removed his name from consideration from the job.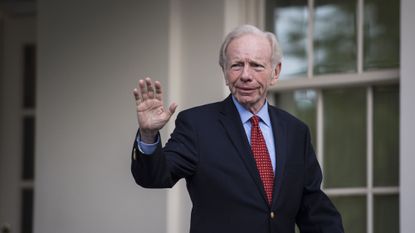 (Image credit: Archives)
Just a week after President Donald Trump abruptly fired FBI Director James Comey, former U.S. Senator Joseph Lieberman emerged as one of three finalists to lead the agency. Trump offered an "emphatic" yes when asked Thursday if Lieberman, 75, was among the final candidates, the New York Times reported. "We need a great director of the FBI. I cherish the FBI. It's special," Trump said.
But on May 25, Lieberman withdrew his name from consideration for the job, because of the appearance of a conflict of interest regarding his law firm's ties to Trump. Here's what you should know about Lieberman, the man who could have led the nation's top federal law enforcement agency.
Lieberman served as a U.S. Senator from Connecticut for 25 years. During most of that time, Lieberman was a Democrat. But in 2006, he became an independent after losing the Democratic primary.
During his time in the senate, Lieberman is known for being a supporter of the Iraq war. He is also a harsh critic of WikiLeaks, calling for founder Julian Assange to face charges, calling him a "menace" who "risked lives."
Many Democrats still bear resentment against Lieberman for knocking down an Obamacare proposal to allow adults aged 55 and older buy into Medicare if necessary, New York magazine reports.
Lieberman also made a speech condemning then-President Bill Clinton during the Monica Lewinsky scandal. "The president is a role model. And because of his prominence in the moral authority that emanates from his office, sets standards of behavior for the people he serves," Lieberman said during a speech from the Senate floor in 1998.
Though Lieberman criticized Clinton during the Lewinsky scandal, he ultimately voted against convicting Clinton. It was that distinction that led Gore to choose Lieberman as a running mate.
"It was one more way for Gore to distance himself from Clinton and to tie into Lieberman's reputation for moral probity," NPR reported.
Lieberman became the first Jewish candidate on a major U.S. party ticket. He debated Republican vice-presidential nominee Dick Cheney in a debate that the New York Times said more "resembled an academic seminar than the political warfare typically expected when understudies cross swords."
Lieberman primarily backed up Gore's position that a planned Republican tax cut plan would deplete the then existing federal surplus and primarily benefit the wealthy. But Lieberman was criticized as being too docile during the debate and not attacking Cheney's obvious Achilles heel: his extreme right-wing record as a member of Congress and secretary of defense. Instead, both men stayed relatively civil.
The Daily Beast recently reported that Lieberman had practiced attacking Cheney in a manner that he was comfortable with but failed to do so the day of. When asked why after the debate, Lieberman said: "When we first sat down, Dick leaned over and said that his people wanted him to go negative, and that he had practiced attack lines. But he didn't want to do it. He thought the American people deserved better, and I agreed. So I kept it positive."
A poll after the debate found that registered voters, by a 19 percent margin, felt Cheney won the debate. "Today, it is remembered as one of the only VP debates that shifted the polls in the week afterward," the Daily Beast reported.
3. He ran for president after that.
Lieberman also ran for president in 2004. His support for the Iraq war cost him the backing of many Democrats and even his former running mate, Gore, who instead endorsed Howard Dean. Lieberman's campaign sputtered with a fifth-place finish in New Hampshire despite skipping the Iowa caucuses to focus there. After continued troubles raising money and getting only 11 percent of the vote in the Delaware primary, Lieberman dropped out.
4. He backed John McCain over Barack Obama.
In 2008, Lieberman backed John McCain for president over Barack Obama, even though he had served as somewhat of a mentor to Obama. Lieberman also spoke at the Republican National Convention that year and gave a critique of Obama that was not well-received. "Senator Barack Obama is a gifted and eloquent young man who I think can do great things for our country in the years ahead," he said, "but, my friends, eloquence is no substitute for a record, not in these tough times for America."
Lieberman claims not to regret the remark but said that he would likely leave that part out if he gave the speech again. "To tell you the truth, if I had it to do over again I would've left out those few sentences," Lieberman told the Huffington Post.
"I didn't say anything I didn't believe in terms of relative experience, but it wasn't necessary to what I was doing at that convention, which was to affirmatively support my friend John McCain," he continued. According to the New York Times, McCain wanted to pick Lieberman as his running mate but buckled under conservative pressure, picking Sarah Palin instead.
But in 2016, the party-hopping Lieberman backed Hillary Clinton over Donald Trump, but not before flirting with supporting the now president. "I'm one of those people, and there are a lot of us, who don't quite feel comfortable either way yet," Lieberman told Fox News.
5. He didn't have the traditional background of an FBI director.
Lieberman is a graduate of Yale and Yale Law School and he served as Connecticut's state attorney general from 1983 to 1989. But many FBI directors have law enforcement and prosecutorial backgrounds.
Other than his stint as Connecticut attorney general, Lieberman has spent his career in elected politics. The position of FBI director has traditionally been considered apolitical. The previous six directors of the FBI had experience as federal judges, federal prosecutors, or FBI agents when they were nominated, The Atlantic notes.
Even the man who holds Lieberman's old Senate seat agreed with criticism against him for the job. "This is a moment for someone with a law enforcement background," Democratic Sen. Chris Murphy told Politico. "It's really important to restore people's faith in the FBI."
6. There was resistance to the idea of him in the job.
Democrats took issue with Lieberman for his critiques of Clinton, Obama, and his speech at the Republican National Convention. The idea of Lieberman as FBI director was just too much for many Democrats.
Missouri Democratic Sen. Claire McCaskill was concerned about Lieberman's background in politics. "I don't think there's going to be much excitement about that from our side of the aisle. Not because we don't respect Joe Lieberman. But we need a law enforcement professional, not someone who's run for office before," McCaskill told Fox News. "We don't need anyone who's put on a red shirt, or a blue shirt – or who's campaigned for president."
Liberals like Ohio Sen. Sherrod Brown cited a possible conflict of interest that ended up leading to him bowing out of consideration. Lieberman works for a law firm that has represented Trump. Quartz reports that the New York City-based law firm of Kasowitz, Benson, Torres and Friedman, where Lieberman is a senior counsel, has represented Trump since 2001. The firm threatened legal action against the New York Times for publishing some of Trump's tax returns. They also sued an author who questioned whether Trump is actually a billionaire. Lieberman has worked for the firm since 2013 and has not personally been involved in any Trump cases.
But many Democrats feel that Lieberman is just too friendly with Republicans. After the firing of Comey, many say Lieberman would not be the right choice to stand up to Trump. "But the even bigger problem for Democrats — and really, for anyone who's not in the tank for Donald J. Trump — is the abundant evidence that Lieberman is temperamentally unsuited for a position that requires tough-minded independence from the man who appointed him," wrote New York magazine's Ed Kilgore, citing Lieberman's embrace of George W. Bush.
But some Republicans are embracing Lieberman as F.B.I. director. McCain called Lieberman "the greatest man I've ever known," on Morning Joe. Lindsay Graham called Lieberman a "pillar of credibility." Texas Republican Sen. John Cornyn, considered a frontrunner for the job at one point, said Lieberman would easily be confirmed.
"I think he would get 100 votes," Cornyn told Politico. "Everybody loves Joe Lieberman." A pick for FBI director would require only 51 votes in the Senate to be confirmed.
But most political observers believe that Cornyn was wrong, largely due to the strong resistance from Democrats. A Senate Democratic leadership aide told Politico that "there couldn't be worse time to take the unprecedented step of handing the FBI over to a politician."
Richard Blumenthal, senator from Lieberman's home state of Connecticut, also spoke strongly against Lieberman. "This appointment is so important that we should try to insist on someone who has no political background," he said.
Follow Marie Claire on Facebook for the latest celeb news, beauty tips, fascinating reads, livestream video, and more.