James Deen on Feminism, His Fans, and Why He's So Damn Popular
"Everybody else was your stereotypical porn guy: buff, manly men."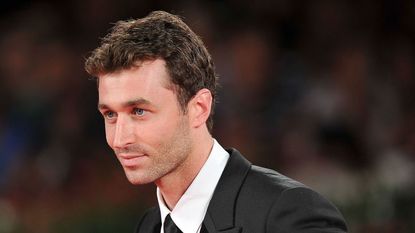 (Image credit: Archives)
Marie Claire newsletter
Celebrity news, beauty, fashion advice, and fascinating features, delivered straight to your inbox!
Thank you for signing up to . You will receive a verification email shortly.
There was a problem. Please refresh the page and try again.
This past weekend in Los Angeles I found myself with an unexpected invitation to attend a party hosted by 29-year-old porn legend James Deen. (It's not often that I get to hang out with the world's most popular male adult performer, so I jumped at the opportunity.) Deen, if you haven't heard of him, is the thinking girl's porn star: Esquire once called him the "Ryan Gosling of porn"; teens and young women fangirl over him, a fact that a 2012 interview on Nightline revealed to the greater public.
Alongside director/writer/non-porn pal Alex Montilla, the performer is now intent on making Overkill, a parody of '80s slasher flicks. According to the invitation I received, "crowdfunding is so 2011." As such, the duo came up with a new business model: Entry to the event is $15 at the door, $10 gets you an autograph, and $20 earns you a slap from Deen himself. Though the party starts at the very non-pornographic time of 8 p.m., clearly this is not your standard canapé-and-wine affair.
When I arrive, there is a mellow, friendly crowd sipping on donated PBR and chatting quietly while music videos play in the background. There is no sex. Upon entry I see Deen talking to a few friends, none of whom are being slapped. I am both relieved and disappointed. Montilla, who's worked in the editorial department on films such as Hot Tub Time Machine and The Muppets, says the performer is a natural with mainstream content: "I know that's what he does," he noted, "and I didn't expect porn people to appreciate the art of it."
Eager to get Deen's take, I mingle with his female friends and fans while waiting for an opportunity to chat. I'll tell you this: His followers are a fiercely loyal bunch. Case in point: One female childhood friend, who's suffering from an illness, moved from NYC to L.A. at Deen's behest so they could be closer. The Ryan Gosling comparison is starting to make more sense.
Even more of the mystique is illuminated after I talk to one of Deen's superfans, Laterra McDaniels, 38, who came to get an autograph from her idol. McDaniels, a sex educator, credits Deen with inspiring her to forge that career path. She gushes about how welcoming he has been to her: "I'm this big girl. I'm not the type of girl who should be hanging out with any porn star, in my mind," she says. "He made me feel like I was special. I've done it a couple times now, and even though I get super nervous, he is such a gentleman, such a sweetheart, really honest and fucking awesome. It makes me want to be authentic."
The words have barely escaped from McDaniels's mouth whens Deen prepares to spank a fan. The spankee, an unassuming brunette who could easily be the girl sitting in the next cubicle, smiles widely, lifts the shirttails of her floral top, and expectantly pops her butt out. Deen's hand comes smacking down, and she walks away looking like a satisfied costumer. "I'm going to go bare bottom, by the way," McDaniels tells me, "because he's really good at it. That literally is one of the best things that he does."
Once I finally get a chance to talk to Deen, who is slighter than he appears on film, he is happy to elaborate on his appeal. "I used to say I didn't know," he says. "I now believe it's because I'm so different looking. When I started in adult films, I was 18 years old. Everybody else was your stereotypical porn guy: buff, manly men. Then my little Jewish ass comes in there." He continues: "I'm not that unique-looking anymore. There are plenty of guys in the adult industry who look like a guy you'll just see on the street. I think it was just timing—and I got lucky."
The female performers were confused at first, too. "It was 50/50," Deen says. "Some women were very excited to be working with a guy who was their age, and other women were like, 'If I wanted to have sex with guys my own age, I would just go have sex with guys my own age.'" If you've seen any of his films, I suspect that is no longer a concern.
Deen's popularity with the ladies also highlights something else: Women (gasp!) watch porn. "It's 2015," Deen says. "I think our society in this day and age should admit, agree, and accept that females have sexuality." Sounds pretty feminist to me, but when I raise this idea, he protests: "I wouldn't consider myself a feminist," he says. "People are just people. Some people are assholes. Some of those people are men, some of them are women. At the end of the day I want everyone to have the respect that they deserve and to respect people's civil liberties and rights." A pause. "I don't know, maybe I am a fucking feminist!"
Before leaving I ask McDaniels whether it's weird seeing Deen in civilian clothes. "Oh," she says with a laugh, "he'll take his pants off at some point tonight."