My Best Friend Married the Man Who Raped Me
She continued to defend him even after he was found guilty.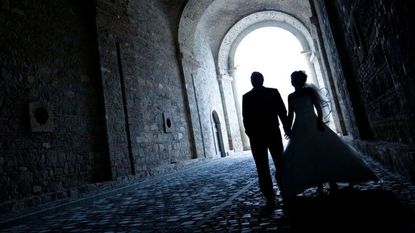 (Image credit: Getty Images)
Marie Claire newsletter
Celebrity news, beauty, fashion advice, and fascinating features, delivered straight to your inbox!
Thank you for signing up to . You will receive a verification email shortly.
There was a problem. Please refresh the page and try again.
What would you do if, not long before your wedding, one of your best friends and bridesmaids-to-be, told you that your fiancé had raped her? That's what happened to two university friends, after one was raped in the room next door to where her best friend, her rapist's fiancé, was sleeping.
The victim was all ready to help her friend enjoy what should have been the happiest day of her life. But one night, while she was staying over, her friend's husband-to-be left the bed they shared and went into the room next door.
After being treated in hospital the following morning and reporting what had happened to the police, the victim later decided she had to tell her friend. "I only said something in the first place to try to protect [her]," she told The Mirror. "I couldn't have stood in church on her wedding day knowing what had happened and that it would most probably happen again."
But sadly her friend chose to side with her fiancé, who claimed that the victim was lying out of jealousy over their relationship. He accused the victim of using a sex toy she had found hidden in a drawer in the room where she stayed–and planting the evidence. He claimed that the reason that his semen was found in the victim is that he had used the sex toy a few weeks before and denied the victim's claims that he had raped her.
The couple went ahead with their wedding just three weeks before his trial, with his wife refusing to believe her friend. This month, he was found guilty and jailed for seven years. Recorder Andrew Sutcliffe said, "In the face of overwhelming DNA evidence to the contrary, you continued to deny this ever happened. This attempt to humiliate your victim severely exacerbated the wrong you had already done to her."
The saddest thing is that the victim says, "Our whole friendship group has become divided when I most needed my close friends." Not only that, but it also caused the breakdown of her own relationship. She had tried to call her boyfriend at the time after the attack, but his phone was switched off. While she says he was like "a rock" in the wake of the rape, they eventually broke up.
"He committed suicide a few months after we broke up. He felt partly responsible for what had happened, he had turned his phone off that night. I couldn't get hold of him. He never forgave himself for that. He always worried every time I went somewhere and wouldn't sleep if I went out, it put a strain on us."
Now, the victim is still left suffering with Post Traumatic Stress Disorder.
[H/T The Mirror (opens in new tab)
Claire Hodgson is the Editor of Cosmopolitan.com/UK, overseeing all things digital