The Founder of Hollywood's Most Elite Sex Club Is Unhappy
He bought a mansion and filled it with debauchery. It still isn't enough.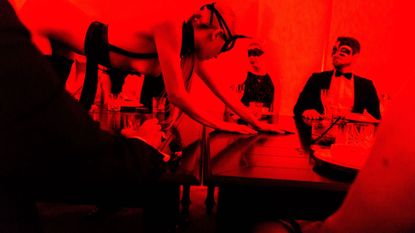 (Image credit: Archives)
In a leafy enclave near Beverly Hills, behind an aging Tudor mansion, Snctm is hosting a pool party. The sun is radiant overhead, the sky is cloudless and blue; the therapeutic aroma from the eucalyptus trees mixes in the air with the scents of expensive perfume and hydroponic weed. Couples lie here and there on chaise longues or large blankets on the grass. A trio of topless young women, members of Snctm's erotic-theater troupe, known as Devotees, float languorously on giant blow-up swans, sipping drinks through bent straws. Two more Devotees bounce on a trampoline. In a little while, the brunette will be tied up, the blond will employ a suede flogger and other toys, dispensing pain and pleasure. A waitress circulates, delivering food prepared by the French chef—a choice today of sirloin sliders or fish tacos, with a side of crisp steak fries.
Sitting poolside in a wicker chair, presiding over all, is Damon Lawner. A handsome man of forty-five with a lean and chiseled physique, he wears gauzy, low-slung pants and a necklace of fragrant mala beads he picked up during a sojourn in Bali. With his longish tousled hair and high cheekbones, his inner glow and sober mien, he looks like a hunky Hollywood guru. But the truth is Lawner never set out to save any souls besides his own. Four years ago, he was a cash-strapped real estate agent with a beautiful wife and two young daughters, struggling with monogamy, facing with dread the prospects of his fifth decade. As many men do when they reach his age, he began to ask himself, "Is this all there is?"
Tattooed on Lawner's right shoulder is Snctm's official symbol, a teardrop shape containing a cross and an all-seeing eye that Lawner calls the Oculus Dei. He drew it in a fit of inspired desperation one night in the living room of his small apartment after his family had gone to bed. The cross stands for faith. The eye stands for the Hindu chakra that leads to inner realms and higher consciousness. The tear was meant to stand for the earth's life-giving elements. As Snctm has become more successful, as Lawner's life has been transformed, the tear has become instead a bittersweet reminder. In the quest to make your fantasies come true, he has discovered, you can sometimes lose as much as you gain.
One week from today, Snctm will hold its regular Masquerade, an exclusive monthly event with the guest list limited to ninety-nine people. As the name suggests, masks are required. The atmosphere is reminiscent of the erotic party scenes in Stanley Kubrick's Eyes Wide Shut, Lawner's initial inspiration. Among those already confirmed for next Saturday's soiree are a man who owns hotels in New York, a billionaire from Moscow, several wealthy couples who have each been married for more than twenty years, the producer of a number of well-known television shows, an actress with a respectable IMDb page, the twenty-one-year-old son of a movie producer, a number of international models, and a couple who are opening a big new store near Rodeo Drive.
When Lawner founded Snctm, he envisioned something more intimate than previous incarnations of swingers' clubs. From Plato's Retreat, the disco-era den of iniquity in New York, to Paris's thriving and swanky Les Chandelles, the more notable spots over the years have been known for unfettered debauchery. A child of hippies who spent his earliest years in a commune in upstate New York, Lawner has tried to create "a spiritual and erotic utopia" where people of like minds and desires can have as much sex and romance as humanly possible, in as many different ways as the imagination can invent, with the most beautiful and engaging people they can find. And no strings attached.
At the moment, Lawner is using a custom phone app to screen applications for the Masquerade. There are still a few more slots open for women, who can apply to attend for free. Sitting beside him, in a matching wicker chair, a dark beauty sips Champagne. Call her Caroline. Tall and impossibly thin, with huge brown eyes, she has recently earned a degree from a college in Texas. She's visiting Lawner for a couple of weeks, seeing agencies, hoping to get into modeling.
Joining the couple is one of Lawner's most trusted collaborators, Phuong Tran, known to Snctm members as Bunnyman. By day he's a manager at a Fortune 500 company in L.A. At Masquerades he wears a martial-arts outfit and the black leather rabbit mask that earned him his nickname; he's highly regarded for his expertise in the ancient Japanese rope-tying art of shibari.
"Check this one out," Lawner says, showing his phone to the others. "She works as a research chemist."
"She's that lovely librarian type," Tran says appreciatively. Today he's wearing print pants rolled above the ankles and a short-brimmed straw chapeau.
Lawner reads aloud from the application: "I'm a hyperpolyglot and enjoy dirty talk so hopefully during a sexual escapade, other members will learn some kinky words."
"Hyperpolyglot," Tran repeats, sounding intrigued. "I believe that means somebody who has the ability to learn multiple languages really quickly."
"So," Lawner says, "she's totally hot, probably knows eight languages, likes to talk dirty—"
"And likes to get fucked really hard," Caroline interrupts.
She's been reading over Lawner's shoulder.
"You think we should invite her?" Lawner asks.
Damon Emanuel Lawner never set out to be the founder of a sex club. His paternal grandfather was a wealthy sporting-goods manufacturer from Long Island. His father was a talented violinist who chucked it all in the early 1970s to join a commune upstate. Damon was given his name by the commune's leader, as was his sister, Hadria.
Lawner's parents split when he was three. Both moved across the country to the burgeoning hippie community of Fairfax, in Marin County, near San Francisco. Lawner's father, Loren, lived modestly off the proceeds of a trust. He once rented his house to Owsley Stanley, the famous LSD chef, and on a number of occasions he jammed with Phil Lesh and Mickey Hart, both members of the Grateful Dead. "There were late-night parties, lots of cocaine and acid, lots of booze," Lawner says. His mother, Melissa Rome Lawner, took up with a Jim Morrison look-alike who made leather clothes; to make ends meet, she received food stamps.
"We went back and forth between these two crazy households," Lawner recalls. "My sister and I were kind of ignored. We were like ghosts floating around. When we wanted breakfast, we'd go across to the neighbors'. They always had cereal and toast."
Every summer, Lawner says, he and his sister were packed off to the grandparents back east. "I'd go from food stamps and drug addicts and, like, dirty fucking clothes, wearing the same T-shirt every day to school, to this big house with a pool and ten bedrooms. It was paradise. Bagels and lox and French toast in the morning, bowling and movies and everything you could want. I don't know how that affected me. But I always knew that if I did what my grandpa did, I could have anything I wanted. And I knew if I lived like my parents lived, that's the life I'd have. Over the course of my lifetime, I guess, I've always gone back and forth."
When Lawner was nineteen, he says, he was skateboarding with some friends when he was approached by a scout for the photographer Bruce Weber. Soon he was signed by the Look Model Agency in San Francisco. He was featured in a Versace campaign, and in a Calvin Klein jeans-and-coats campaign with supermodel Christy Turlington and the actor and heir Balthazar Getty.
After a brief stint at a junior college, Lawner supported himself through a combination of modeling jobs, photography, family money, and real estate investing. At twenty-five, he met and fell in love with Melissa Bernheim, an eighteen-year-old model and the daughter of a Stanford economics professor. In 2001, when Melissa was twenty-one, she was featured dancing with abandon in a popular commercial for the Gap. The ad drew the attention of David Letterman, who invited the lithe brown-haired beauty to re-create her happy dance on his show. Following her appearance—during which she proudly mentioned her engagement to a guy named Damon—Melissa signed with the powerful United Talent Agency and began going out for small acting jobs.
That year, after a half decade of dating, the couple eloped to Las Vegas. To benefit Melissa's career, they moved to Los Angeles, to a fixer-upper house just above the ritzy Chateau Marmont hotel in West Hollywood. Cameron Diaz, David LaChapelle, Sandra Bullock, and Lionsgate honcho Michael Burns, with whom the couple frequently partied, all lived nearby in the same neighborhood. Lawner says he became particularly friendly with Jared Leto, the actor/rocker/tech investor, who was dating Diaz at the time.
Through some of his connected friends, Lawner was offered a chance to invest in a Japanese restaurant called Koi. The place took off, became a chain. Meanwhile, Melissa modeled and found small acting parts on television shows like CSI: Miami. She was featured in a number of national commercials, including a Coors Light spot directed by Michael Bay that featured Kid Rock. The couple were flush.
"We'd stay up all night and party and have people over, or we'd walk down to the Chateau and meet people; they would always end up back at our house," Lawner says. "There was a lot of drugs and alcohol. A lot of fun, really. We were like this beautiful charismatic couple. It was always an adventure."
"Anyone who saw us together knew we are soul mates," Melissa Lawner says. "We were very, very connected and energetic with each other. We were inseparable. We were that couple; you called us DamonandMelissa."
When Lawner was thirty-five, Melissa announced she was pregnant. At first, he says, he felt "incredible joy."
Then the band he'd been playing with, called Fader, won a contest at the historic Whisky a Go Go on the Sunset Strip. A tour was discussed. Melissa made her feelings clear. "She was like, 'I'm going to be a mom now. All this crazy shit is over,'" Lawner says.
Lawner quit the band, sold the house in the hills, and moved his family to the flats of Hancock Park. With the profits from the sale, he concentrated on business, determined to feather his nest. He started a company that sold a high-end energy drink called Marquis Platinum and invested in another restaurant called Bridge. In short order, he and Melissa had a second daughter.
When the economy tanked in 2008, the Lawners lost everything. "By the time I saw what was coming," he says, "I was fucked. It was like I knew the cars were going to be repossessed, I knew the house was being foreclosed on. We were $900,000 in debt."
Penniless and humiliated, Lawner packed up his family and flew to join his father in Bali, where he was living with his Balinese wife and two young sons.
In Bali, Lawner reinvented himself as a party impresario, using his nightlife experience to bring a little sizzle to the tourists visiting the Island of the Gods. With Melissa by his side, he put on functions four nights a week at high-end hotels and nightspots. By 2011 Prestige Indonesia magazine was calling the Lawners the "It couple behind Bali's most exclusive parties."
Though the Lawners were living comfortably—with an income of about $30,000 a year, they could afford a big house and servants—their lifestyle started to take a toll. There was a lot of drinking and partying, along with predictable marital discord. Lawner was the man on Bali; everything was available. "I was out every night. Things began to spiral a little bit. My breakfast of choice was a beer and a cigarette by the pool," he recalls.
After he was briefly kidnapped by local nightlife competitors and forced to pay ransom, Lawner says, Melissa put her foot down. "Our girls were growing up on an island in the middle of nowhere, without knowing any of my family," she says. In 2012 the Lawners returned to L. A. They moved into a room off the kitchen in Melissa's mom's house, near UCLA. "We needed to go home," Melissa says. "I kind of forced him. He did not want to leave."
Bankrupt, with no car and no assets, Lawner began looking for a job. "I was applying all over the place. Waiter, cashier, valet parking. Anything. Whatever I applied for, there were twenty people in front of me who had more experience. They'd ask me, 'What have you done?' and I was like, 'Um, I owned the hottest restaurant in L.A.?' And they were like, 'Yeah, whatever.'"
Eventually, Lawner became a realtor. He went to work at Sotheby's in Beverly Hills and moved the family into a small apartment nearby to take advantage of the school district. He rotated two suits, rode a bicycle to work, told prospective clients his vehicle was in the shop. While he had some success, selling a few properties (and splitting the commissions with the agent who was training him), he was miserable. "The whole thing was ridiculous. I fucking hated it, I did not want to do it, it was not me on any level. I was at the point where I wasn't sure anymore what the fuck I was living for."
Around this time, Lawner rented Eyes Wide Shut. In the film, Tom Cruise and Nicole Kidman play a long-established couple facing middle age and disillusionment; both are secretly questioning their commitment to monogamy. When Cruise finds himself in a mysterious mansion, at a gathering of a members-only sex society, his life and the couple's relationship are inalterably changed.
The movie struck a chord. Lawner was forty-two. He'd been with Melissa for more than fifteen years—a third of his life. He still loved her deeply, still wanted her every single day, but things hadn't been good in their relationship for some time. The moves and the financial upheaval had worn on them. And even though he fell asleep every night beside a gorgeous wife, he and Melissa had all but stopped having sex. Every time he saw a happy couple in the street, he wondered how long it had been since they'd last slept together; he'd lost count himself. That he lived and worked in Beverly Hills—frequented by some of the planet's most beautiful women—only made him feel worse.
In time, an idea took hold. Wouldn't it be amazing if there were an answer for guys like him—for couples like them? Some kind of club, like in Kubrick's movie, that was secret and exclusive, where a couple like DamonandMelissa could go? A place where the fire could be rekindled.
As the days and weeks wore on, Lawner kept revisiting the notion—in fact, he could think of little else. Finally, one afternoon he went to a Paper Source store and bought an expensive notebook bound with silver cloth, and a fancy black pen. That night, after Melissa and the kids went to bed, he sat down at a makeshift office in the corner of his living room. The first thing he did was sketch the Oculus Dei. Then he wrote this: "The grand object of Snctm is the eroticism of the human race."
Lawner got the club rolling with a Facebook page and forty dollars' worth of promotional boosts. To his surprise, dozens of people started friending him. A ticket to the first Masquerade—held in a rented nightclub in Beverly Hills in March 2013—cost fifty dollars. Lifetime membership, which included admission to every Snctm event and discounts on dinners and table service, was $1,500.
For the first two years, the Masquerade was a movable party, held in a different mansion every month. Eventually, to cut down on problems with neighbors and the law, Lawner rented the Tudor. Today a table with liquor service at a Masquerade costs $2,500 a couple; lounge chairs at the pool parties are $950 a pair. An annual membership, which includes entry to all Snctm events and other perks, costs $10,000. Dominus membership lasts for a lifetime and costs up to $75,000. About a hundred people have signed up for membership, Lawner says, and "ten or so" have joined at the Dominus level.
One of Snctm's big draws is the promise of anonymity. A number of Hollywood celebrities, among them two Hall of Fame rockers and a talk-show host, have attended, and some have paid full price for a membership. An interview with Lawner ran on Gwyneth Paltrow's website, Goop, and her boyfriend, Brad Falchuk, the cocreator of the television shows Glee and American Horror Story, is producing a fictional series based on Lawner's life.
By late Saturday night, the Snctm Masquerade is reaching a crescendo. Hundreds of white candles flicker throughout the fifty-five-hundred-square-foot mansion; trance music issues from hidden speakers; red uplights lend a chthonian vibe. The men wear tuxedos, the women lingerie. Identities are hidden behind elaborate masks of lace, rhinestones, and feathers.
In the foyer, two topless Amazons, wearing pasties in the shape of the Oculus Dei, stand watch like queen's guards. Beneath a crystal chandelier, Tran is dressed now as his alter ego, Bunnyman, with his leather bunny mask, black Japanese keikogi top, and black hakama bottoms. His attention is directed toward a woman in a lace teddy. She is blindfolded and bound to a crushed-velvet chair with the traditional coils of jute rope used in shibari. On a low table nearby, displayed on a silver tray, is a collection of toys—a flogger, a Lelo wand, a two-headed marital aid, and a retasked antique medical tool called a Wartenberg pinwheel, with radiating sharp pins. A circle of guests gathers around.
In the living room, a cocktail-party atmosphere prevails. People laugh and drink and flirt. Young Devotees from the erotic-theater troupe circulate through the crowd. One wears a pig mask and a sign around her neck: Touch me. By day she's a digital research analyst. Snctm is her new hobby. Not even her boyfriend knows. The first time she worked a Masquerade, she spent two hours on her hands and knees serving as a human end table. This time she is being led through the proceedings on a golden chain by two of her fellows, one wearing a leather police hat, the other in an eye cage, garters, and stockings. The latter carries a crop. Like servers passing hors d'oeuvres, the trio encourage members and guests to pet or whip the Devotee as they see fit. Later she will say she loved the way the guests looked at her with a mixture of shyness and desire, men and women alike.
Downstairs is an old wine cellar, empty of bottles. Two women and two men occupy a queen-sized bed. One man is an airline pilot, the other is a banker. They've both brought dates. They don't yet know each other's names—later they'll share a couple of beers at the bar. Close at hand is a considerable crowd, standing room only, unblinking. They keep a respectful distance, each person or couple occupying their own psychic space. It's as if they're watching a porno in unison at home on the big screen, only this one is in 3-D and surround sound and Smell-O-Vision, and here comes one of the spectators, breaking the fourth wall, moving forward to join the proceedings, unzipping his fly. No one is fully undressed; shirts hang unbuttoned, bow ties and bras litter the floor, panties are pushed to the side, trousers sag around ankles. Sweat flows. Intimate noises. The new man has a small paunch. The woman who has been busy with the banker works for a casting agency. She takes the new man into her mouth. The woman with the pilot works for a television show. She reaches over with a free hand to help out with the new man. The red soles of her Louboutins rock back and forth like twin metronomes, keeping time.
Upstairs, a passageway leads to the attic playroom, one of the perks of membership. Two beds, a number of folding chairs for spectators. Diaphanous swaths of cloth hang from the rafters. One bed is occupied by a foursome of women. On the other are Alan and Janine. (The names of the guests, along with some identifying details, have been changed.) They live in Brentwood and have young children. They're both involved in entertainment. Alan is a little heavy but looks good in his tux. Janine looks like an active member of the PTA, which she is. Instead of lingerie, she wears a short frock. Before they found Snctm, they spiced up their marriage by going to high-end strip clubs. Tonight, for the sake of modesty, they keep their clothes on while they have sex. People sense their need for privacy and look away.
Kay and George are in the shadows in the corner, making out like teenagers. They have several kids, aged ten to twenty. He owns an ad agency; they fly in from the Midwest to attend. Some time ago, George says, "We started to think that it's not necessarily normal to be with one person your entire life." The first time they tried a swingers' club in Las Vegas, Kay was overwhelmed. She remembers "strangers walking up with their penis in their hand." At Snctm's price, George says, "people have a lot in common. It's very sophisticated and private; you know there won't be any weirdos."
Sophia and Fernando are in the fashion business. The swaths of cloth hanging from the rafters were their idea. Something of a May-July couple, they don't come to Snctm to play, but they love to dress up in antique designer clothes and masks and watch others. Tonight they've both taken small hits of MDA. "It's incredibly sexy—the women are so beautiful," gushes Sophia. "You just can't believe the stuff you see," Fernando says. After a Masquerade, they suggest, things usually get pretty hot in their hotel room.
Harrison is twenty-one. He has a mop of silky hair and big brown eyes with long lashes. "You'd be surprised how many older women have a thing for young guys," he will say later, smiling like the Cheshire Cat. Earlier this week, his dad wrote a check for $50,000 to make him the youngest Dominus member of Snctm. At the moment he is sitting on a chair, watching the girl-on-girl action, a look of contented exhaustion on his face. A cute young Belgian woman is sitting on his knee. They bring to mind a couple resting between dances at the prom, except she is wearing only a bra and panties and has her hand down his pants.
At the back of the room, near the door, Damon Lawner surveys the scene in his Tom Ford tux. The top three buttons of his white shirt are open to reveal his tanned and well-muscled chest.
For the first two years of Snctm, as the club began to grow and flourish, as the money started flowing in, DamonandMelissa worked side by side to organize and run the parties. Once again, they were the It couple, though they never participated in the swinging.
"Yes, it was frustrating," Lawner recalls.
"I like to drink and have fun as much as the next girl," Melissa says. "But some of the sexual things that would go on in the club just turned me off. Damon really wanted to try all these things out. He wanted me to participate. And I was like, 'No. I'm not into it.'" At some point, Melissa says, "the parties just crossed the line for me." She quit attending. As time passed, she experimented with giving Lawner permission to experience nonsexual activities like flogging or bondage. But she could not envision a scenario where she'd be okay with him sleeping with other women, whether at a sex club or elsewhere.
"I tried to go along, but it became a place of discomfort for me," Melissa says. "We would have fights and I would cry and we would talk about it. It wasn't really working out for either of us."
In the fall of 2015, Melissa discovered that Lawner had spent time in a hotel with Caroline, the young woman from Texas. In the aftermath, Lawner confessed to a series of indiscretions. Furious and hurt, Melissa issued an ultimatum. Lawner could continue with Snctm, or he could act like a proper husband and father to Melissa and the girls.
"I don't really blame Snctm for our relationship ending, but it was a catalyst," Melissa says. "I had a certain vision of what our future looked like, and it was more domesticated and normal, kind of how I was raised, and he was raised very differently. But in a way I'm grateful for it, too. What I experienced in the Masquerade parties was positive for me, it opened me up to being more passionate, more exploratory—maybe not with pain or being tied up—but with other things.
"Damon's grown a lot from this, too," she adds. "He's gotten sober. But he still has those young girls over there and he's still a kind of playboy, tooling around in his new sports car, driving way too fast in residential areas. And you know what? That's how he is, that's just Damon. He's living his truth."
Meanwhile, in the attic, Lawner spots Caroline behind one of the diaphanous swaths, making out with a wealthy businessman.
Caroline is wearing a fishnet cover-up over a bra-and-panty set, and a pair of five-inch Manolo heels. Her mask is gone; she appears to be unsteady on her feet. At Lawner's insistence, she has agreed to an open relationship, but it doesn't take a genius to see what's happening. Throughout the night she has consumed a large quantity of alcohol and has flirted with multiple men. Lawner has kept an eye on her. You can tell he's torn. He's said as much: "I have feelings for her, sure. But I've come too far to tie myself down."
The businessman is a handsome guy known among club members as an experienced swinger. Like Harrison, George, and Fernando, he paid Lawner a minimum of forty grand to join Snctm. He reaches down and begins to touch Caroline vigorously between her legs. In obvious distress, she does a half pivot and manages to slither free from his grasp.
She lurches across the attic and out the door, her face smudged with mascara and humiliation.
Lawner follows.
Late Sunday afternoon, post-Masquerade, the sun shines down on the Snctm mansion, exposing some of the cracks and flaws in the midcentury house. Lawner is in the living room, shirtless in the same gauzy cotton pants, strumming a rare 1963 Gibson Hummingbird guitar that Keith Richards, he was told, once played, a gift from a music producer as a thank-you for arranging to make one of his secret fantasies come true.
In the afterglow of last night's shindig, Lawner has grown reflective. From the tone of the text messages he's received, the Masquerade was a resounding success. The future looks bright. Masquerades have been planned for every month through the rest of the year. In September, in New York, during Fashion Week, he held a Masquerade on a hundred-foot yacht. Next month, in Miami, during Art Basel, Lawner is planning to hold a Masquerade at a private house. Falchuk's show is in development, and Lawner has been pitching a reality show, too. He's hired a camera crew to follow him around. Everything is going his way.
And yet he's feeling melancholy.
As the idea was originally hatched, Lawner was supposed to move into the Tudor with Melissa and the girls. Down the hall is the room where his daughters stay when they visit for occasional sleepovers. The girls are now eight and eleven. Melissa is dating a wealthy realtor, the kind of guy Lawner tried his best to become. In a few days she'll be leaving with her beau for a jaunt in the Mediterranean. Lawner will follow her posts on Facebook.
Since starting Snctm, Lawner has gotten everything he's ever wanted. There's a brand-new red-and-white Aston Martin Vantage GT in the garage; beside it is an identically painted Ducati motorcycle. A parade of beautiful young women share his four-poster bed. More and more people are hitting him up to join Snctm—it seems like he's found a nerve.
"I've had nights when I'm looking around the mansion and I can't believe what's really happening," Lawner says. "It's overwhelming. I've seen activities between guests that have been an incredible turn-on. I've sat down on the carpet in my room and listened to rock stars play my guitar. I've watched the most gorgeous women, everywhere you looked, just eating each other's pussies and fucking and I mean, God, on those nights I find myself really participating. I'm being pulled into stuff and I'm like, Are you kidding me? No man should get to experience this. It's almost unfair."
And then there are the other times, Lawner says. The hollow feeling. The loneliness. He misses his daughters. He misses his wife. He misses having a place within the little family he created. Outside the box, it seems, you are completely on your own. Freedom can be daunting.
"If I had stayed in real estate, if I had put on the suit and tie, I would be coming home to this beautiful wife who loved me incredibly deeply and these two beautiful little daughters," he says. "I probably could have built a nice life. I could've done the picket fence. It probably would have been deeply fulfilling. I don't know. Instead I chose to absolutely follow my dreams. I knew I was going to lose my family. I made a conscious decision. I gave up the only thing I love and care about in this world."
He strums the rare and beautiful guitar. "The truth is I'm heartbroken," he says.
As if on cue, Caroline floats out of the master bedroom, into the living room. Freshly showered, dressed in short-shorts and a simple tee, she looks natural and gorgeous and smells of herbal shampoo. She straddles Lawner's lap, facing him.
"Remember last night in the members' lounge?" Lawner asks. "When that guy was kinda kissing you and touching you? Would you have wanted me to step in and stop that? Or was that something you wanted?"
She studies him for a moment—the square jaw and earnest blue eyes, the slight crinkles at the corners, the strands of gray sneaking out of the hedgerow of his center part, his Hindu mala beads, from which rises the scent of sandalwood. She kisses him deeply.
His eyes are wide open.
This article appears in the November '16 issue of Esquire.
Follow Marie Claire on Facebook for the latest celeb news, beauty tips, fascinating reads, livestream video, and more.
Marie Claire email subscribers get intel on fashion and beauty trends, hot-off-the-press celebrity news, and more. Sign up here.
Mike Sager is a bestselling author and award-winning reporter who's been a contributor to Esquire for thirty years.