5 of the Steamiest Coachella Hookup Stories You'll Ever Hear
People got down in the desert!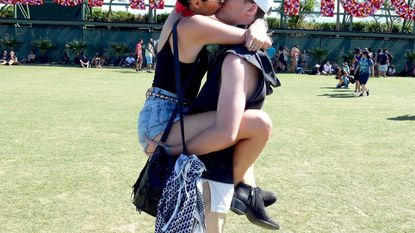 (Image credit: Archives)
Coachella is *~the place~* for good vibes and good music, and what's more fun than finding a festival bae to enjoy that with? From an electric makeout mid-concert to hooking up behind a bush, these five people shared their hottest Coachella hookups, straight from the California desert.
1. "This past weekend at Coachella, I was with my squad and we were having the times of our lives! I was wearing a mesh tank top and short shorts while we were dancing at the Sahara tent to Martin Garrix when I saw this insanely hot guy next to me. We kept making eye contact until eventually I just pushed through the crowd and starting dancing with him! Throughout the concert, we kept getting closer and closer until I just went for it and started making out with him in the middle of the crowd! Once the set finished, my friends decided to stay, but this guy grabbed my hand and started pulling me toward the VIP Rose Garden. We went inside and in the back corner, there was a big rose bush we went behind and started hooking up. I was nervous someone would find us but I ended up not really caring since it was Coachella, so I went for it! We were having a great time until I saw a flashlight shining down from one of the security guards! We put our clothes on and the guard escorted us out of the Rose Garden. I was so embarrassed! My friends met us outside, and my mystery man and I went our separate ways! I'll never forget my first, and hopefully not last, festival hookup!" —Brett, 19
2. "I had gotten out of a relationship six months ago. My girls and I (we all go to school in England) decided Coachella was the best reward after the crazy months we had. This was our first time in America and we were ready to have the time of our lives. I in particular was looking forward to anything to distract me from my ex. The first night, we all went out, and we were having the time of our lives, and then we bumped into a group of guys who were also Nigerian. One of the guys was staring at me and came to sit next to me, and we got talking. One deep conversation and a few drinks later, and we were all over each other. I knew I wanted him there and then, but of course I was trying to play it cool. The rest of the bunch left and it was just the two of us ... He started kissing me and boy, was he a good kisser! We made out for a while ... At this point, I realized that at no point during the evening had I thought of my ex. I haven't seen him since then and I still don't know anything about him apart from his first name that might or might not be real." —Maryam, 21
3. "At the Empire of the Sun show, this Swedish guy just started dancing behind me. The show blew our mind, then we end up hooking up in the middle of the camp ground. He barely spoke English. I'll never see him again." —Lana, 20
4. "I met this hot guy at one of the concerts and we were dancing throughout the whole show ... Afterward, we were walking around and got the crazy idea to go into the Porta-Potty ... [We] fucked right then and there. It was super hot and I don't regret it. I never got his number and I probably will never see him again!" —Ellis, 20
5. "[Coachella] is a great place to just meet strangers and dance with them. [I spotted] this tall, dark-haired guy a few people away and we made eye contact. I think YOLO and go for it. We ended up hooking up in the middle of the crowd, then he was like, 'Let's go get food,' so we try and leave to get some, and I can just feel this vibe between us, but I lost him in the crowd and never got his name or number! At the end of the night, I found all my friends and went back to our hotel. I woke up the next morning, ate breakfast, and was about to shower when I found a phone number written huge on my stomach, but it's upside down so I'm like, who the hell?! Then I remembered. Amazing!" —Brenda, 19
Responses have been lightly edited for length and clarity.
Follow Marie Claire on Facebook for the latest celeb news, beauty tips, fascinating reads, livestream video, and more.
Celebrity news, beauty, fashion advice, and fascinating features, delivered straight to your inbox!