The Embarrassing Tale of My Failed One-Night Stand...and Why I Broke Into His Apartment the Next Day
There are some things you just can't leave behind.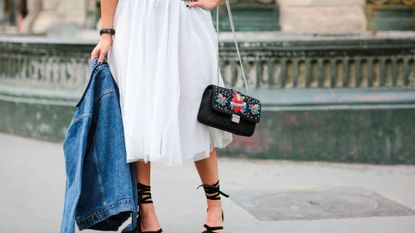 (Image credit: getty image)
I sat anxiously in the conference room strategizing with my co-workers, except this time it wasn't for our boss. We were plotting how to get my jean jacket back from the guy I'd stumbled home with the night before.
"You can't go back for that jacket," one said. "That's insane."
They unanimously agreed: When you leave something behind at a guy's apartment—one who was very obviously into it for the casual hook-up only—the chances of seeing said item again are slim. I understood that. But this jacket...it was perfectly crinkled denim blue with sleeves that gently held onto my wrists even when I raised my arms. A jacket of all trades that I could dress up with an LBD or down with yoga pants. A little guardian that hugged my waist when temperatures dropped on foggy San Francisco nights.
"I'm going to get that jacket back," I declared.
I only knew a handful of details about the man who was unknowingly keeping it captive: His name was Cameron, he had a head full of curly brown hair, and I had his apartment address—thanks to my Uber receipt.
The situation with Cameron was an odd one from the start. I'd had a few drinks with my coworkers and we'd headed to a bar you only go to if you're drunk enough. It was dark and dirty, but not in a trendy San Francisco way. The establishment's main attraction is a wheel you spin for $10; whatever cocktail the wheel lands on, you have to drink. We spun many wheels. And sometime in between them is when Cameron sauntered over to me.
RELATED STORIES
At first glance, I assumed he was from out of town. He was good-looking and polished in an East Coast, finance guy kind of way. He had a commanding smile that matched his sleek silver suit. I was surprised that he plucked me out of the crowd: a small blonde with Midwestern roots. We talked about mundane topics like our jobs and where we lived—nothing meaningful. But then he threw a curveball.
"I want you to put your drink down and come home with me right now, where I'll throw you on my bed and slowly undress you," he whispered in my ear. "Then I'll tie you up, start at your neck, and slowly make my way down."
My first thought was, I hope nobody around us is listening. My second was, This sounds like the start of a horror film.
"Does this actually work on the women you try to pick up?" I asked.
"Wouldn't you like to know?" he asked back.
The truth is, I did want to know. I was intrigued by his bluntness. So I didn't go back to the safety of my co-workers. I didn't throw my drink in his face and call him a dick like some women might have. Instead, I went along with it. I liked the attention. I liked what I was hearing. I liked pretending to be the type of girl who would go home with a guy, get tied up, and not think twice about it. And that's because a part of me is that girl—but I didn't know how to accept that quite yet. I was never given a manual on how to get through life as a curious, single woman with a healthy sex drive.
I nonchalantly accepted his offer. I wanted to follow my curiosity and not feel guilty about it. After all, if our genders were reversed, my male self would have said "yes" immediately.
At his place, we skipped the formalities and made our way straight to the bedroom. Since it was already late, and a Thursday night, I figured we shouldn't waste any time. I was playing a part, after all, and thought it would be best to follow through.
"So, are you going to tie me up?" I asked, trying not to be awkward.
He leaned over to his bedside dresser and pulled out a long, white shoelace.
"This is all I have."
I froze in a state of confusion. A shoelace? Really? I thought I was going to at least be teased with handcuffs, or a sexy silk tie. His confidence at the bar led me to believe he was an experienced, kinky kind of guy. Our charade was broken the moment he pulled out the shoelace, and my embarrassment for wanting to hook up with him at the slightest provocation hit me with full force. Suddenly and inexplicably, he scurried to the bathroom. That's when I grabbed my things and dashed for the door without saying goodbye…leaving my jean jacket behind.
Despite my friends' objections, I showed up after work at his place unannounced. I gave myself a pep talk: You are not crazy for being here. You are just here because you want your jacket back. ButI was lying. I was there because I wanted to explain my unannounced departure, and that I wasn't sure who the person was that he was with last night.
I knocked on the door, but nobody answered, so I knocked again. I should have left, but instead I coyly played with the doorknob. The door swung open. Actually, literally, just...swung open.
"Hello...?" I uttered as I stepped inside.
I knew I was playing a dangerous game by being there, but I also loved the adrenaline rush. Twice in 24 hours I felt like I was somebody else, playing a role. Somehow that made it easier to take another step. I gave myself two long minutes to poke around before I high-tailed it for the jacket. First, I tip-toed through the living room, which looked like a frat house: a melting pot of clean and dirty clothes with the casual beer bottle wedged in between. Against the wall leaned an unused blue and green surfboard.
RELATED STORIES
Who is this guy? I wondered. Then: I don't remember this place being so dirty. It didn't look like an apartment that belonged to the exquisitely dressed man I met the night before. Finally, I made my way to the bedroom. I peeled a beige collared shirt off an OfficeMax chair. Peeked under the pile of khaki pants on the floor. I even checked under the comforter of his unmade bed. Ten minutes had passed—a long time to be in someone's apartment when they don't know you're there. I still couldn't find the jacket.
As I walked toward the door, the knob clattered. Someone was fiddling with their keys on the other end. Time slowed down as I hashed out every possible avenue for avoiding the excruciating confrontation that was about to ensue. Should I hide in a closet? What about the bathtub? How long would I have to wait until the person on the other end left? What if they didn't, would I have to sleep in my hiding spot? This is weird. I shouldn't be here.
I felt paralyzed, but quickly stomached the fact that I was going to confront the person on the other side. The door opened, and a tall man with curly brown hair walked in.
But it wasn't Cameron. It was his roommate.
"Heyyy, how's it going?" he said, with a muddled look on his face.
Clearly, he had no idea who I was, but he also didn't think I was an intruder trying to rob his house.
"Is Cameron here?" he asked.
I said no, took a deep breath, and delivered the ludicrous explanation for my visit: "So, I actually came home with Cameron last night. I left my jacket here, but didn't have his number, so I thought I'd stop by and get it."
The roommate laughed. Our bubble of tension popped. He went into his room to look for my jacket, but couldn't find it. I gave him my number to pass on to Cameron; he said he'd tell him I swung by.
I never did get that jacket back. But I got a little bolder, which might be what I needed more.
Follow Marie Claire on Facebook for the latest celeb news, beauty tips, fascinating reads, livestream video, and more.
Celebrity news, beauty, fashion advice, and fascinating features, delivered straight to your inbox!
Joyce Chen is a freelance writer/editor/creator who has covered the intersection of entertainment and cultural criticism for Rolling Stone, Refinery29, and the New York Daily News, among others. She is also one of the cofounders of The Seventh Wave, a bicoastal arts and literary nonprofit that shines a light on art in the space of social issues.