Couple Sex
As told to Kristina Grish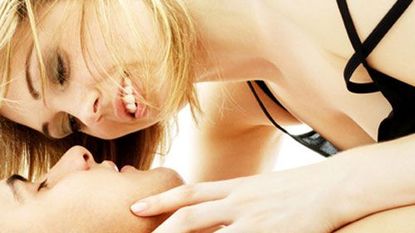 (Image credit: Lev Dolgatshjov)
THURSDAY

Liza, 27, writer: Max got home from work, and we had yet another argument about our sex life. I want it more than he does, and he seems to view it as a chore. When he sat on the couch, I started kissing his neck.
Max, 30, financial exec and DJ: After a particularly grueling day, I walked into our small apartment. Two minutes didn't transpire before Liza tried to make out with me. Zero interest on my end; I didn't have a chance to get comfortable, and I still had work to do.
Liza: Around 11:40 p.m., we cuddled and flirted in bed. I tried to crawl on top of him, but he pushed me off and grumbled about needing to sleep.
Max: Liza started to get frisky, and I might have gone for it, had she not tried to jam my finger through her pubic thicket. She's always had a little 'fro, but this time she'd cultivated a real Chia.
Liza: I've scheduled a Brazilian bikini wax for tomorrow-my first ever-so maybe that will help spice things up.
FRIDAY

Liza: My Brazilian torture left me with the perfect landing strip. Max came home, and I asked him if he wanted to see my new look. He had the nerve to say, "Sure, but later!" Huh?
Max: I got home from work, and the first thing I heard was, "Hey, I got a Brazilian bikini wax. Wanna see?" Did I ever, but again, not the first exact second I walked into the apartment.
Liza: That night Max started touching me in bed and was loving the new, hairless me. But I was exhausted.
Max: When Liza got in bed, I was overcome by the desire to check out her new look. It reminded me of fresh chicken fillets-little cutlets under a wisp of symbolic hair to avoid associations with 11-year-old girls. I got excited, but she was tired.
SATURDAY

Liza: When we got home from a movie, Max suggested we take a bath. I was like, "Who are you and what have you done with my husband?"
Max: I always like it when she's all slithery in liquid. Liza was getting sleepy, but her new look got me all riled up, and I basically went for it. It was ideal; no accidental tooth flossing.
Liza: At one point, Max had me in a variation on doggy-style, which he never does. I was excited, because I like roughing it up a little. By 6 a.m., I wanted to sleep, but he wouldn't stop. Once he got going, it was like feeding a starving man.
SUNDAY

Liza: Around 4 p.m., Max got into the shower and I thought he was going to ask me to get in. But he didn't!
Max: I took a shower and half hoped she'd hop in with me.
Liza: Then he asked me to put body rub on one of his socks and scrub his back. He loves it, but it reminds me of primates. And I was like, come on! This could have been a very sexy moment!
Max: Once I was out of the shower, sleep took over, which was very unfortunate, because I was looking forward to another encounter with my newly rediscovered best friend of all time- and by that, I don't entirely mean Liza's streamlined new jezeeble.
Marie Claire email subscribers get intel on fashion and beauty trends, hot-off-the-press celebrity news, and more. Sign up here.