Do Men Care if Women Wear Makeup?
See how long women are waiting to show their makeup-free faces in their relationships, and what our relationship guru is saying about what men are thinking.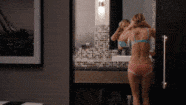 (Image credit: jennaxftw/tumblr)
According to a recent study featured in the Daily Mail, women wait an average of four weeks before going makeup-free in new relationships. Even more, most respondents said they feel their respective partners wouldn't find them as attractive au naturel. Some even admitted to getting up early to put on makeup before seeing their mate. Besides reminding us of one of our favorite Bridesmaids scenes, the findings left us wondering—do men even notice when women bare it all? We asked MarieClaire.com's dating guru, Lodro Rinzler, to weigh in on the topic:
"First off, if a woman spends the night within those four weeks, I'd like to think she would take off her makeup at some point," he said. "Guys don't talk about whether women feel comfortable enough to remove their makeup; we talk about how beautiful they are in the morning. The naturally disheveled look is the sexiest, in my opinion."
He later added, "I also think that men could misinterpret a woman who goes extra lengths to contantly apply makeup—maybe she doesn't feel relaxed? But frankly—most guys don't notice when a woman stops wearing make up for him. With all of that being said, a man does notice when a woman gets dressed to the nines, which he loves and appreciates."