White Weddings in Sin City!
What Happens in Vegas, starring Ashton Kutcher and Cameron Diaz, joins a pantheon of memorable and regrettable wedding flick pictures that have improbable couples uniting in the unholiest of matrimonies.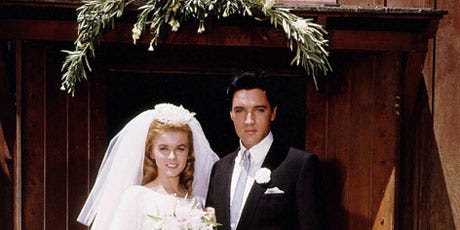 Kobal/MGM/The Kobal Collection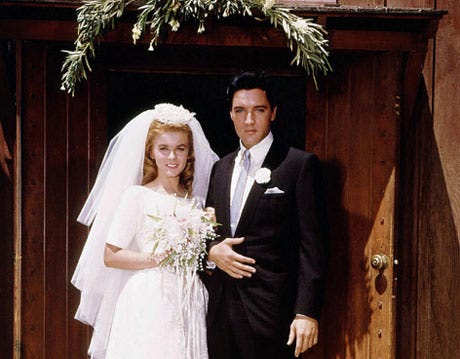 Kobal/MGM/The Kobal Collection
Viva Las Vegas, 1964
Fiery lifeguard Rusty (Ann Margret) and down-on-his- luck racecar driver/waiter Lucky (Elvis Presley) are coworkers at a Las Vegas resort when love, jealousies and musical numbers erupt. When a hotel talent show pits them against each other, can their chemistry overcome their bitter rivalry? Matrimonial jackpot?: A three cherry payout! Word is these hip swivelin', crooinin', high-rolling performers sizzled off-screen, too.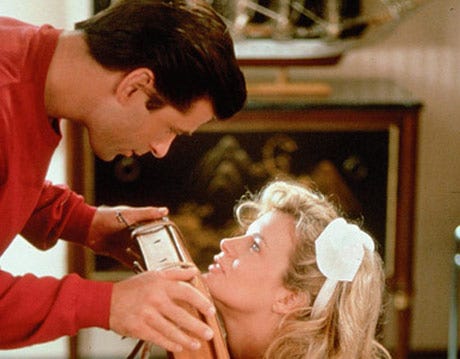 The Marrying Man, 1991
Sultry nightclub singer Vicki (Kim Basinger) and rich playboy Charley (Alec Baldwin) have a steamy affair. But when Vicki's gun-toting sugar daddy, mob boss Bugsy Siegel, catches the two in the sack, he forces Vicki and Charley to make it legal and get hitched, an outcome neither of them had intended . Matrimonial Jackpot? Let this one ride. This flick, starring real-life bitter divorcees in their salad days, is about as funny as crapping out.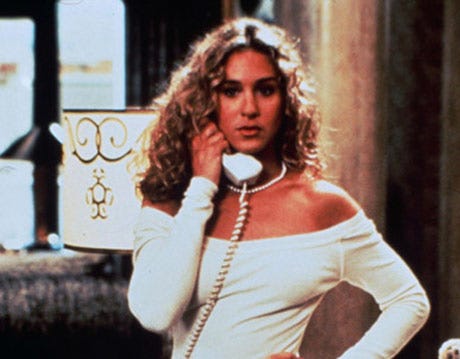 Kobal/CASTLE ROCK/NEW LINE/The Kobal Collection
Honeymoon in Vegas, 1992
Blushing bride Betsy (Sarah Jessica Parker) and nervous groom Jack (Nick Cage) have been dating for years, when Jack decides to chuck his dying mother's wish that he never marry and elope with the girl of his dreams. But when a pre-ceremony card game leaves him thousands in the hole, Betsy is forced to spend a weekend in Hawaii with the winning card shark before Jack can win her back. Matrimony Jackpot?: A straight flush. This one's wacky in all the right places, from the offbeat casting to an iconic scene involving flying Elvises.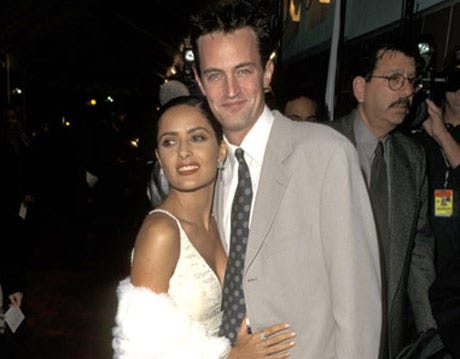 Fools Rush In, 1997
Passionate, romantic Mexican-American Isabel (Salma Hayek) and the uptight, Waspy corporate lawyer Alex (Matthew Perry) are the requisite odd pair. But when their one night stand in Vegas leads to an unplanned pregnancy, the two beeline for the alter. Matrimonial Jackpot?: Should have stuck with Keno. Accidental pregnancies, cultural differences, conflicting life goals—you gotta know when to fold 'em.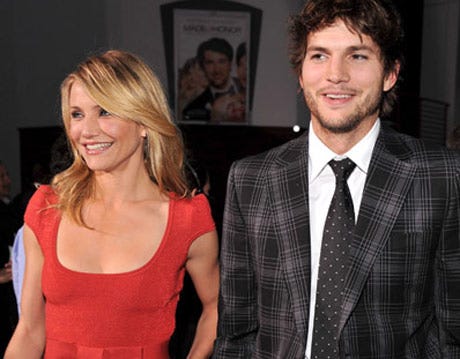 What Happens in Vegas, 2008
Joy (Cameron Diaz) and Jack (Ashton Kutcher) are the world's unluckiest pair who find each other on the Vegas strip. A few hours and several cocktails later, the drunken pair wed in a ceremony straight out of Animal House. (Her bouquet is made of beer bottles and sippy straws.) Matrimonial Jackpot? Double down. After a winning quarter pays off at the slots, these two hotties have about 3 million reasons to fall in love. Some noteworthy laughs make this one worth seeing.
This content is created and maintained by a third party, and imported onto this page to help users provide their email addresses. You may be able to find more information about this and similar content at piano.io