Inside the Life of a Dominatrix
An intimate interview.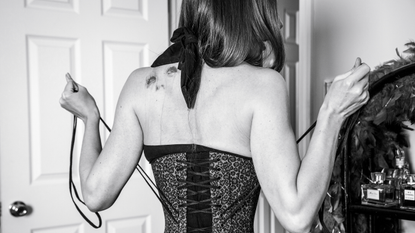 (Image credit: Kathryn Wirsing)
Marie Claire Newsletter
Celebrity news, beauty, fashion advice, and fascinating features, delivered straight to your inbox!
Thank you for signing up to Marie Claire. You will receive a verification email shortly.
There was a problem. Please refresh the page and try again.
Seeing Mona Rogers on the street, you might assume she's a ballerina. Her movements have grace and purpose, her energy is calm and collected. She's immediately likable. And she's a professional dominatrix.
In a candid interview, the 33-year-old New Yorker provides astounding insight into her fascinating, surprising, and misunderstood world.
Marie Claire: How did you get your start in BDSM?
Mona Rogers: When I was about 24, going on 25, I was having a lot of pivotal moments in my life. I don't know what the exact trigger was, but one day I was sitting in front of my computer and I was like, "I'm gonna look up BDSM," and I did.
I had always been kinky, but I didn't really understand that some of the stuff I had been doing could qualify as that. But it was kind of like everything that I read I just inherently understood. I have a dominant personality, and researching the BDSM situation helped me understand myself.
MC: Were you nervous at all, going in?
MR: There was definitely trial and error—when I first started, I thought I was gonna be very, like, kick in the door, "lick my boots," this and that, and I was totally not like that. It's part of why my clients liked me: I was real with them and there was something genuine about me.
I was also a little bit familiar because I'd been doing foot fetish for a little while, before BDSM. That's how I actually got my foot in the door [laughs]. I mean, who doesn't love getting your feet rubbed? I was like "Oh, you're gonna rub my feet for an hour and you're gonna pay me? What? That's awesome!"
MC: What does foot fetish really entail though?
MR: There are things like smothering with the feet, putting them all over their face. Kissing and licking your toes, sometimes shoe worship. Ball busting can fall under foot worship activities, so that's, like, impact to the testicles, trampling, walking on the person.
MC: Does it get sexual? Like...with orgasms?
MR: Oh no. If I'm touching your junk, it's not going to be pleasant. Either I'm tying it up, putting clothes pins on it, piercing it, whatever, do you know what I mean?
MC: So even now, as a dominatrix—no sex?
MR: No way. We're mistresses—we should be unattainable things. They're not here for their pleasure, they're here for our pleasure. I know some mistresses who do, but it's not one of the things I offer. That's a hard limit for me. I always say, "Your dick, your problem."
MC: Did anything really gross you out in the beginning?
MR: In the beginning I wasn't sure exactly what I was doing. There are certain things, like edge play—which is anything that kind of has a little bit more of a risk to it, like knife play, cutting, piercing, stuff like that—that took me a while to learn. I spent more time being mentored in those areas because it was kind of nerve-racking. But gross me out? I'm not into your bodily fluids...showers and things like that. No no no no.
MC: What do you offer? What's your "thing"?
MR: I'm all about sensations, so impact play, like spanking and flogging, things like that. I love electrical. I'm into sensory deprivation—blindfolds and hoods and gags. I love bondage. Anything that is either, like, adding to your senses or is taking away your senses or is physically stimulating you in some way. I'm an excellent spanker.
MC: What happens in a normal session?
MR: I like to start out with some sort of impact play, because that kind of gets the blood flowing. Then I'll segue into a little bit of bondage and then add sensations over that. I like to work between pleasure and pain. They have this thing called a "vampire glove" that's got little spikes, so I'll brush with the rough and then come back over with something soft. If you have a blindfold on and you can't see what's going on, then all of a sudden you're like,"Oh!" It's really interesting. I like to make you ride the roller coaster.
MC: Is there a safe word?
MR: "Mercy" is the default safe word...but, my personal safe word is "ice cream," because everyone screams for ice cream.
MC: How long does a session last?
MR: I would say my average session is anywhere between an hour and three hours.
MC: Three hours?!
MR: It all kind of depends on what their needs and wants are. Some people are very, like, "I just want that brush with it, real quick, just to make me feel something exciting or help me blow off some steam," and then other people are like, "Create an experience for me."
MC: So how do your clients find you?
MR: I have a website, and there are specific places you can advertise. But I see only who I want to see. I'm super selective—if I don't like the way you email me or the way you address me, or if I'm on the phone with you and I don't like your tone of voice, I'll be like, "Sorry, not interested,thanks."
I also ask for references. You have to give me references for other people you've played with previously—I vet people that way.
MC: Where do the sessions happen?
MR: I rent space in a commercial dungeon.
MC: And how many do you do a week?
MR: Some weeks I could have none, and then some weeks I could do six or better. On average, it's about three.
MC: Do you have another job on the side?
MR: I don't. I don't live extravagantly, but I'm comfortable. I go on vacation, like, once a year. And I plan for the down times.
MC: Down times...does that mean there's a "BDSM season"?
MR: From April to the beginning of July is usually the busy season. The middle of July into August it starts to get slow because people are taking last-minute vacations, or it's just hot as balls and nobody wants to do anything. Then January and February are pretty slow, because they get the credit card bills from all the Christmas shopping. I'm a luxury item, so I have to plan accordingly.
MC: What's the riskiest part of your job?
MR: Actually it's bondage—it can cause permanent injury from nerve damage. Think about it: If you're putting knots in certain places and they're digging in, you can cut off circulation. You have to be really mindful of the temperature and the color of the skin, if their hands start to get tingly. You have to check in with them and be like, "How are your hands feeling?"
MC: Why do you think people are drawn to BDSM?
MR: There are a lot of neurological processes that happen in the body when you're aroused—you have adrenalines and endorphins pumping, which mean you can take more. But some people are just predisposed to liking pain because they're wired that way. There's a neuro peptide called Substance P, and that is actually what's in your brain that influences how your body processes pain. So, for some people, it is pleasurable—for other people, it just feels like pain. And then, there's also the fact of subspace. So for some people, when they're experiencing pain or just really intense physical sensations, and there's a release of endorphins—the body's natural opiates, which work to anesthetize pain but they also cause a feeling of euphoria—combined with adrenaline, you can get this really euphoric sensation. For some people, it's almost like a spiritual kind of feeling. For other people, it's just this very release-type of feeling. For other people, it could be a sexual thing—but BDSM and sex are not necessarily synonymous. For me, when I'm receiving on the receiving end of that, it's a very cathartic release. It has nothing to do with sex or being turned on sexually.
MC: What are some of the biggest misconceptions about your work?
MR: A lot of people don't understand humiliation and why people would want that. But let's say someone was bullied about something in high school—they might come to me and ask for a role play, and have it be within the same vein of what they were bullied about. So what they're doing is they're recreating that scenario, but within their control and their own outcome. It's kind of like they're having a therapeutic way of working through it. That said, if I really feel like someone's behavior is self-destructive, or I feel like they are pushing it way too far, I won't participate in it.
MC: The clients you see—many of them are married, probably?
MR: Some of my clients have the "don't ask, don't tell" policy—their wife knows, but they don't really talk about it, and as long as they're not, like, spending mortgage payments on coming to see me or missing their kids' soccer game because we're in the dungeon, it's okay. As long as they're being responsible, they're kind of okay with that.
MC: Do you ever feel persecuted for what you do?
MR: No, I really don't. I've always had a very eclectic group of friends, and when I first started saying, "Hey, so, I think I'm gonna be a dominatrix," they were like, "I could see you doing that." Like, nobody was judgmental at all.
MR: Do your parents know about your job?
MR: I came out to my parents about it when it became more than just a hobby. My dad was hilarious about it, actually. One day we were watching TV and I said, "I've actually been meaning to tell you about this." I was like, "I'm a professional dominatrix." And he said, "Oh, all right." And went back to watching TV. [laughs] And I was just like, "Just so you know, you know, I'm not, like, an escort or anything like that." He turns to me and says, "Oh, yeah, I know, I saw it on the Real Sex."
My mother was a little more reserved—she had the motherly questions; she was concerned with safety and stuff like that. But now we can joke about it.
MC: When you're meeting someone new, do you tell them outright that you're a dominatrix?
MR: It depends on who I'm with. At a cocktail party with my friend's colleagues, I said, "Oh, I'm a disciplinary consultant." [laughs] "I'm a behavior modification specialist. I offer guidance for people who need a little direction, kinda like a life coach."
MC: In some ways, it seems like you kind of are! Do you get close to your clients?
MR: There are definitely people over the years I see regularly enough and they're just cool people—you have conversations before of after the session. Like, I'm cleaning up, and "Anything good going on this weekend?"
MC: Do you have any female clients?
MR: I have yet to have a woman reach out to me, actually. But I'm an equal opportunity sadist!
MC: How does your job affect your relationships outside of work?
MR: I am not a huge dater, but that has nothing to do with my job. I'm a little bit of an introvert, so, I actually kind of prefer to be by myself.
MC: An introverted dominatrix.
MR: Well I have a very full life in general! My life is very stimulating.
MC: Is beating up guys all day kind of like stress relief?
MR: Yeah—if I'm in a really pissy mood and my session calls for humiliation, I get to be an asshole to you, but I get to do it in a constructive manner, like, in a consensual manner instead of being totally horrible to somebody on the street who doesn't deserve it.
MC: Do you feel a sense of pride about what you do?
MR: I do, I really do, because of the fact that number one, I do what I want, and it's a very liberating feeling to be able to make your own schedule and run your own life. Not very many people get to do that.
I've learned so much about myself through BDSM and it's been a really positive, personal experience for me, just exploring all of this, from both sides. That whole personal journey was really life-changing for me. And to be able to help other people feel comfortable about their kink and accept who they are is awesome. Like, for people who are truly submissive by nature, you can't be like that with everybody in your life. You have to pick and choose who you get to share that side of you with, or you're gonna get railroaded, or taken advantage of. So certain people might be in positions of power in their everyday life, but that's not necessarily who they are personally. I can help.
And that's another thing, too—when you asked if I ever feel persecuted for being a dominatrix? I really honestly don't—because great things can come from it, you know?
Celebrity news, beauty, fashion advice, and fascinating features, delivered straight to your inbox!
I'm Kathryn, a photographer and photo editor for MarieClaire.com. After falling in love with photography over 15 years ago I feel so lucky to have a job in which I can be creative and take pictures. It ain't work if you enjoy it right? I'm slightly obsessed with my cat Chloe, a good book, ballet, and all things chocolate. I do have to admit my guilt for making my fiancé stop all the time so I can snap a pic at every beautiful opportunity. And if we do meet I can pretty much guarantee all I'll be paying attention to is how to photograph you. Look at how pretty the light is falling…sorry what were you saying?