What Really Happens In A 'Sugar Daddy' and 'Sugar Baby' Relationship
A new documentary seeks to explore these stigmatized, "mutually beneficial" relationships.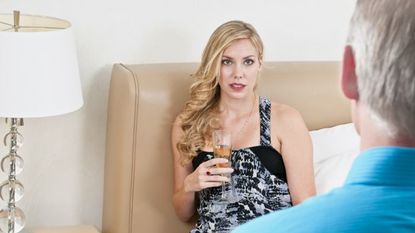 (Image credit: )
Older men looking for a young, attractive girlfriend? Women looking for a man to finance their education, shopping sprees, and ensure their economic stability? There's an app for that. Both men and women who are looking to enter 'sugar daddy' or 'sugar baby' relationships can do so through SeekingArrangement.com. It's an OKCupid or Match.com of sorts, but strictly for those seeking 'mutually beneficial' relationships.
The concept is simple: 'Sugar babies' offer their 'daddy' a chance at a 'trophy girlfriend' in exchange for money, pampering, and other favors from their 'sugar daddies.' But the 'transaction' of desired 'goods and services' is rarely that simple.
One woman wants to expose the truth about these relationships through a documentary, Daddies Date Babies. Parinda Wanitwat is the brain behind the project. The film will interview women who have been or are currently in these 'sugar baby' relationships, and discuss the stigma, worries about privacy, and ups and downs of engaging in such a liaison. However, it's a project still building momentum as it's currently crowd-funding on Kickstarter.
Grossed out by the idea of a 'sugar daddy'? We don't blame you. Many argue that these relationships tetter on prostitution—and with the expectations in place, it's easy to understand why. But for the young women who choose to head down this path, it's rarely a choice without some sort of external pressure—whether it's social, or perhaps most commonly, financial. For a woman who is low on cash, a 'sugar daddy' relationship holds appeal. The financial burden is even more pronounced for college students, whose financial needs are so much that female college students make up 44 percent of SeekingArrangement.com's users. As one NYU student told Wanitwat, the cost of universities like NYU, the top school represented among SeekingArrangement.com members, can make a woman pull the trigger on a 'sugar daddy' relationship. "Tuition rises every year, and every year, I don't know if I will secure enough financial aid," An anonymous NYU student and 'sugar baby' says. "It's one thing to get into NYU and another to stay."
While this raises another debate about the affordability of higher education today, college students aren't the only ones seeking out these relationships. Many 'sugar babies' demand credit cards from their "sugar daddy", giving them impeccable credit and the opportunity to indulge in designer duds, expensive dinners, and more. "It's dating with perks," an anonymous sugar baby told Wanitwat.
Regardless of the reasons, we'd hope that there is a better way to make your next tuition payment or finance frivilous purchases (no matter how much you may want them) than essentially selling yourself to a man. Not to mention, the satisfaction of receiving your hard-earned degree or showing off a long-saved-for Chanel bag would be all the more sweet when you financed it yourself, rather than by a man.
Furthermore, the relationships that brought you these rewards have a darker side. In the film's trailer, interviewees discuss odd, sometimes disturbing requests or demands, and the difficulty of knowing when her 'daddy' is being honest with her. With such lofty strings attached, a relationship like this could have serious consequences when things go awry.
But these relationships can be deeper than just the benefits for each party, Tess Wood, a former sugar baby, argues to The Huffington Post. "There are so many different facets to sugar baby dating," Wood says. "I think it ranges. It bleeds into 'regular dating' more than people realize." Whatever their reason for becoming a 'sugar baby', Wanitwat's endeavor to give these women a place to share their experiences without judgment.
To learn more, watch the film's trailer below or support the project on Kickstarter here.
Related:
A Guy's Perspective on Sugar Daddies
5 Reasons Why I'm Giving Up on Younger Men
I'm an Associate Editor at the Business of Fashion, where I edit and write stories about the fashion and beauty industries. Previously, I was the brand editor at Adweek, where I was the lead editor for Adweek's brand and retail coverage. Before my switch to business journalism, I was a writer/reporter at PEOPLE.com, where I wrote news posts, galleries and articles for PEOPLE magazine's website. My work has been published on TheAtlantic.com, ELLE.com, MarieClaire.com, PEOPLE.com, GoodHousekeeping.com and in Every Day with Rachael Ray. It has been syndicated by Cosmopolitan.com, TIME.com, TravelandLeisure.com and GoodHousekeeping.com, among other publications. Previously, I've worked at VOGUE.com, ELLE.com, and MarieClaire.com.