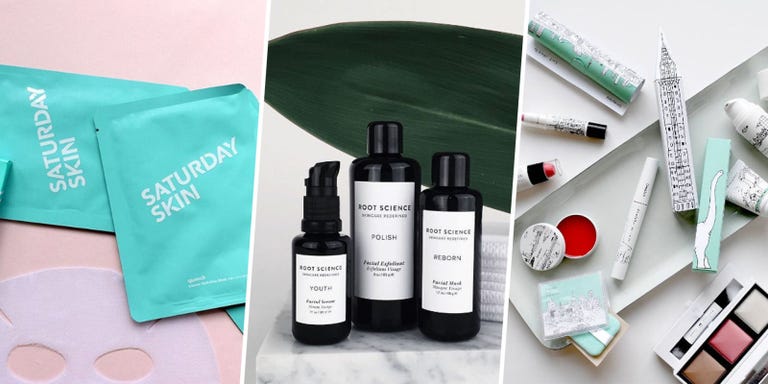 While we love many a beauty brand, there's something to be said for cosmetic offerings that aren't quite as accessible. What can we say, we love the hunt—especially now, in the midst of the golden age of indie beauty. From all-nature skin potions to tongue-in-cheek makeup offerings, here are the brands you need on your radar before they hit the big time.
Don't be fooled by the inky-black packaging, Root Science is all about the glow...and achieving it organically. Their hallmark of their made-in-Cali elixirs? Cold-pressed organic oils chock full of antioxidants, vitamins, and minerals with extreme healing properties. Think of their serums and exfoliants like superfoods you can slather all over your body.
The Must-Try: Root Science Youth Facial Serum, $50-$120; shoprootscience.com.
Let's just state the obvious here: The packaging alone is worth investing in for the sake of your Top Shelfie. But trust that this Brooklyn-born purveyor of plant-to-body goods are your skin's dream come true. Plus, the handcrafted small batches make each offering feel as if they were specifically packaged for you by your hippie BFF.
The Must-Try: Oxalis Apothecary Sea Salt Scrub, Rosewood + Grapefruit, $24; oxalisapothecary.com.
Ritualist takes a less-is-more approach to its ingredients, which is what makes their skin and bath time products so amazing for sensitive skin. The pretty packaging and sensory-overload textures are just lovely bonuses.
The Must-Try: Ritualist Moss Herbal Face Polish, $13.99; etsy.com.
With an aesthetic that makes it the Cha Cha Matcha of skincare, Saturday Skin's M.O. is taking care of your visage like it's the weekend (you know, when you actually pamper yourself)... daily. Crazy, I know. But once you start reaping the glow-y benefits of their naturally-derived, yet potent formulas, it'll be easier than you think.
The Must-Try: Saturday Skin Intense Hydration Mask, 5 for $30; chalogybeauty.com.
Okay, confession:  Too Cool for School is kind of a big deal now, but considering how f*cking amazing (and cute!) their eye, lips, and face products are, they're still too far under the radar for our liking. From the cityscape packaging to the just-right-amount-of-color palettes, we're just plain obsessed. So there.
The Must-Try: Too Cool for School Dinoplatz Lost Indentity Lip Tint, $18; toocoolforschool.us.
Simply put, this entire range is #MermaidBeautyGoals. From the gold-flecked sea salt spray to the sunshine-inspired body cream, each recipe is infused with direct-from-nature ingredients like organic plant/essential oils, seaweed, and flowers for the most salt-of-the-earth beauty experience you can get.
The Must-Try: Captain Blankenship Golden Waves Sea Salt Shimmer Spray, $28; captainblakenship.com.
Hair industry veterans Sacha and Juan put their heads together on this chic AF range. And while their haircare looks simple, trust that it delivers in a major way thanks to their unique Ocean Silk Technology, which uses marine-derived ingredients to take shine to the next level, strengthen strands, and amp up volume. 
The Must-Try: Sachajuan Intensive Repair Shampoo and Conditioner, $35 each; sephora.com.