Road to Beauty Day 6: In the Footsteps of Brazil's Plantation Women
Created by Marie Claire in partnership with Dove Follow the five L'équipée women as they travel Brazil on their motorbikes to discover what beauty means around the world.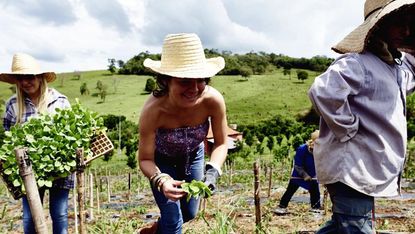 (Image credit: Ludovic Ismael)
The girls learn that Brazilian women's obsession with beauty filters all the way into their work in the fields.
A Community of Women
"They have hands like princesses, even though they work the land..." exclaims Louise D. "Compared to them, I feel that mine look like a heavy lifter's hands..."
The team is at Noiva de Cordeiro, a rural community of about 400 people founded in the late 19th century, when a young woman by the name of Maria Senhorinha de Lima left the man she had been forced to marry to be with the one she loved. Found guilty of adultery, she was excommunicated for the next five generations. Here, if men leave to work in the surrounding cities and only come back at night, or more often than not at the week end, women grow the fruits and vegetables that will feed the community, and spend their days in the fields, their hands in the dirt.
The girls woke up early to go meet those who had already been working in the plantations since the early hours of the day. It's hard work under the sun, and the women keep their spirits up by singing together. For the L'équipée girls, this contact with the earth and the simple relationship to food it entails are a revelation. Suddenly, everything makes sense. Under their wide straw hats, protected by their headscarves and the maximum strength sunscreen they religiously reapply three times a day, the women from the community are busy planting the crops. They are grateful for the girls' help, but worry when they see them working with their shoulders and hands bare, wearing no protection at all.
Peasant Women with Hands like Princesses
When the girls came back from working the fields with their gloveless hands, the community women immediately noticed their blackened nails and wasted no time before offering them a manicure. Beauty is taken very seriously in Noiva de Cordeiro. But whereas Brazilian women generally apply makeup before going to work, in Noiva de Cordeiro they prettify themselves when they come back from the fields. And of course, impeccable nails are an absolute must! They can spend hours upon hours doing each other's nails. "It's the first time someone else has done my nails for me in all my life!" laughs Cécile. In fact, for all five Parisians who usually do their nails themselves, sharing this collective manicure session is quite a first. "It's all very sweet, joyful and benevolent..." notes Louise B. It's also an opportunity to share beauty tips. Here, women don't use nail files, they prefer steel wool to give their nails a nice sheen and prevent yellowing.
Nearby, a man looks benevolently on these communal proceedings. "I find this attention very touching," says Cécile. "We're more accustomed to being mocked for our feminine 'futility'..."
Keep following the L'équipée girls' quest to discover what beauty means around the world at the Road to Beauty.
Marie Claire email subscribers get intel on fashion and beauty trends, hot-off-the-press celebrity news, and more. Sign up here.