Road to Beauty Day 11: Things Get Tougher in the Depths of the Cerrado
Created by Marie Claire in partnership with Dove Follow the five L'équipée women as they travel Brazil on their motorbikes to discover what beauty means around the world.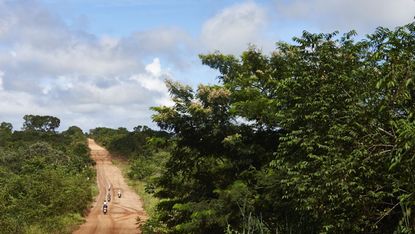 (Image credit: Ludovic Ismael)
From Pirenópolis to Barra dos Garças, the girls push through towards the centre of Brazil. In their exhaustion, they find a very special place to sleep in the middle of nowhere.
Watch a video here:
The Naptime Ritual
Today the girls reached the depths of the Cerrado, about 500 km from Brasilia, where the flat landscape and low trees blend into wide cattle-filled green pastures. They left Pirenopolis too late to ride the 250 km and get to Jurassa in time for lunch. After 2 pm, all the restaurants had closed. It was the perfect opportunity to try out the famous Brazilian hospitality: Dona Gorete, a Jurassa woman, spontaneously invited them to share her table. She had even prepared five beds for them, so that they could take an after-lunch nap before hitting the road. This is the sacred ritual that allows them to restore their energy, and they do it wherever they find themselves.
A Bumpy, Rocky and Puddle-y Dirt Road
Today's road was particularly tough: out of the 225 km covered, 25 were asphalt and 200 were dirt. It was the first time the girls drove off-road. The initial idea was to go straight from Barra dos Garcas to Alto Tanquiari, 285 km away. However, even though it is a stunning stretch of landscape, surrounded by green fields with low but dense flora, it is an exceedingly difficult path to ride. At around 5 pm, and with still 60 km of bumpy, rocky and puddle-y dirt road left to go, exhaustion added to nightfall convinced the girls to look for a place to sleep. This is a basic rule in any biking trip: You have to know when to stop, and stay open and attentive, even knock on a door and ask for shelter if you have to.
Room and Board in the Middle of Nowhere
After crossing a small hill, the L'équipée girls spotted a village literally in the middle of nowhere, and stopped to ask for information at the local gas station. They wondered whether there was any chance of finding a hotel in a town so small that a single glance could grasp all of its surface: Beginning, middle, and end.
These unique life-on-the-road moments always turn out to be the best surprises: In a country like Brazil, where everything is gigantic who would have guessed that the five French girls would end up in Araguainha, one of the three smallest towns in the country, with only 1024 inhabitants.
This time it was Vanda Pereira de Souza, 50, manager of the small and simple hotel Canastra, who welcomed them. When girls arrived, Vanda was getting ready to go to work, but she managed to rush everything and put up the girls comfortably. She even procured them a dinner prepared by Dona Cleide, the cook from the bar around the corner, who also brought them a jar of caipirinha to try. "These are the kind of surprises that are only possible with the freedom that comes with the bike. We stopped here just to rest and it turned out to be a magical experience," says Louise D. The next day they left very early, but still attracted the attention of several people who gathered in front of house to watch them leave. After all, Araguainha doesn't get five visitors at once every day!
Keep following the L'équipée girls' quest to discover what beauty means around the world at the Road to Beauty.