Save Your Soles from Flip-Flops
Two must-have products will help get rid of the dirty buildup on the bottom of your feet.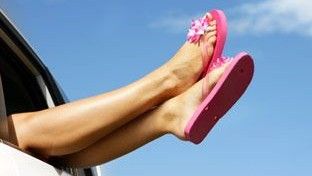 (Image credit: Lise Gagne)
Lightweight and waterproof (perfect for those freak thunderstorms), flip-flops are summer's shoe of choice — especially for commuting. But unfortunately, these "slippers" (as they're called in Hawaii) tend to come with another, less attractive phenomenon: flip-flop feet. I know you've seen them. Those crusty, blackened soles you see on the streets (and desperately hope are not being crammed into the sale shoes at Saks) are like a plague — spreading dirt and general nastiness across the city.
For everyone's sake (especially those poor shoppers at Saks), I suggest a good old scrub-down with some sudsy grains like The Body Shop's classic Peppermint Cooling Pumice Foot Scrub (opens in new tab). Or if you're not near a tub, try Earth Therapeutics Clean + Cool Foot Wipes (opens in new tab). They miraculously remove all the black buildup (what is that stuff anyway — decomposed rubber?) and moisturize with aloe vera. I'm packing some in my carry-on for my trip to Los Angeles this weekend. The wipes will be a preflight treat after that dreaded barefoot walk through airport security.