Editors handpick every product that we feature. We may earn commission from the links on this page.
#BigLipstickEnergy: The 3 Lip Masks I'm Obsessed With Right Now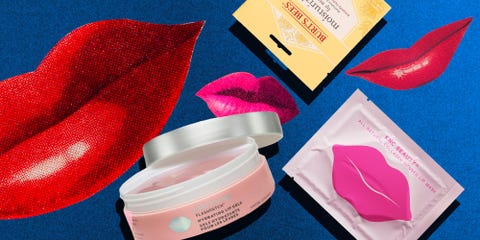 I'm a serial lipstick dater. So many lip products slide onto my desk. Some I double-tap and have all the heart eyes for. Others I ghost and leave on seen. This is #BigLipstickEnergy, an honest breakdown of how I feel about the latest lip launches. Read on for the three lipstick flings I'm keeping in rotation for now. Next week, I'll have a new roster.

This Instagrammable Mask
All Natural Collagen Infused Lip Mask
KNC Beauty
sephora.com
$5.00
THE DETAILS:
This pink lip mask is not only incredibly Instagrammable (especially if you pair it with the brand's retinol-infused eye mask, shaped like a star), it actually works. This all-natural mask, free of chemicals, incorporates feel-good ingredients like rose flower oil, vitamin E, and cherry extract, resulting in the most moisturized lips 20 minutes later. It's also made with plumping collagen—which you will feel—for extra plush and voluminous lips.
WHY I'M OBSESSED:
I've been obsessed with founder of KNC Beauty, Kristen Noel Crawley's next-level style and beauty tips (peep her Instagram!) for years, so naturally, I trust her products to do what she says they're going to do, and more. This mask, which also comes in a set of 5, is infused with a gentle dose of collagen that doesn't irritate my sensitive skin like other plumping masks, and lots of hyaluronic acid (my all-time fave ingredient). It doesn't dry out in five minutes, so I like to wrap my hair up in a towel, apply this mask, snap a selfie because it's cute, then sit in a bubble bath with a glass of red wine. In that order.

This Hydrating Mask
FlashPatch Lip Gels
Patchology
nordstrom.com
$50.00
THE DETAILS:
You're looking at another lip mask with which you can achieve peak moisture in the comfort of your own home. This 20-pack will last you—even if the radiator in your room is not doing your chapped lips any favors. Using a combo of niacinamide, peptides, and green tea extract, this soft gel mask imparts a silky veil of hydration onto your lips. And quickly: Instructions say to use for just five minutes (for when you're in more of a mask-and-go situation). Afterwards, lather the remnants, which will feel like a serum, onto your lips for even more moisture.
WHY I'M OBSSED:
I've loved these things for a while. Even though I don't necessarily have anywhere to go during this quarantine, I've enjoyed using this in-between zoom meetings when my lips are feeling extra chapped. Pro masker tip: To switch up the sensation of them, put a few in a plastic bag and pop them in your fridge to transform them into cooling masks. Afterwards, I slather on lots of lip balm to extend the hydration.

This Soothing Mask
Meadowfoam Seed and Almond Oils Lip Mask
Burt's Bees
target.com
$2.59
THE DETAILS:
If you're already a Burt's Bees lip balm devotee, now you can experience its goodness in sheet mask form, flavors included. Of course, the ingredients are all-natural, true to the brand. The moisturizing meadowfoam seed and almond oils linger far longer than the five minutes you leave the mask on for. I recommend stocking up on several of these $3 one-sheeters to have at your disposal.
WHY I'M OBSESSED:
The comforting smell of meadowfoam seed and almond oils makes me want to put this lip mask on right before bed. It's highly moisturizing, yes, but also so soothing. It's gentle yet effective, which is exactly what my lips are looking for at the end of a long day. Afterwards, I follow up with an overnight lip balm mask and wake up with glowy lips.
•••
For more stories like this, including celebrity news, beauty and fashion advice, savvy political commentary, and fascinating features, sign up for the Marie Claire newsletter.

subscribe here

This content is created and maintained by a third party, and imported onto this page to help users provide their email addresses. You may be able to find more information about this and similar content at piano.io