The 15 Best At-Home Chemical Face Peels of 2023, According to Experts and Editors
Real deal peels.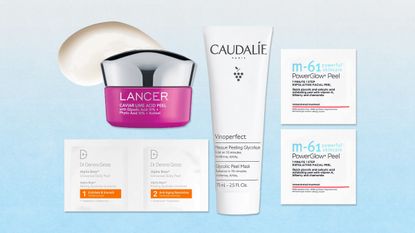 (Image credit: Brittany Holloway-Brown/Future)
Some treatments are best left to the pros—and an intense chemical peel with glycolic, lactic, or salicylic acid is most definitely one of them. Don't test your fate (or face) with at-home experiments, people. But, that's not to say that chemical exfoliators won't give you the same glow-boosting, skin-evening benefits via a safer medium. The best at-home chemical peels are going to be *much* gentler, won't require downtime, and will typically be delivered through peel pad, serum-like liquid, or wash-off formula. Granted, it may take a bit longer to notice a smoother texture or faded dark spots, but believe us when we say that incorporating one into your routine is 100 percent worth it in the long run. At-home chemical peels vary in strength and ingredients, but most aim to deeply exfoliate the skin to reduce fine lines and wrinkles, improve brightness, and lift away unwanted discoloration and brown spots.
To get the answers to all of your chemical peel questions and shop for the safest at-home options, keep scrolling. (If you're interested in more professional-grade at-home treatments, check out our favorite LED masks, keratin treatments, and dermaplaning tools. )
What to Look for in a Chemical Peel
Type of Acid
When choosing a DIY peel, it's smart to consider your skin type, says Dr. Engelman. "Look at the acids in the peel, and make sure they target the issue you are trying to remedy." For example, someone with acne-prone skin might want to seek out a salicylic acid peel, while someone with sensitive skin looking to target hyperpigmentation is better suited with glycolic acid.
Strength of Acid
The Cosmetic Ingredient Review Expert Panel recommends that companies use glycolic and lactic alpha-hydroxy acids in concentrations of 10 percent or less, in solutions with a pH of 3.5 or greater, when formulating consumer products. As for salicylic acid? The maximum concentration in over-the-counter products is two percent.
Medium
You're going to notice that the chemical peels on this list range from peel pads to overnight treatments. While the medium you choose is in large part personal preference, it's worth noting that short-term, wash-off products are *typically* going to have less of an impact than leave-on formulas that can work overnight. However, that doesn't mean that the latter is necessarily better. Wash-off products are generally ideal for more sensitive or dry skin types.
Is an At-Home Chemical Peel Safe?
Let us preface this by saying that using a professional-grade product at home is unsafe—those high intensity acids should *only* be used by doctors. "Due to a wave of how-to YouTube videos and consumer accessibility to professional products through vendors like Amazon, I am seeing more and more instances of serious damage done to skin—all in a patient's own bathroom," says Dr. Dennis Gross, board-certified dermatologist and founder of Dr. Dennis Gross Skincare. "Higher concentrations of acid must be administered by a licensed professional; they can damage skin if they're not neutralized properly." That said, using a peel pad, mask, or serum that is specifically designed for at-home use is a-ok.
The Best At-Home Chemical Peels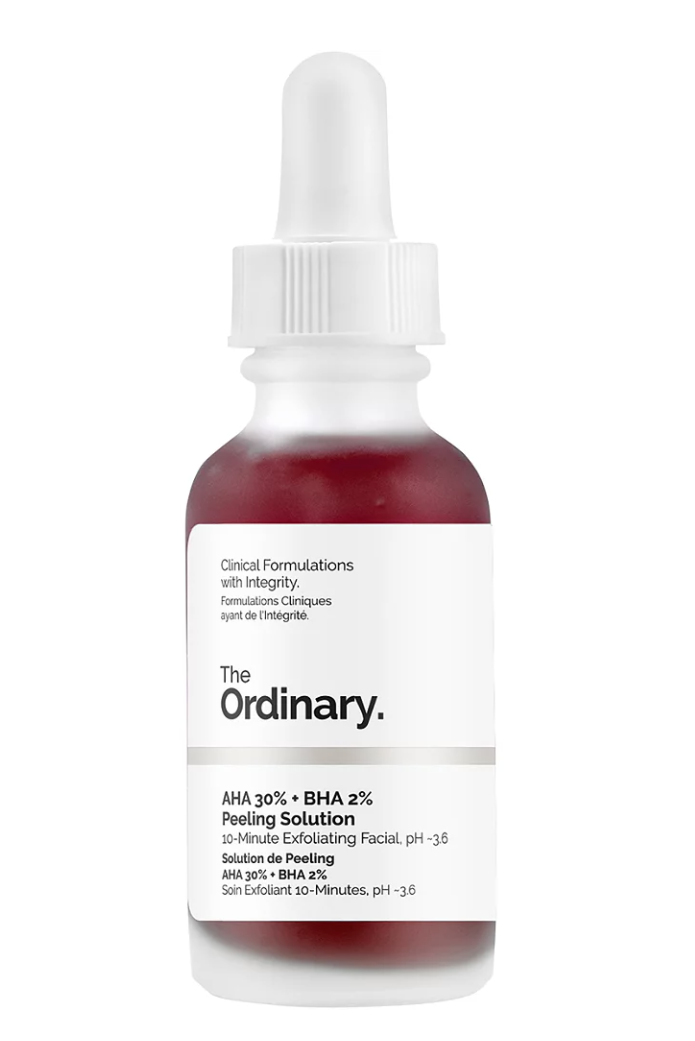 The Best At-Home Chemical Peel for Large Pores
(opens in new tab)
The Ordinary AHA 30% + BHA 2% Peeling Solution
Dr. Englemen says that a peel that contains BHAs is ideal for treating acne. "BHAs, like salicylic and beta hydroxy, are best for issues like large pores, blackheads and pimples," she explains. "These acids have keratin-dissolving properties that can breakdown dead skin cell build-up and decongest pores." That in mind, this two percent BHA and 30 percent AHA solution will work wonders for acne-prone skin. Just don't leave it on for more than 10 minutes because you can overdo it.
Pros: Derm-approved; Affordable; Good for acne
Cons: Some report burning and stinging upon application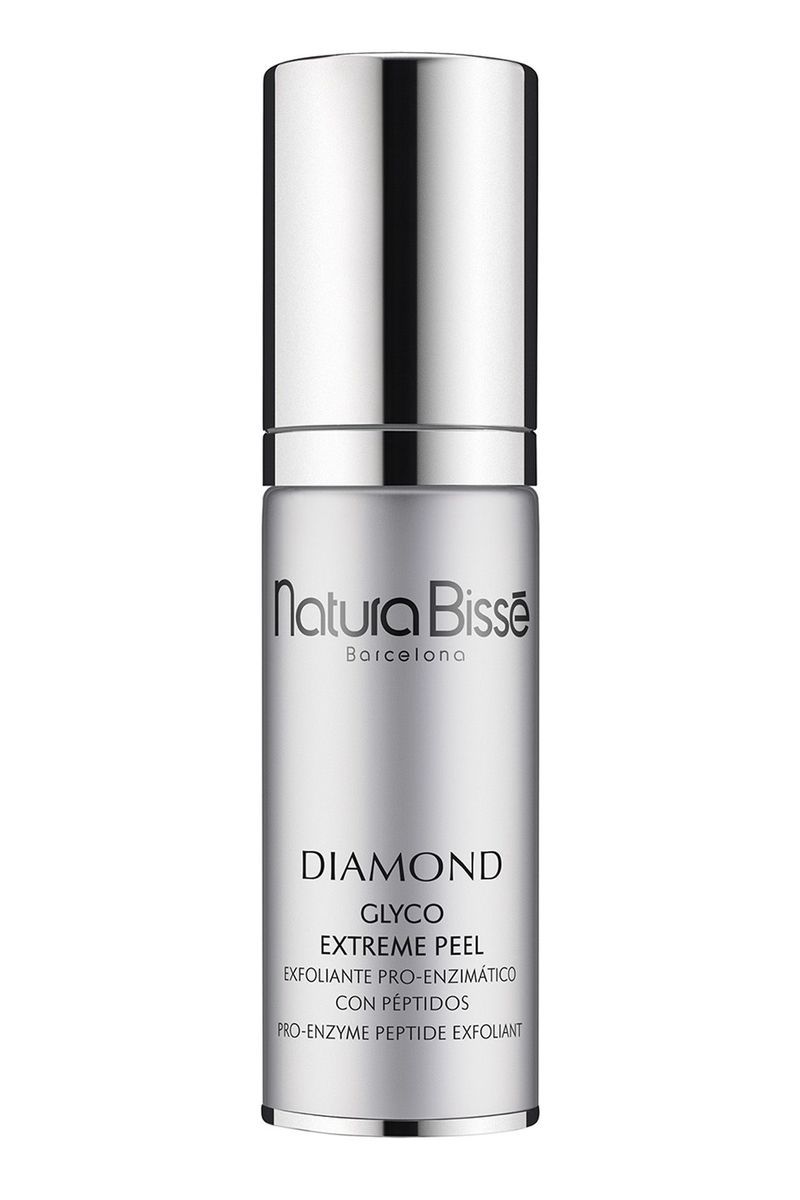 The Best At-Home Chemical Peel for Mature Skin
(opens in new tab)
Natura Bisse Glyco Extreme Peel
Think of this like a short term pick-me-up. It's designed to be used twice a day, every day, for six weeks. Supercharged with five different AHAs to target signs of aging on the surface and at deeper levels of the skin, this is strong enough to visibly brighten skin without irritating it. According to Dr. Engelman, AHAs like glycolic acid are ideal for anti-aging: "It's the smallest acid in particle size, meaning it is the most effective in breaking down cellular bonds to reveal new cells," she explains.
Pros: Derm-approved; Brightening; Anti-aging
Cons: Expensive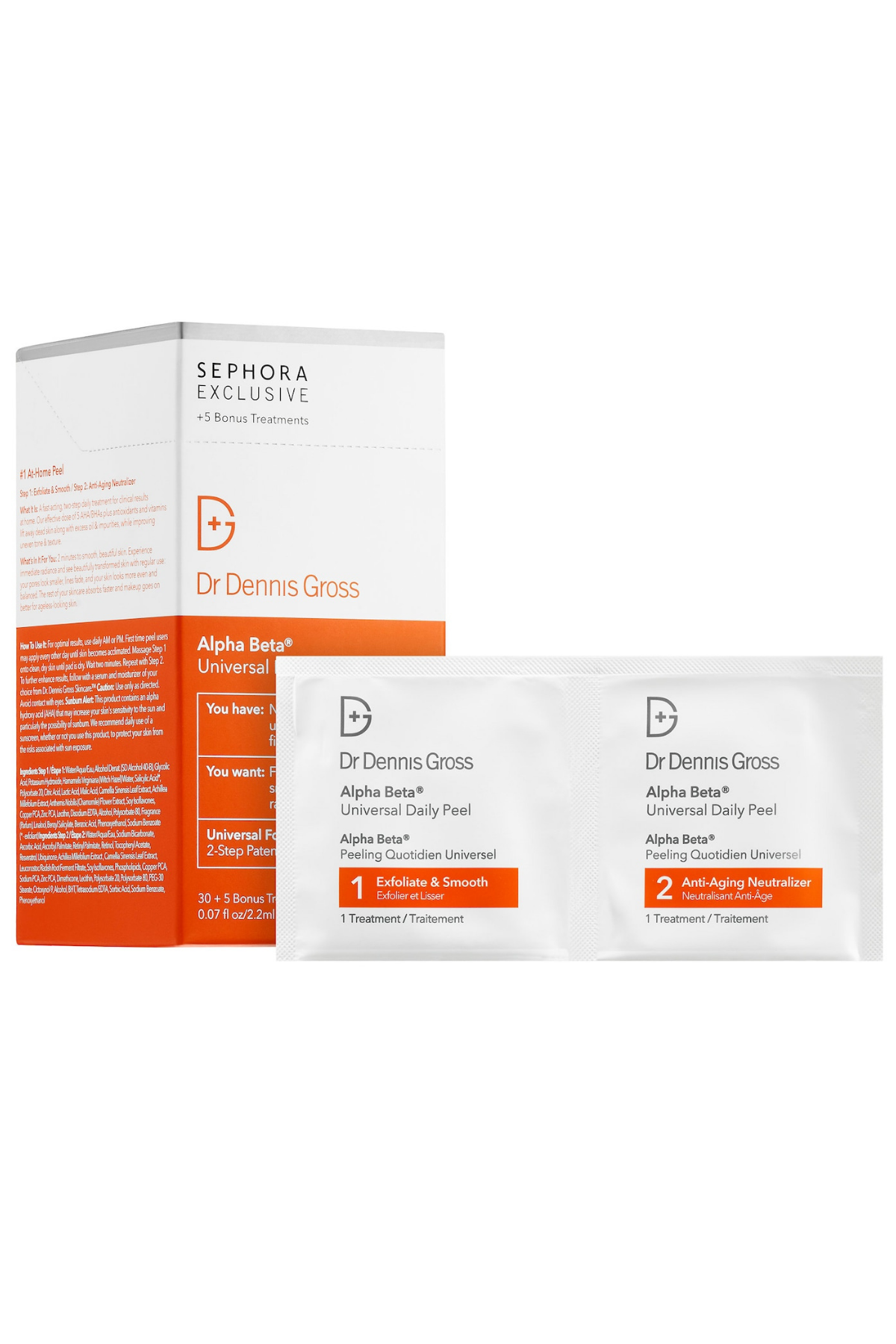 The Best At-Home Chemical Peel Overall
Dr. Dennis Gross Alpha Beta Universal Daily Peel
Chances are, you've seen this peel pad before. It's everywhere, because it's really, truly the best of the best. It's packed with five different acids—a combination of AHAs and BHAs—to target concerns ranging from acne to dark spots and dry patches. It's a two-minute long application process that's well worth the investment. That said, these pads are the real deal, so if you have sensitive or dry skin don't charge full speed ahead. Start out using them just two times a week.
Pros: AHAs and BHAs; Multi-benefit
Cons: Might be too intense for some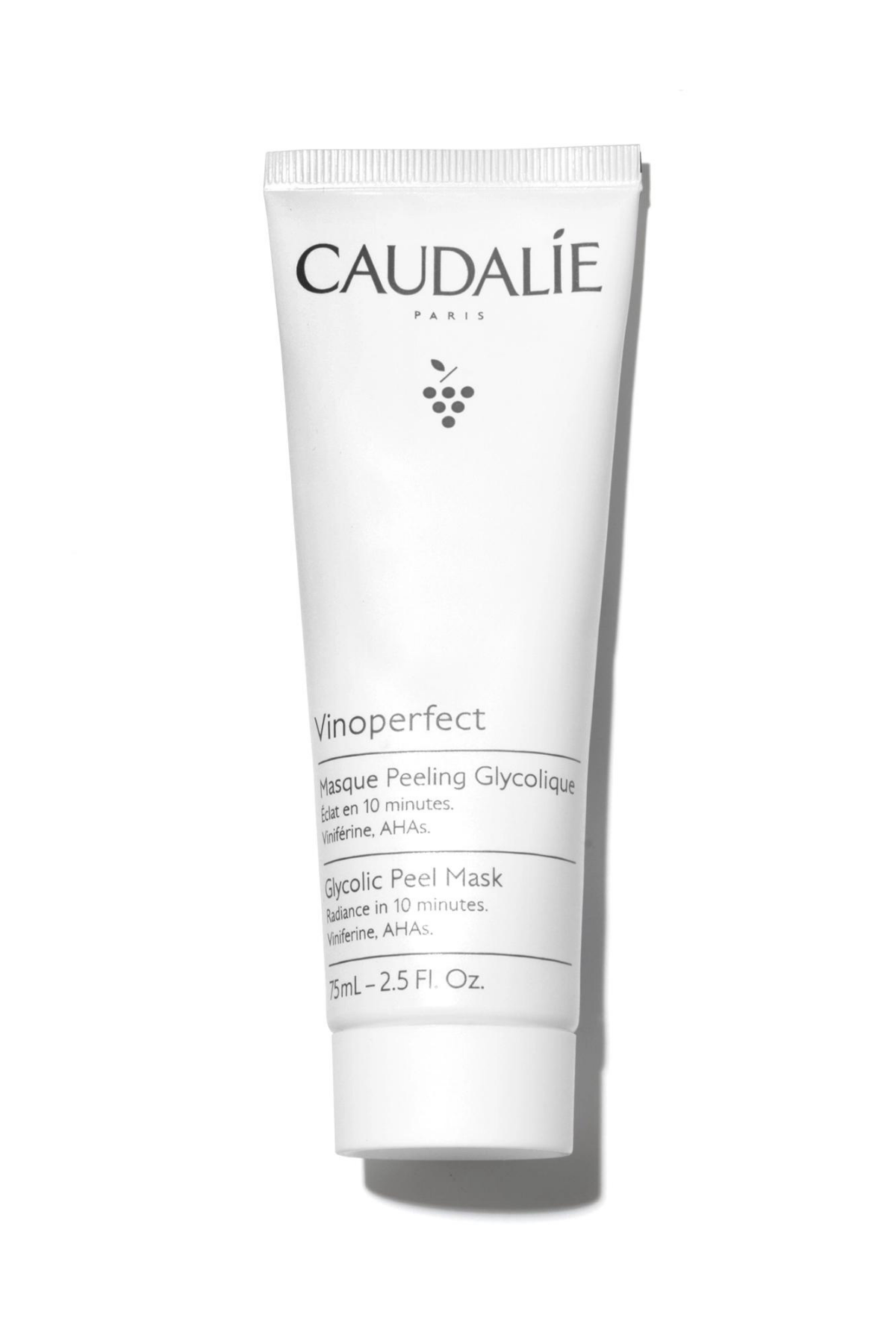 The Best At-Home Chemical Peel Mask
(opens in new tab)
Caudalíe Vinoperfect Brightening Glycolic Peel Mask
Dull skin has nothing on this exfoliating face mask. The 10-minute fix is a radiance-boosting-dead-skin-sloughing-glow-giving miracle worker. It's packed with gentle AHAs as well as the brand's trademark Viniferene, which is ideal for reducing the look of dark spots. Unlike some other chemical peel masks, which will tighten and need to be peeled off, this little guy has an unexpectedly creamy texture that won't sting or tingle upon application. While this mask does come with some crazy good results, we don't recommend it for sensitive skin types.
Pros: Great for dark spots; Vegan; Creamy texture
Cons: Not for sensitive skin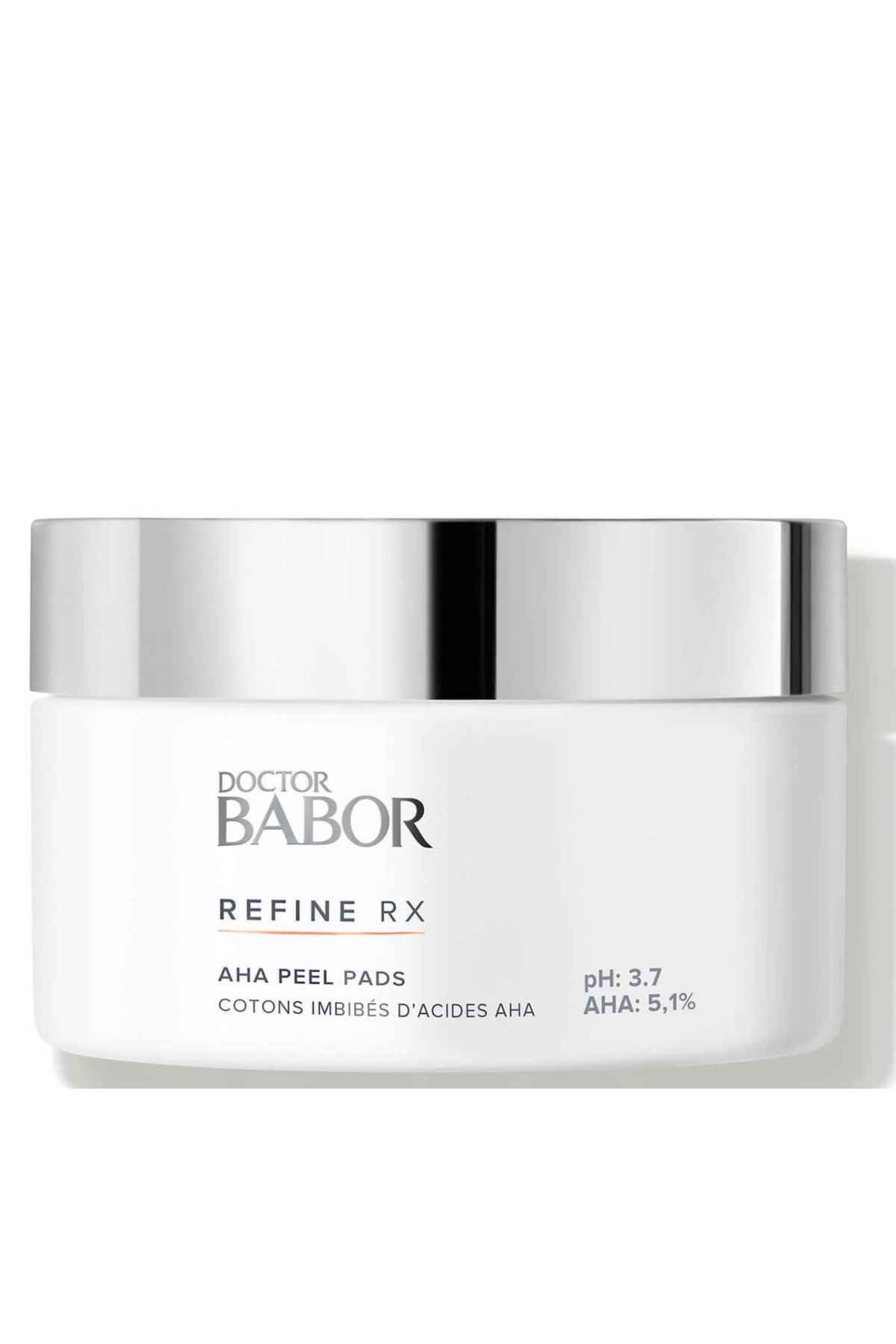 The Best Wash-Off At-Home Chemical Peel
Doctor Babor Refine RX AHA Peel Pads
With an AHA concentration of 5.1 percent and a pH value of 3.7, these are totally safe for at-home use according to the Cosmetic Ingredient Review Expert Panel. Thanks to a blend of glycolic acid, lactic acid, and citric acid, these babies help to minimize the look of pores, even skin tone, and brighten—the trifecta. One callout: This is a wash-off formula, so make sure you wash your face with water after five to 10 minutes.
Pros: Multi-benefit; Comes with two month supply
Cons: Tingles upon application
The Best At-Home Chemical Peel for Uneven Skin Texture
(opens in new tab)
Kate Somerville KateCeuticals Resurfacing Overnight Peel
Let's preface this by saying that having bumps and rough patches is a completely normal part of being human. If you do want to smooth out some of that texture, though, there's no better product than this one. In addition to glycolic acid, this formula includes retinol and niacinamide, two ingredients that speed up cell turnover and help even skin texture and tone. So without further ado, start using this two to three times a week.
Pros: Smooths texture; Contains retinol
Cons: Irritating to some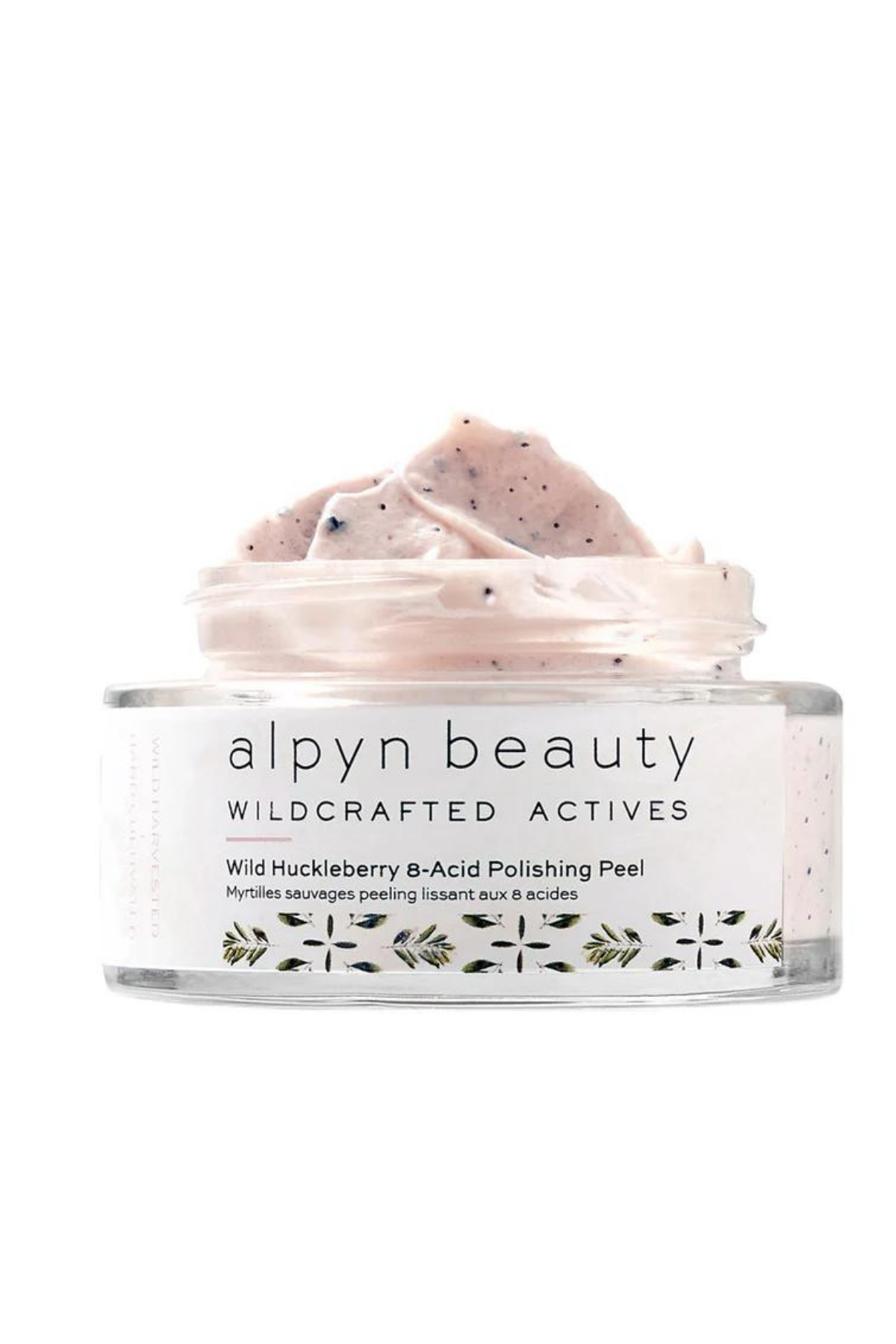 The Best At-Home Chemical Peel for Acne-Prone Skin
Alpyn Beauty Wild Huckleberry 8-Acid Polishing Peel
If you're ready to pull out the big guns in the name of glow, this product is the way to go. It features both physical and chemical exfoliants, so rest assured your skin will be left looking radiant. While most of the peels on this list have glycolic acid as the star ingredient, this one features salicylic acid, making it a great option for those with acne.
Pros: Multi-acid; Radiance-boosting; Good for acne
Cons: Drying and irritating to sensitive skin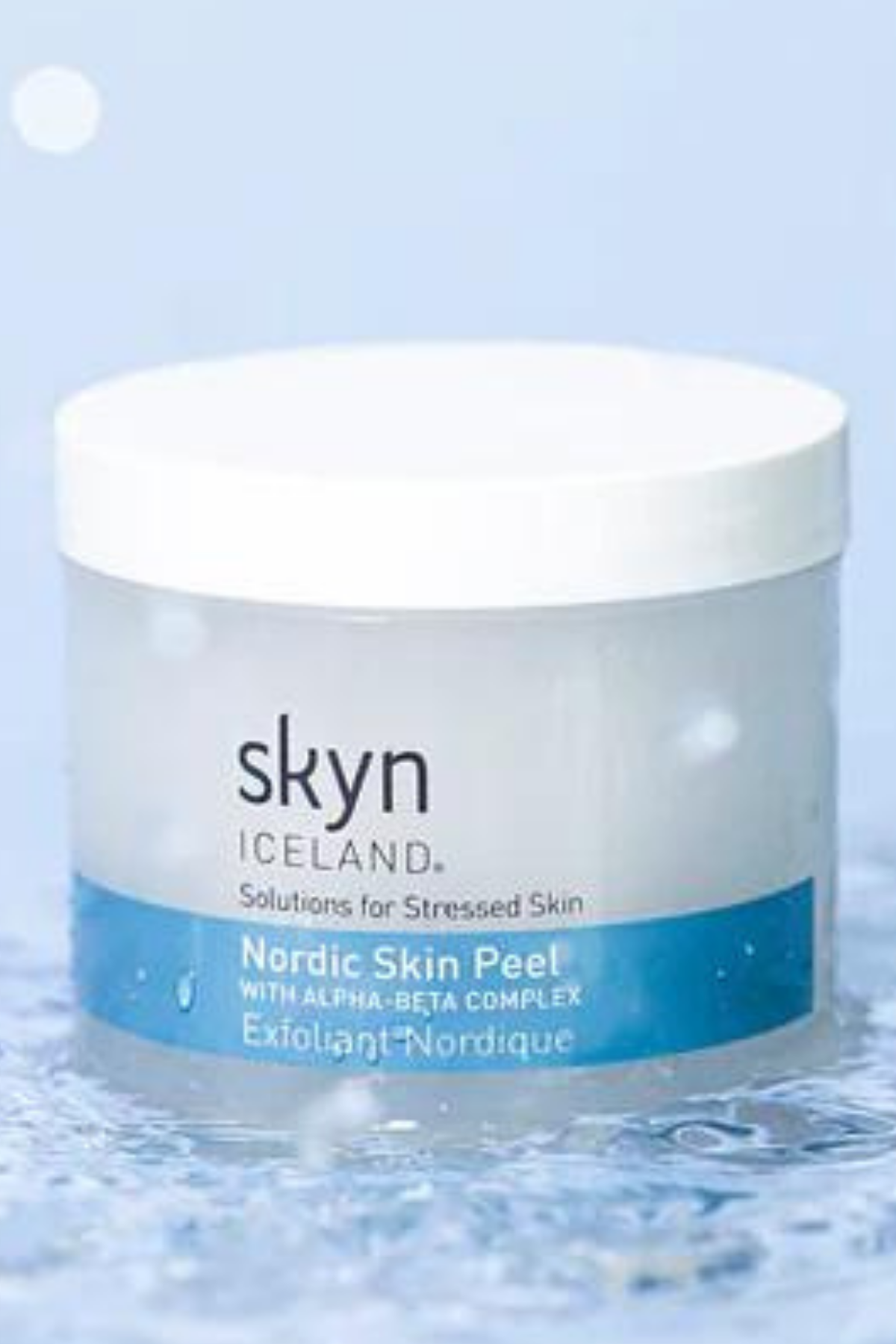 The Best At-Home chemical Peel for Sensitive Skin
(opens in new tab)
Skyn Iceland Nordic Skin Peel
I'm the first to admit that the thought of a peel on my sensitive skin is slightly terrifying. But trust me when I say that this gentle pad doesn't irritate my face. In fact, I can use the lactic acid treatment five times per week without experiencing extra redness or stinging. I also love that the formula doesn't have to be washed off—it's just an added step in my nighttime routine.
Pros: Editor-approved; Good for sensitive skin
Cons: Has a scent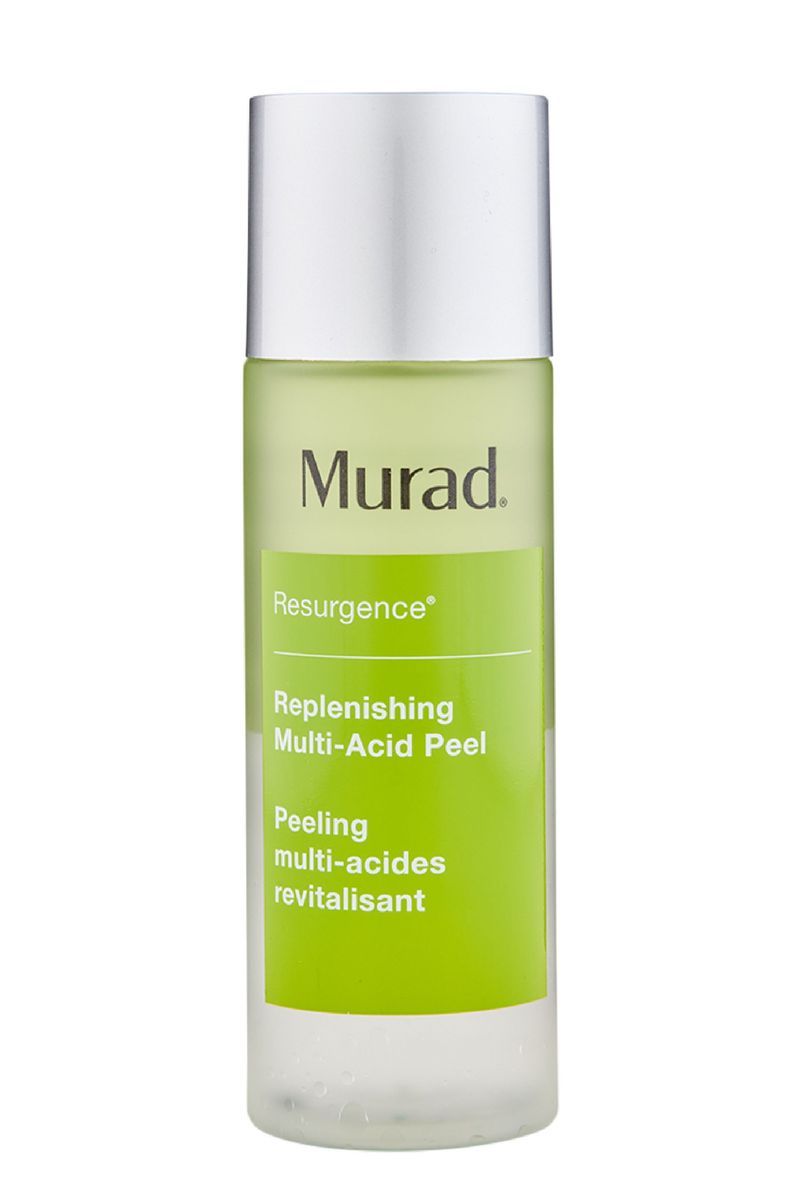 The Best At-Home Chemical Peel for Easily Irritated Skin
(opens in new tab)
Murad Replenishing Multi-Acid Peel
If chemical peels typically leave you raw and red, this little bottle might be just the solution. Shake it up to blend the two liquids: A heavy-duty combo of glycolic, lactic, and malic acids that loosen the bonds of dead cells to clarify skin, and a soothing elixir of antioxidant holy basil and omega-rich jojoba seed oil to calm the acid's effects. Then act fast and pour a little onto a cotton pad before swiping it across your face. You'll notice an immediate glow and long term brightening benefits.
Pros: Soothing; Gets rid of dead skin cells
Cons: A bit oily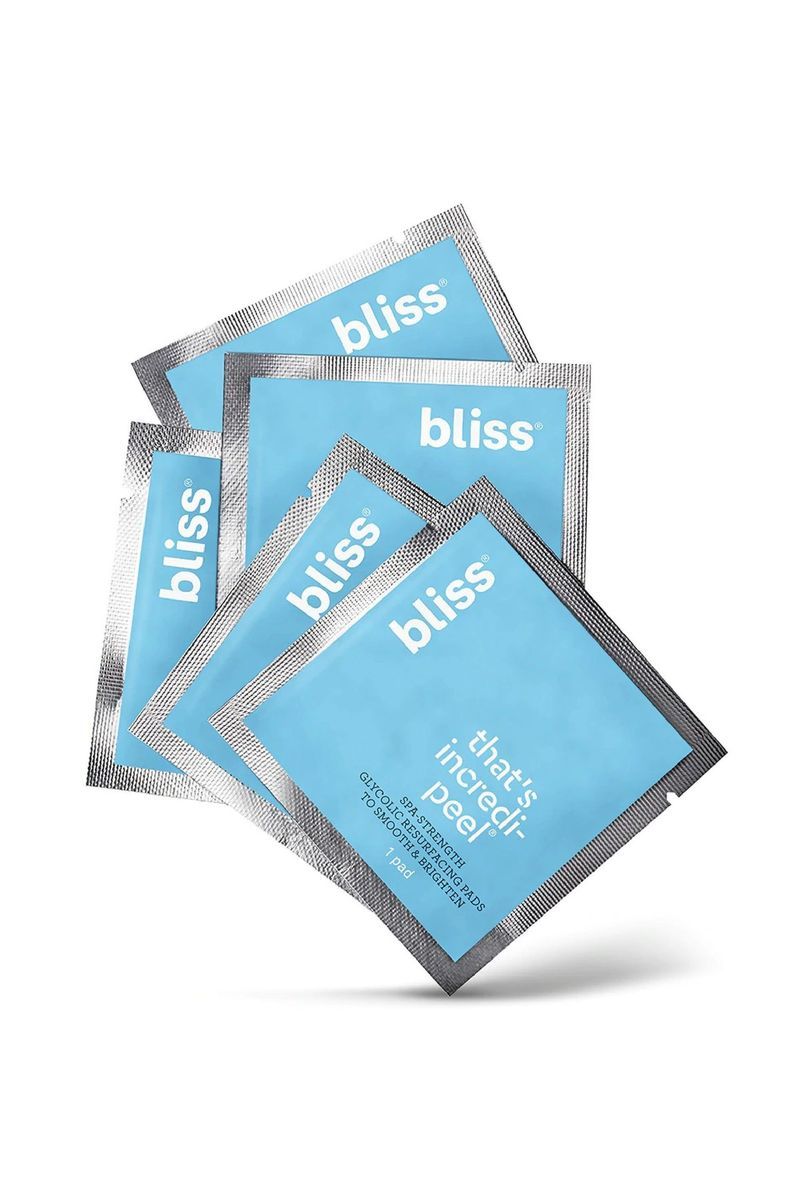 The Best At-Home Chemical Peel for Fine Lines
(opens in new tab)
Bliss That's Incredi-peel Glycolic Resurfacing Pads
In some regards, these fan-favorite peel pads from Bliss—and their whopping 1,200 Amazon reviews—are rather simple. Ten percent glycolic acid time-releases overnight, targeting fine lines, dark marks, and blemishes. It's a particularly well-tolerated formulation thanks to the addition of witch hazel, licorice, and calendula flower, which quell inflammation. Because they're on the gentler side, it's a great entry option for anyone who want the chemical peel benefits sans irritation.
Pros: Anti-inflammatory; Soothing; Non greasy texture
Cons: Some report a strong odor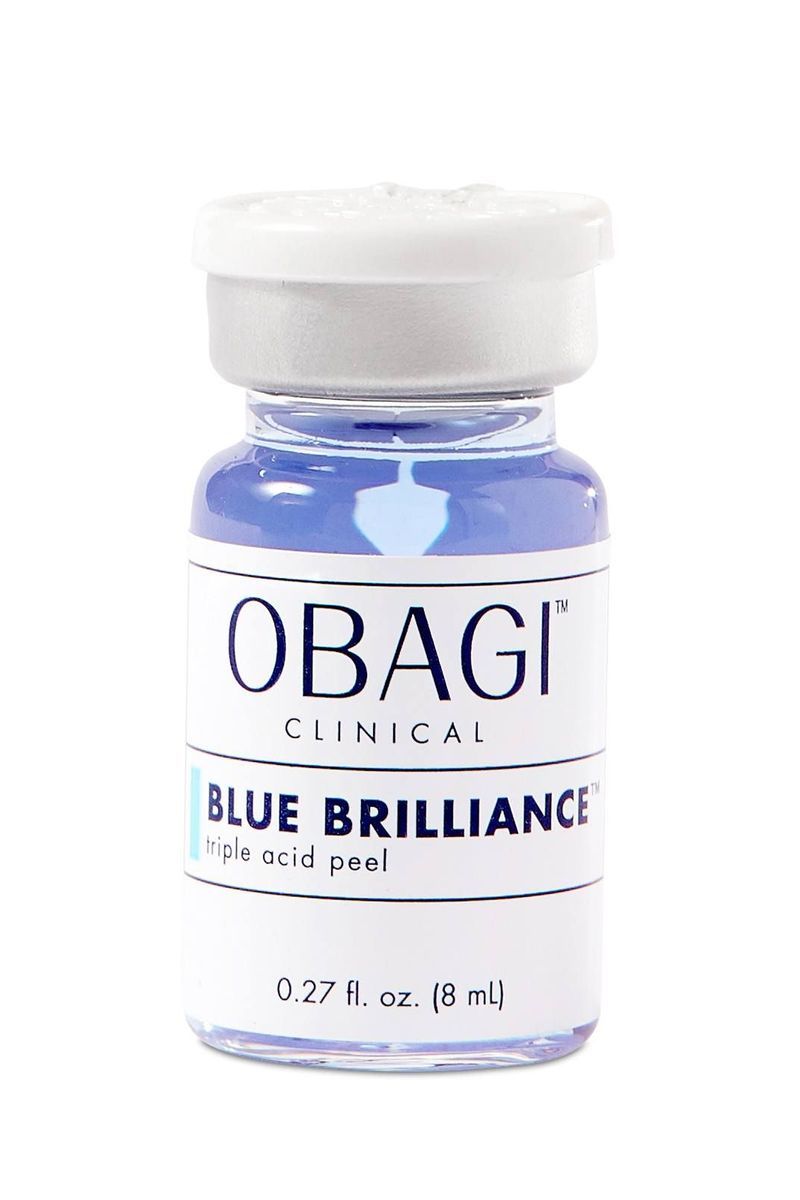 The Best Multi-Acid At-Home Chemical Peel
(opens in new tab)
Obagi Clinical Blue Brilliance Triple Acid Peel
This is the closest you're going to get to a professional-grade peel in the comfort of your own home. Three acids (glycolic, salicylic, lactic) combine for one of the strongest exfoliating treatments you can get over-the-counter. While the retexturing and skin-smoothing results are undeniable, pretty pretty please proceed with caution. This is no joke, so read all of the instructions, set your timers appropriately, and stear clear if you have sensitive skin.
Pros: Very effective; Smoothing and retexturizing
Cons: Needs to be used with an abundance of caution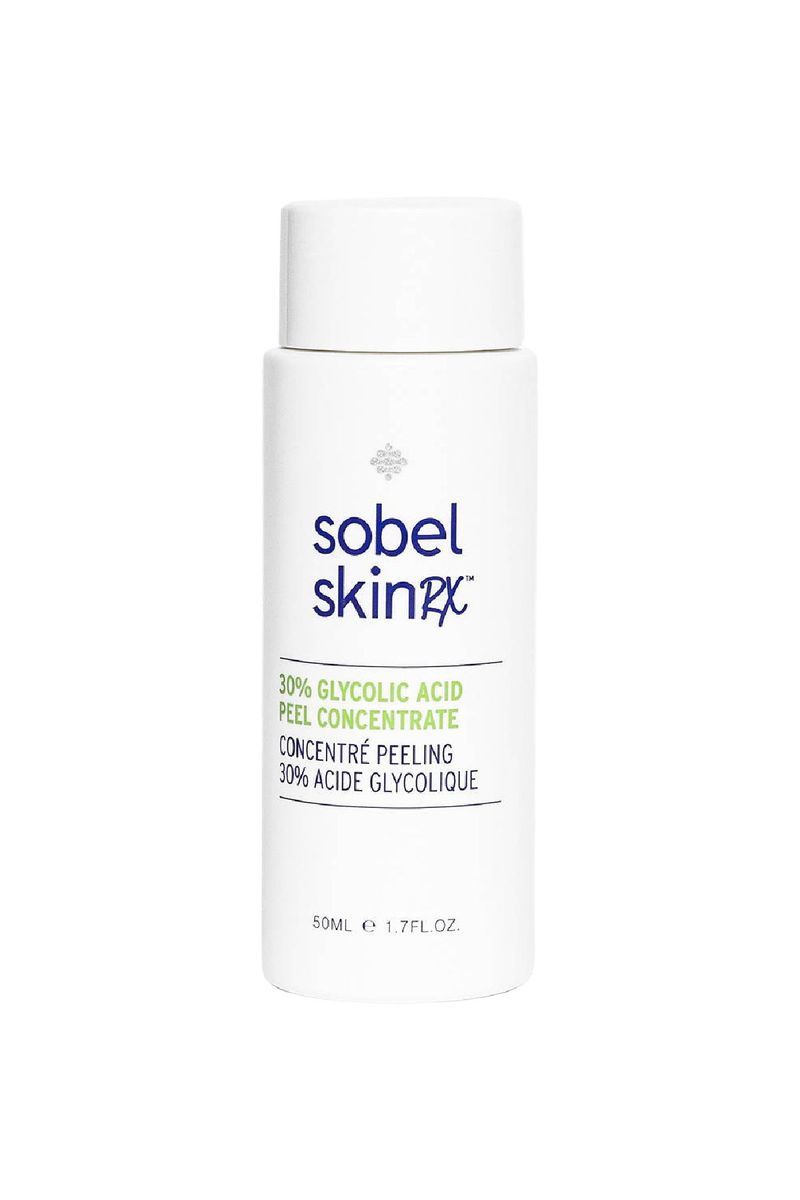 The Best At-Home Chemical Peel for Melasma
(opens in new tab)
Sobel Skin Rx 30% Glycolic Acid Peel Concentrate
This 30 percent concentrate of glycolic acid only stays on for two minutes and is especially beloved by those who suffer from acne, acne scars, or melasma. Its formula contains the obvious glycolic acid, along with soothing and calming chamomile, to create a balanced, clear, and exfoliated complexion. This peel is on the stronger side, so don't leave it on longer than instructed and avoid it if you have sensitive skin.
Pros: Great for acne and melasma; Powerful
Cons: Not for sensitive skin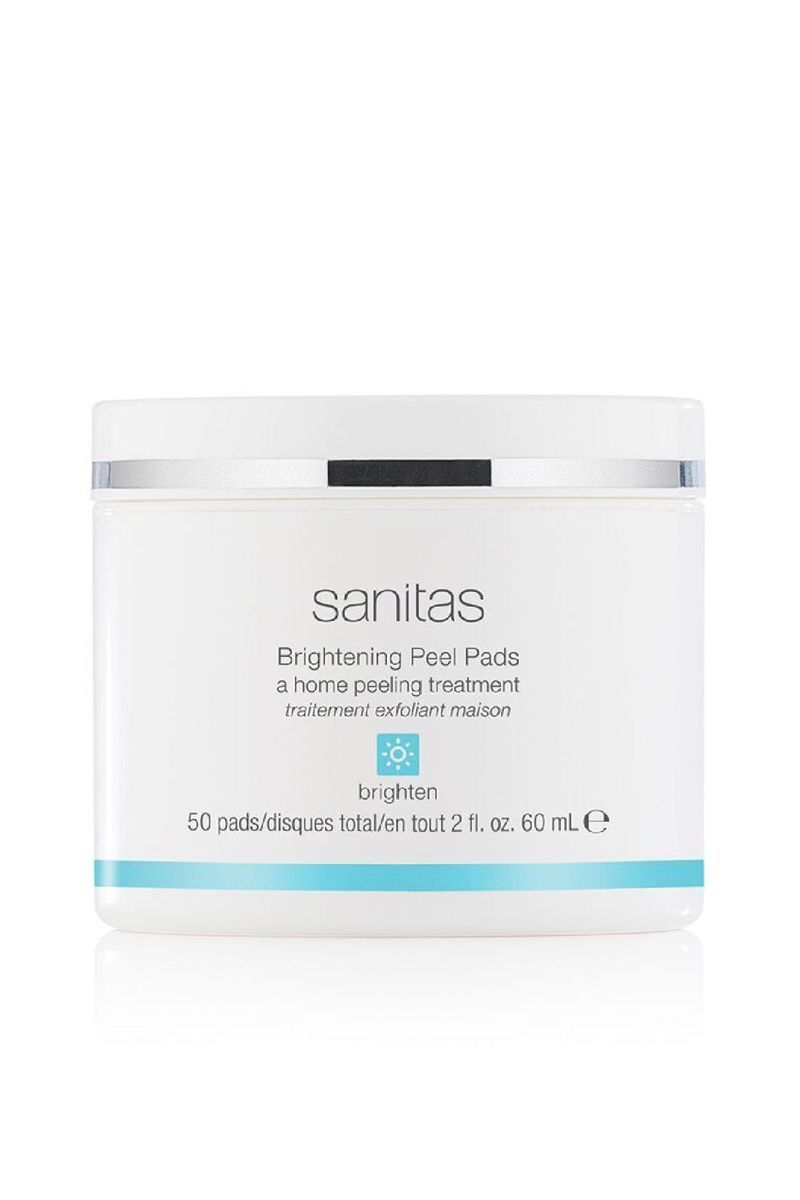 The Best At-Home Chemical Peel for Brighter Skin
(opens in new tab)
Sanitas Skincare Brightening Peel Pads
A one-two-three punch of glycolic, salicylic and lactic acid provides exfoliation, brightening, and cell turnover for a fresh and renewed complexion. Plus, the BHA inclusion is going to help clear away blackheads and whiteheads. Simply swipe this pad along your face and décolletage and allow it to dry fully before layering on your nightly products. The triple-acid blend is gentle enough to linger on your skin and keep working overnight, so don't wash it off.
Pros: Multi-benefit; Works overnight; Brightening
Cons: Might cause dryness or irritation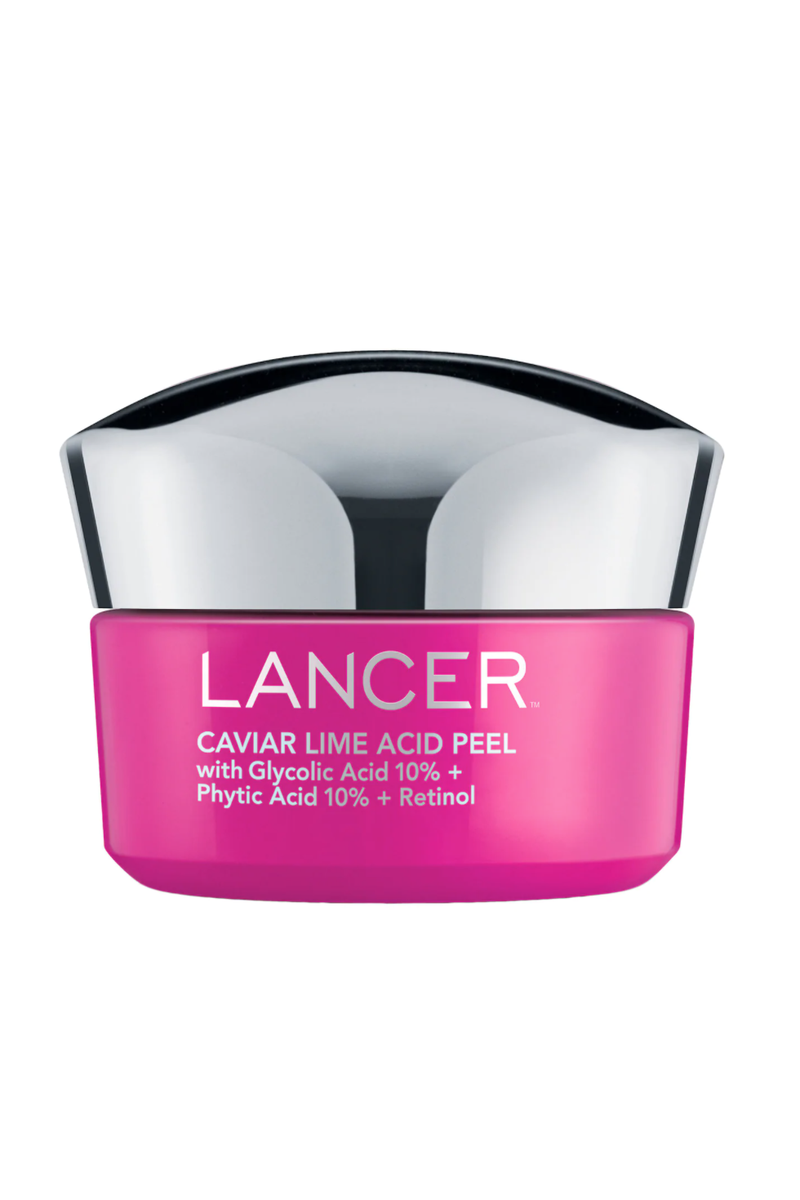 The Best At-Home Chemical Peel for Smoothing
(opens in new tab)
Lancer Skincare Caviar Lime Acid Peel
To target tone and texture, Lancer Skincare is the way to go. This 15 minute wash-off treatment leverages caviar lime, which is naturally rich in AHAs, with retinol, an anti-aging powerhouse that speeds up cell turnover, plumps up fine lines, and evens out tone. The outcome? An ultra-brightening treatment that gives an airbrushed look to pores. It's also going to make your complexion a lot less oily.
Pros: Controls oil; Helps with texture and tone
Cons: Not a lot of product in the jar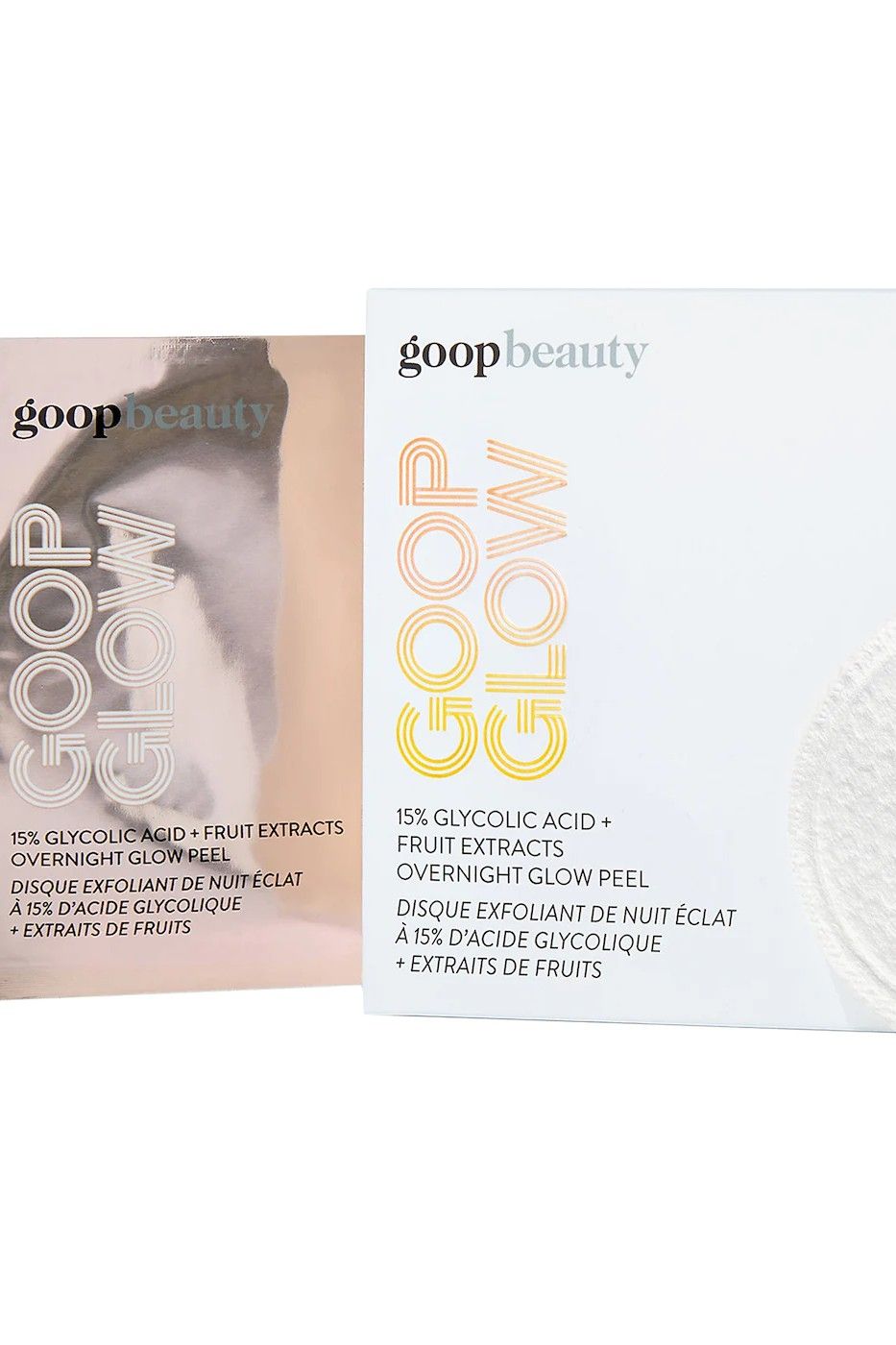 The Best At-Home Chemical Peel for Dull Skin
(opens in new tab)
goop GOOPGLOW 15% Glycolic Acid Overnight Glow Peel
Give your skin a boost while you catch some Z's with these peel pads. Swipe the dual-sided pad over your face, neck, and chest before you head to bed and wake up with smooth, glowing skin. The peel contains a high concentration of glycolic acid (15 percent to be exact), along with kakadu plum, which provides antioxidant protection, and three different types of hyaluronic acid to balance out the drying effects.
Pros: Hydrating; Vegan; Brightening
Cons: Only contains 12 treatments
At-Home Chemical Peel vs. Professional Chemical Peel
At-home chemical peels formulas have lower concentrations of acids (read: glycolic, lactic, salicylic), making them safer for at-home use. "In-office peels have stronger concentrations of acids, meaning greater immediate results," says Dr. Dendy Engelman, a board-certified dermatologist in New York City. "These need to be administered by a licensed practitioner, because of the potential to burn or irritate the skin," she says.
How Often Should I Use an At-Home Chemical Peel?
"The biggest challenge is to not overwork the skin," says Dr. Engelman. "Excessive exfoliation will expose skin, weaken skin-barrier function and trigger inflammation. If the barrier function is damaged, skin becomes vulnerable to infection from microorganisms, such as bacteria and fungus, and leads to sensitivity and irritation."
As a rule of thumb, start slow. Use an at-home chemical peel once a week or once every other week to see how your skin tolerates it. Some products are super gentle and safe for every other day use, while others should only be used once every few weeks. (Editor's note: If you decide to use an at-home chemical peel, it's even more important to use one of the best sunscreen products, as they can make skin extra sensitive to the sun.)
Meet the Dermatologists