The Best 17 At-Home Chemical Peels That Give Professional-Grade Results
Real deal peels.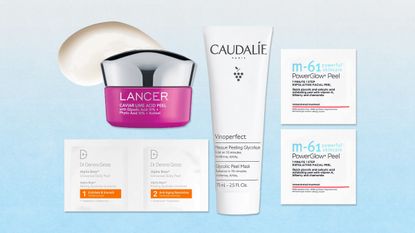 (Image credit: Brittany Holloway-Brown/Future)
Marie Claire Newsletter
Celebrity news, beauty, fashion advice, and fascinating features, delivered straight to your inbox!
Thank you for signing up to Marie Claire. You will receive a verification email shortly.
There was a problem. Please refresh the page and try again.
Some treatments are best left to the pros—and an intense chemical peel with glycolic, lactic, or salicylic acid is most definitely one of them. Don't test your fate (or face) with at-home experiments, people. But, that's not to say that chemical exfoliators won't give you the same glow-boosting, skin-evening benefits via a safer medium. The best at-home chemical peels are going to be *much* gentler, won't require downtime, and will typically be delivered through peel pad, serum-like liquid, or wash-off formula. Granted, it may take a bit longer to notice a smoother texture or faded dark spots, but believe us when we say that incorporating one into your routine is 100 percent worth it in the long run. At-home chemical peels vary in strength and ingredients, but most aim to deeply exfoliate the skin to reduce fine lines and wrinkles, improve brightness, and lift away unwanted discoloration and brown spots.
To get the answers to all of your chemical peel questions and shop for the safest at-home options, keep scrolling. (If you're interested in more professional-grade at-home treatments, check out our favorite LED masks, keratin treatments, and dermaplaning tools. )
Best Deals on At-Home Chemical Peels
What to Look for in a Chemical Peel
When choosing a DIY peel, it's smart to consider your skin type, says Dr. Engelman. "Look at the acids in the peel, and make sure they target the issue you are trying to remedy." For example, someone with acne-prone skin might want to seek out a salicylic acid peel, while someone with sensitive skin looking to target hyperpigmentation is better suited with glycolic acid.
The Cosmetic Ingredient Review Expert Panel recommends that companies use glycolic and lactic alpha-hydroxy acids in concentrations of 10 percent or less, in solutions with a pH of 3.5 or greater, when formulating consumer products. As for salicylic acid? The maximum concentration in over-the-counter products is two percent.
You're going to notice that the chemical peels on this list range from peel pads to overnight treatments. While the medium you choose is in large part personal preference, it's worth noting that short-term, wash-off products are *typically* going to have less of an impact than leave-on formulas that can work overnight. However, that doesn't mean that the latter is necessarily better. Wash-off products are generally ideal for more sensitive or dry skin types.
Is an At-Home Chemical Peel Safe?
Let us preface this by saying that using a professional-grade product at home is unsafe—those high intensity acids should *only* be used by doctors. "Due to a wave of how-to YouTube videos and consumer accessibility to professional products through vendors like Amazon, I am seeing more and more instances of serious damage done to skin—all in a patient's own bathroom," says Dr. Dennis Gross, board-certified dermatologist and founder of Dr. Dennis Gross Skincare. "Higher concentrations of acid must be administered by a licensed professional; they can damage skin if they're not neutralized properly." That said, using a peel pad, mask, or serum that is specifically designed for at-home use is a-ok.
The Best At-Home Chemical Peels
At-Home Chemical Peel vs. Professional Chemical Peel
At-home chemical peels formulas have lower concentrations of acids (read: glycolic, lactic, salicylic), making them safer for at-home use. "In-office peels have stronger concentrations of acids, meaning greater immediate results," says Dr. Dendy Engelman, a board-certified dermatologist in New York City. "These need to be administered by a licensed practitioner, because of the potential to burn or irritate the skin," she says.
How Often Should I Use an At-Home Chemical Peel?
"The biggest challenge is to not overwork the skin," says Dr. Engelman. "Excessive exfoliation will expose skin, weaken skin-barrier function and trigger inflammation. If the barrier function is damaged, skin becomes vulnerable to infection from microorganisms, such as bacteria and fungus, and leads to sensitivity and irritation."
As a rule of thumb, start slow. Use an at-home chemical peel once a week or once every other week to see how your skin tolerates it. Some products are super gentle and safe for every other day use, while others should only be used once every few weeks. (Editor's note: If you decide to use an at-home chemical peel, it's even more important to use one of the best sunscreen products, as they can make skin extra sensitive to the sun.)
Meet the Dermatologists
Celebrity news, beauty, fashion advice, and fascinating features, delivered straight to your inbox!