Insider Beauty Secrets from the Experts
We asked our favorite beauty junkies to weigh in on the hottest products for fall.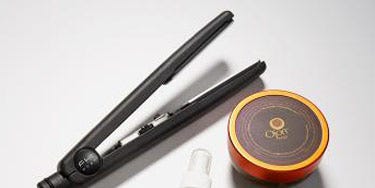 We asked our favorite beauty junkies to weigh in on the hottest products for fall.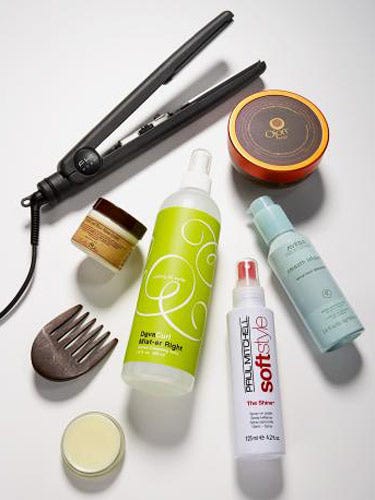 Insider Beauty Secrets
Tippi Shorter: Celebrity Hairstylist
The stylist responsible for the glamorous hair transformations of stars like Alicia Keys and Rihanna, Shorter truly understands what it takes to make the most of natural textures and styles (though she's a whiz with flawless extensions, too). Read on for her restorative routine:
1. FHI Heat Flat Iron: "The 1-inch iron smooths out thick hair effortlessly, and I can grab larger sections of hair, so I finish faster. I use it with my Mason Pearson brush. It's worth splurging on great tools."
2. & 6. Ojon Restorative Hair Treatment: "This at-home treatment makes my thick, curly hair feel like butter and doesn't ever weight it down."
3. & 7. Carol's Daughter Lemon and Rose Hand Cream & La Mer The Lip Balm: "I carry these around with me every day — my hands and lips always get superdry."
4. Deva Curl Mist-er Right: "If I'm wearing my hair curly, I like to use a refreshing spray midday to give my curls a boost."
5. Aveda Smooth Infusion: "I use this to give my hair a little life if I've been straightening it for a few days."
8. Paul Mitchell Soft Style Spray-On Polish: "I adore this! It works for every hair type but really pumps up the shine in thick, dark hair."
"My favorite haircut is and always will be the bob. It's versatile — sexy, sassy, or conservative when needed, and easy to maintain."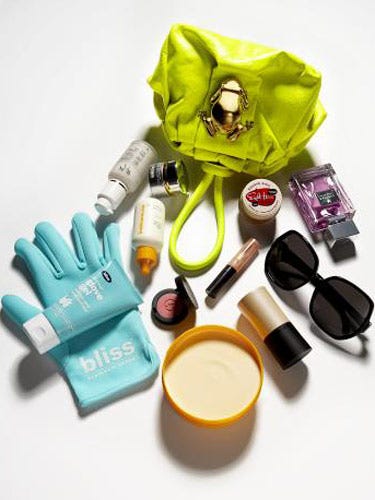 Insider Beauty Secrets
Victoria Beckham: Fragrance Mogul
Her haircuts make headlines and her husband makes her the world's most famous soccer mom. So with makeup and hairstylists from London to L.A. at her beck and call, it's no wonder she has a field day with beauty rituals. "I think I'm due for a change, but I just can't decide what to do," she says. "I look at pictures of people who've had the same hair for years. I'd love to do that, but I'd just get incredibly bored." Watch this space for Posh's next look. Meanwhile, spend it like Beckham and get her beauty essentials:
1. Marc Jacobs bag: "Marc's accessories are fantastic. I also collect Hermes bags. If I have a daughter someday, I'll pass them down to her. And, no, I'm not pregnant!"
2. Yonka Paris Fruitelia moisturizer: "I use a lot; I have dry skin."
3. La Prairie Cellular Radiance eye cream: "David uses this, too."
4. Elizabeth Arden Eight Hour Cream: "Just a little on the edges of my eyelashes makes them look long and dewy."
5. Beckham Signature for Her: "I'm a girl's girl. I know how we want to smell, and this is my interpretation."
6. Bliss Glamour Glove Gel and Gloves
7. Dermalogica Solar Defense sunscreen: "People in Hollywood are obsessed about protecting their skin. My face is never in the sun."
8. MAC Lustreglass in Instant Gold: "If I go heavy on the eye makeup, I'll go paler on the lips. It's like wearing a really short skirt, then choosing a top that downplays your chest."
9. DVB sunglasses: "I like them big because they hide a multitude of sins."
10. & 11. Giorgio Armani Maestro Eye Shadow in 7; Fluid Sheer in 2
12. Body Shop Mango Body Butter: "I've got someone who makes house calls for my spray tanning; I use this to maintain the color."
"David always looks at my toiletries and asks, 'What on earth do you do with all that stuff?'"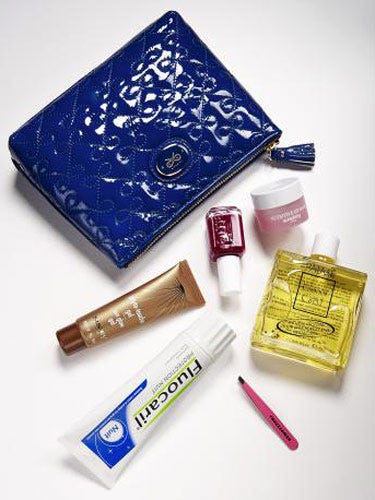 Insider Beauty Secrets
Christine d'Ornano: Managing Director, Sisley
The outdoorsy aristocrat (and daughter of Sisley founders Hubert and Isabelle d'Ornano) continues the tradition of European elegance and high-performance skin care. Here, her picks from across the Pond:

1. Anya Hindmarch London Makeup Bag: "This makeup bag comes with me everywhere."
2. Sisley Paris Nutritive Lip Balm: "In the winter, I love our lip balm — it tastes wonderful and ensures that my lips are never chapped."
3. Essie Nail Polish in No Boundaries: "Essie has such great colors — and they hold up well."
4. Sisley Paris Phyto-Touche Sun Glow Gel: "I always carry this light bronzing gel, which gives instant glow. It's great to add throughout the day."
5. Leonor Greyl Palme Oil: "I swim a lot, so I always apply this to my hair beforehand to protect it. It truly makes your hair waterproof."
6. Fluocaril Night Protection Toothpaste: "Whenever I'm in France, I always buy Fluocaril toothpaste. It's the only brand I like."
7. Tweezerman Tweezers in Pink: "If I could only pack three things, they'd be Tweezerman tweezers, a Mason Pearson brush, and my Fluocaril."
"I've learned a lot about balance and beauty from my mother — she works out but not fanatically, and still enjoys good food. I would love to look like her at her age."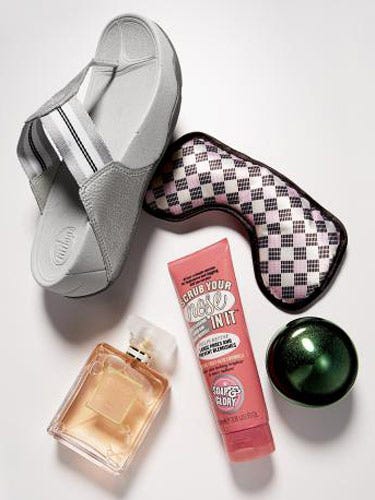 Insider Beauty Secrets
Marcia Kilgore: Founder, Bliss and Soap & Glory
Everything about this skin and spa innovator is girly and efficacious — from her energy to her product names. A true trend-hunter (and creator), she boasts a beauty bag that marries classic and playful:
1. Chanel Coco Mademoiselle: "This is the most elegant fragrance out there right now."
2. FitFlop flip-flops: "Walking is the only exercise I manage to find time for these days. Thank God for my trusty FitFlops — they're designed to give your legs an extra workout."
3. Soap & Glory Scrub Your Nose in It: "I always have a tube of this when I travel. It's lightweight and freshens up my face."
4. Shiseido Future Solution Total Revitalizing Cream: "When it comes to moisturizing, there's nothing like this cream."
5. Soap & Glory Plaid and Pink Face Mask: "I love a good eye mask on the plane."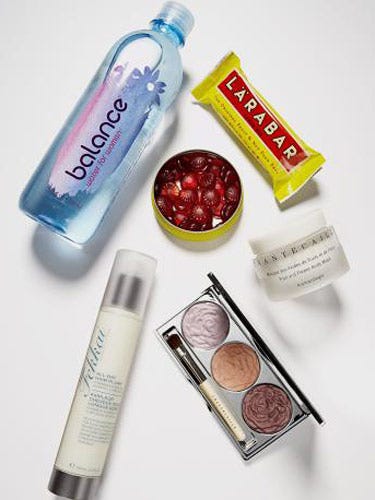 Insider Beauty Secrets
Olivia Chantecaille: Creative Director, Chantecaille
For Chantecaille, beauty runs in the family: Her mother, Sylvie, was one of the geniuses behind Prescriptives before starting her own line. Here, Chantecaille's essentials for work and travel:

1. Fekkai All-Day Hair Plump: "It keeps my long hair healthy-looking all day."
2. Balance Water for Women: "It's infused with flower essences. When I drink it at work, I feel calmer and more focused."
3. Chantecaille Shadow and the Rose Palette: "The brown smudges easily for a perfect smoky eye. The shimmery lilac highlights any skin tone."
4. Bach Rescue Pastilles Natural Stress Relief Lozenges: "These are easier to travel with than the Rescue spray, which I also love."
5. Chantecaille Fruit and Flower Acids Mask: "This is my secret for a skin boost — it's gentle but astonishingly effective exfoliation."
6. Larabar Lemon Bar: "When I fly, I always have organic bars, a cashmere wrap, and a rosewater spray to hydrate my skin."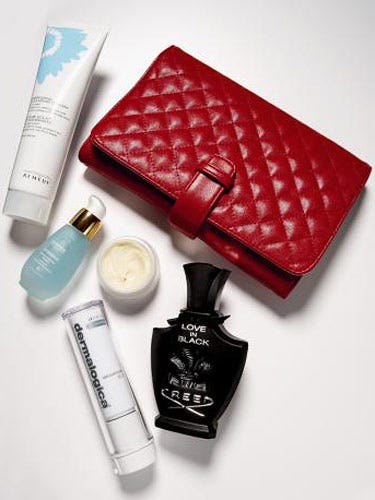 Insider Beauty Secrets
Marla Malcolm Beck: Founder, Bluemercury shops
Beck proudly tests every product that goes into her 28 stores, sometimes keeping four cleansers in her shower for easy access (read her reviews at
marlasbeautyblog.com
). She reluctantly narrows down her fall favorites:

1. Trish McEvoy Brush Bag:
"I love a red accessory — 12 brushes in a quilted scarlet case."

2. Creed — Love in Black:
"A rich, musky fragrance with cedar and wildflowers — inspired by Jackie O."

3. Bliss The Youth As We Know It Eye Cream:
"A nightly eye cream makes a huge difference, and I'm partial to this one."

4. Remede Energizing Cleansing Cream:
"This has enzymes for exfoliating and keeps my skin extra-smooth in the winter."

5. Darphin Paris Hydraskin:
"I'm religious about putting on a serum every morning because it gives skin that dewy look."

6. Dermalogica C-12 Concentrate:
"This revolutionary brightening system reduces hyperpigmentation and evens skin tone."
This content is created and maintained by a third party, and imported onto this page to help users provide their email addresses. You may be able to find more information about this and similar content at piano.io