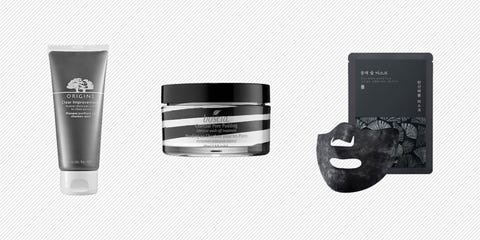 1
Boscia Charcoal Pore Pudding Intense Wash-Off Treatment
Thank the cool white zebra stripes in this cushion-y mask treatment to a combination of white and black activated charcoal. What's the difference? The white charcoal is known to absorb 1000x its weight in impurities and instead of stripping all the moisture and oil from skin, keeps your skin fresh and dewy.
$38; sephora.com.
2
Peter Thomas Roth Irish Moor Mud Mask
If you were lusting after those viral 24K gold masks from Peter Thomas Roth, here's another addition to the family that feels equally luxurious. The mask feels soft and supple on the skin and works well at minimizing pores.
$58; ulta.com.
3
GLAMGLOW Supermud Clearing Treatment
It's no small wonder that beauty girls and masking fiends lose their marbles for GLAMGLOW's clay masks: this one's a mixture of activated charcoal and mud that helps to suck up dirt and excess oil. It even works as a spot treatment on those rogue zits; pat a little bit over your blemish and let the mask work its magic overnight.
$69; sephora.com.
4
Origins Clear Improvement Active Mask
A super reliable (and more affordable) charcoal mask to keep on your vanity is this clarifying mask that gives your skin a thorough clean: it strips your skin of toxins and everything clogging your pores that your micellar water misses. Don't be surprised if you end up looking far glowier than before.
$26; sephora.com.
5
Clinique City Block Purifying Charcoal
For a little more exfoliating action in your scrub, this charcoal mask includes tiny natural beads that help to slough off dry skin while it removes dirt for a visibly smoother, more refreshed appearance.
$28; sephora.com.
6
Goodal Black Charcoal Mask Sparkling Clear
If you want a really deep cleanse, it's preferable to try a mud treatment over a sheet mask. But—for the every day, this charcoal variety still has its perks. It uses bubbly carbonation to gently soothe your skin and the charcoal soaks up excess sebum for oily skin types.
$25; sokoglam.com.