Miracle Beauty Products That Will Change Your Life
We tried them, we loved them, we fought over them. Here's the 2010 MC short list of standout products for face, body, and hair.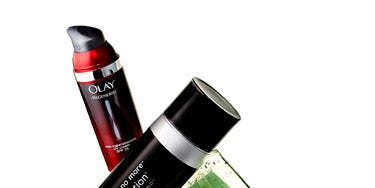 Jeffrey Westerbrook/Studio D
We tried them, we loved them, we fought over them. Here's the 2010 MC short list of standout products for face, body, and hair.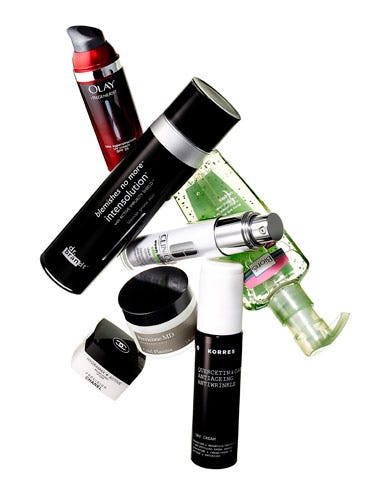 Jeffrey Westerbrook/Studio D
Face
1. OLAY REGENERIST DNA SUPERSTRUCTURE UV CREAM SPF 25, $24.99. Streamline your a.m. routine with this antiaging triple threat: antioxidants, peptides, plus a high SPF.

2. DR. BRANDT INTENSOLUTION, $35. Like Palmolive for your pores, this acne-blasting toner gets skin squeaky clean without over-stripping.

3. BIORÉ STEAM ACTIVATED CLEANSER, $7.99. Cooling mint wakes you up before your first cup of coffee.

4. CLINIQUE EVEN BETTER CLINICAL DARK SPOT CORRECTOR, $49.50. This potent discoloration eraser brightens like prescription hydroquinone, but without irritation.

5. KORRES QUERCETIN & OAK DAY CREAM NORMAL TO COMBINATION SKIN, $48. Finally, an antiaging treatment that won't clog oily, acne-prone complexions — and actually works against wrinkles, too.

6. PERRICONE MD COLD PLASMA, $150. Miraculously softens skin overnight while shrinking pores.

7. CHANEL HYDRAMAX + ACTIVE LIP CARE, $45. A worth-it splurge, this giant pot of superluxe balm makes soothing chapped lips a glamorous, everyday indulgence.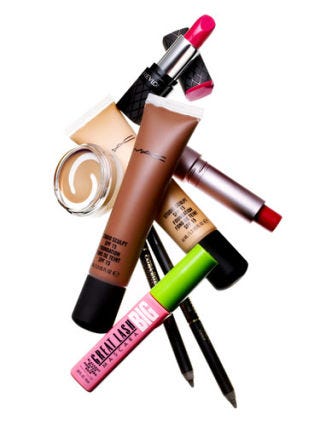 Jeffrey Westerbrook/Studio D
Makeup
8. REVLON COLORBURST LIPSTICK IN FUCHSIA, $8.99. We've never seen such an exciting bright pink at the drugstore before. It'll perk up your spring wardrobe without breaking the bank.

9. MAC STUDIO SCULPT SPF 15 FOUNDATION, $28 EACH. No more obvious base face! This water-resistant formula stays put but still looks like real (albeit immaculate) skin.

10. FRESH TINTED SUGAR ROSÉ LIP TREATMENT SPF 15, $22.50. Intense moisture and a shot of sheer cherry-blossom color make your mouth look extra kissable.

11. L'ORÉAL PARIS EXTRA-INTENSE LIQUID PENCIL EYELINER, $8.49 EACH. The creamiest pencil ever slides over skin, effortlessly defining lashlines to create fuller-looking fringe and a wide-eyed effect.

12. MAYBELLINE GREAT LASH BIG MASCARA, $6.15. For thicker, clump-free fringe, this makeup artists' favorite has been reinvented with volumizing wax and a jumbo lash-building brush.

13. COVERGIRL & OLAY SIMPLY AGELESS CORRECTOR, $10.99. Get rid of your dark under-eye circles (for good) while covering them up instantly with this yellow-tinted treatment.
Jeffrey Westerbrook/Studio D
Body
14. VASELINE SHEER INFUSION MINERAL RENEWAL BODY LOTION, $6.25. This surprisingly light, petrolatum-free formula soaks in fast and hydrates even the driest dead-of-winter skin.

15. SALLY HANSEN COMPLETE SALON MANICURE POLISH, $6.99 EACH. The genius contoured brush in this bottle makes at-home applications a cinch, even when you're in a rush.

16. HAWAIIAN TROPIC SHEER TOUCH CRÈME LOTION SPF 50, $9.99. This high-SPF sunscreen gives skin a sexy sheen and smells like paradise.

17. VENUS BIKINI TRIMMER, $4.99. As an alternative to (or in between) waxing, this smart shaver has a safety comb to ensure extra-delicate areas stay protected.

18. CREST 3D WHITE VIVID TOOTHPASTE, $3.75. No time for strips? This paste-gel brightens teeth in two weeks and is safe for sensitive types.

19. NEUTROGENA REVITALIZING RAINBATH, $8.99. This new take on the classic good-for-skin body wash energizes with a juicy, crushed-grapefruit scent.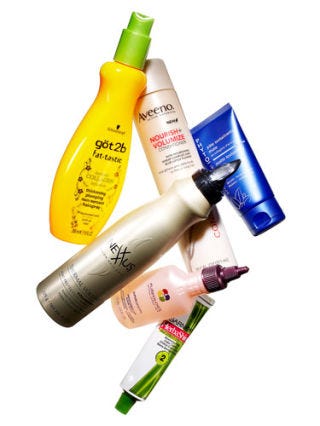 Jeffrey Westerbrook/Studio D
Hair
20. GOT2B FAT-TASTIC HAIRSPRAY, $5.99. For updos and other bombshell styles, this collagen-enriched plumping formula gives guts to limp strands just as well as pricier thickening sprays.

21. AVEENO NOURISH + VOLUMIZE CONDITIONER, $6.49. Packed with nourishing wheat proteins, this volumizing formula won't weigh down baby-fine strands.

22. PHYTO MATTE TEXTURIZING PASTE, $24. Adding the perfect bad-girl tousle is a no-brainer with this easy-to-use styling cream that also absorbs second-day grease.

23. NEXXUS THERMAL VOLUME MOUSSE, $10.55. Activated by a blowdryer, this heat-protecting body-builder adds Blake Lively bounce — and doubles as a leave-in conditioner.

24. PUREOLOGY SUPERSMOOTH SMOOTHING ELIXIR, $24. Able to transform the most damaged manes into silk, just a few drops of this magical serum make shiny blowouts a breeze.

25. GARNIER HERBASHINE HAIR COLOR, $7.99. Like a gloss treatment that also covers grays, this ammonia-free, 10-minute color can also lighten hair one level in tone.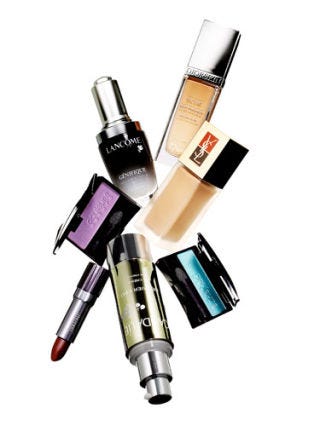 Jeffrey Westerbrook/Studio D
BONUS: Global Picks
1. LANCÔME GÉNIFIQUE CREAM SERUM, $89.50. Exfoliates and smooths skin without overdrying.

2. DIORSKIN NUDE NATURAL GLOW HYDRATING MAKEUP SPF 10, $45. Refreshes tired complexions with mineral technology.

3. YVES SAINT LAURENT TEINT RESIST FOUNDATION SPF 10, $55. Long-lasting makeup that won't settle in fine lines.

4. YVES ROCHER COULEURS NATURE SINGLE EYESHADOW, $15 EACH. Packed with botanicals, these sheer shades are naturally beautiful.

5. CAUDALÍE PREMIER CRU, $150. Supercharged antioxidant moisturizer plumps skin while you sleep.

6. SHISEIDO MAKEUP PERFECT ROUGE GLOWING MATTE LIPSTICK, $25. Translucent red pigments give lips a sheer blush.
This content is created and maintained by a third party, and imported onto this page to help users provide their email addresses. You may be able to find more information about this and similar content at piano.io