Hairgate: Carly Fiorina vs. Barbara Boxer
Female politicians are battling it out over ... their hairstyles?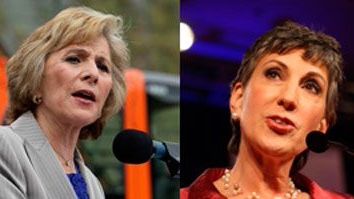 (Image credit: Getty)
Carly Fiorina (trim, feathered), ex-HP honcho and Republican senate nominee in California, called her opponent, Barbara Boxer's (bleached, wild) style "so yesterday." This came not long after a New York Times Magazine (opens in new tab) piece revealed that Fiorina's own hairdo — uncharacteristically spiky last year thanks to a battle with breast cancer — had caused conservative supporters to balk (opens in new tab) at her "left-wing radical" look.
When Greta van Susteren (dull blonde, frizzy) quizzed Fiorina about her comments — made into a mike she didn't know was on as she prepped for a TV interview in Sacramento — she noted her cancer hair (opens in new tab) and moved on, a perfectly deft political duck masking the reality that life remains a beauty contest (opens in new tab) in this country, and even the smartest, most accomplished women are reduced to Tri-Delts when they're fighting for the title.
Much ink has been spilled over female politicians' hairdo choices. Remember when Hillary Clinton (wheaten, immaculate) dropped the headband (opens in new tab)? Some say you can predict fluctuations in the stock market by Nancy Pelosi's (blown out, firm) bouncing between crops and bobs (opens in new tab). But for our money, the pol with the best 'do of all time is the inimitable, frozen d.a.-sporting Ronald Reagan.