Blinged Out Hair like Beyoncé
Who knew a sticky strip of crystals can add sparkle to any hairstyle?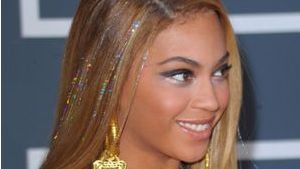 (Image credit: Jason Merritt/Getty Images)
Now that it's November and holiday party invites are coming in, it's time to start planning your outfits. But what do you do with your hair? Stars like Beyoncé and Ke$ha have been sporting sparkling crystals in their famous manes. Are you ready for your own hair bling?
Applied with a flatiron (just hold the sticky strip of crystals on your hair and press with the iron to secure them in place), these temporary hair gems come in a multitude of colors ranging from rainbow to clear. For a festive twist on a classic updo, try a subtle sprinkle of diamond-like clear crystals, which will shimmer when they catch the light. To remove, just wash your hair to de-activate the glue.
MC recommends: Glisten Hair Charms (opens in new tab), which are $24.99 and available at MicaBeauty.com (opens in new tab). MicaBeauty.com is offering Marie Claire readers 10 percent off if they enter code MARIECLAIRE at check out.