Editors handpick every product that we feature. We may earn commission from the links on this page.
Small but Mighty: 4 Super-Adorable Travel-Size Hair Dryers That Kick Major Ass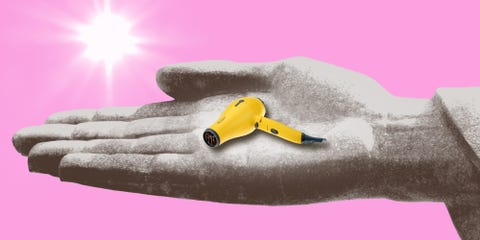 Design by American Artist
Once upon a time (AKA last year), I had to fly to a wedding with nothing but a tiny weekender bag, which was already stuffed with 12 pounds of beauty products and, like, some socks. Knowing that I had to blow out my hair for the day, I begrudgingly brought along a travel-size blow-dryer, fully aware that it would probably suck as badly as a hotel dryer.
But I was so, so wrong. This mini dryer (which is now discontinued, may it RIP) blew my hair out way faster, with noticeably less frizz, than my very expensive full-size dryer at home. And since then, I've only exclusively used mini dryers at home, testing out all of the cult-favorites to find the best of the best for my curly, frizzy-as-hell hair. And now, I'm sharing my wisdom with you. Behold: The very best travel-size dryers you'll want to use every single day.
This content is created and maintained by a third party, and imported onto this page to help users provide their email addresses. You may be able to find more information about this and similar content at piano.io