Editors handpick every product that we feature. We may earn commission from the links on this page.
The Only 4 Products That Actually Keep My Curls Frizz-Free All Day
I would like to be buried with these, please.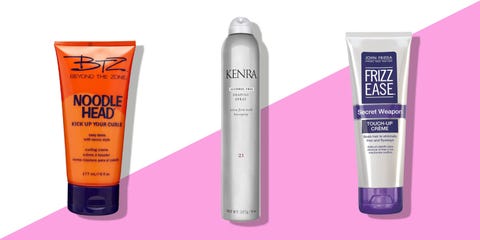 I have curly hair. I have fine, fuzzy, frizz-prone curls that deserve all of the world's F words to describe them. Which means I also have a lifetime of knowledge for making them bend and submit to my every whim, particularly in the frizz department.
[contentlinks align='left' textonly='false' numbered='false' headline='Related%20Stories' customtitles='6%20Easy%20Braids%20You%20Can%20Do%20in%20Literally%2060%20Seconds%7CMeet%20Sahi:%20A%20Makeup%20Brand%20for%20Brown%20Girls' customimages='|' content='gallery.5038|article.29304'] And hey, there's nothing wrong with frizz. It's not some inherently awful thing, despite what every hair commercial and ad had told us for a billion years. You should embrace your frizz and love your frizz. Or, you can also kill your frizz.
The choice is yours, and for me, I choose the latter, in favor of a life of smooth. So to help you get on my level of control, if you're into that, I present to you the four products I truly love.
This content is created and maintained by a third party, and imported onto this page to help users provide their email addresses. You may be able to find more information about this and similar content at piano.io