Editors handpick every product that we feature. We may earn commission from the links on this page.
The Only 4 Products That Actually Keep My Curls Frizz-Free All Day
I would like to be buried with these, please.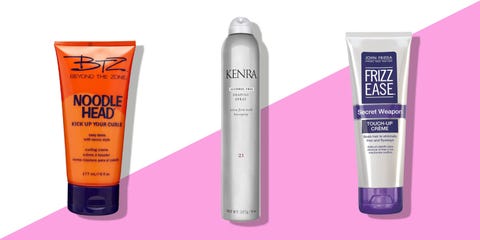 I have curly hair. I have fine, fuzzy, frizz-prone curls that deserve all of the world's F words to describe them. Which means I also have a lifetime of knowledge for making them bend and submit to my every whim, particularly in the frizz department.
[contentlinks align='left' textonly='false' numbered='false' headline='Related%20Stories' customtitles='6%20Easy%20Braids%20You%20Can%20Do%20in%20Literally%2060%20Seconds%7CMeet%20Sahi:%20A%20Makeup%20Brand%20for%20Brown%20Girls' customimages='|' content='gallery.5038|article.29304'] And hey, there's nothing wrong with frizz. It's not some inherently awful thing, despite what every hair commercial and ad had told us for a billion years. You should embrace your frizz and love your frizz. Or, you can also kill your frizz.
The choice is yours, and for me, I choose the latter, in favor of a life of smooth. So to help you get on my level of control, if you're into that, I present to you the four products I truly love.
1
John Frieda Frizz-Ease Secret Weapon Touch-Up Crème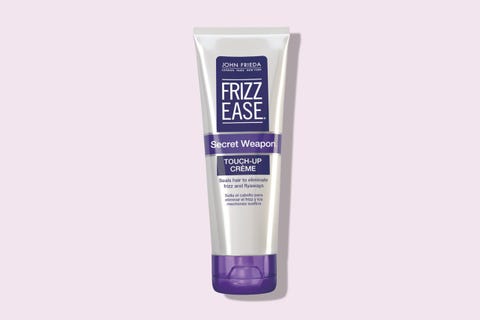 Hi, please meet my not-at-all-secretive secret weapon. Filled with avocado oils, glycerin, and absolutely zero harsh silicones, the lightweight cream does what you'd expect a touch-up cream to do: define curls, add a bit of shine, and immediately smooth frizz in a really natural-looking way.
Fact: I have two tubes at work, at home, in my bathroom, and at my grandma's house, and probably hidden somewhere near you right now, too. It's that good.
John Frieda Frizz-Ease Secret Weapon Touch-Up Crème, $7
BUY IT: ulta.com.
2
Kenra Professional Shaping Spray 21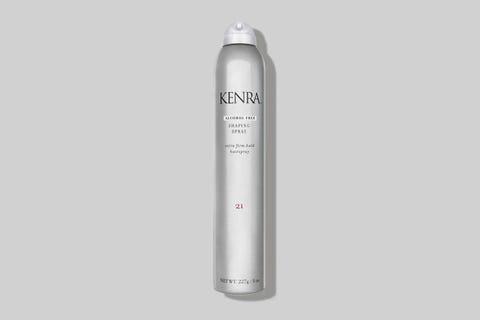 All hairsprays are filled with alcohol, turning curls into a dried-out, crunchy mess, but this alcohol-free hairspray feels more like a shiny shield that keeps my hair ridiculously smooth, even in hardcore humidity.
The spray can get heavy, though, so instead of misting it on directly, mix a bit of the formula in with a dollop of curl cream, then lightly massage it through your dry or damp curls.
Kenra Professional Shaping Spray 21, $19
BUY IT: ulta.com.
3
Herbal Essences Totally Twisted Mousse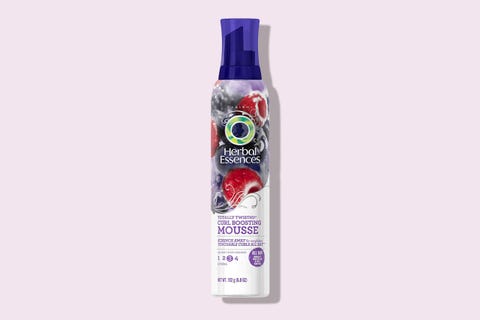 Not to ring my own bell, but I'm a beauty editor with access to pretty much every single curl product in existence, and this mousse, which is the same mousse I've been using since high school, is still the only mousse that I swear by for fine, thin curls.
When used on damp hair (ideally on top of a curl cream, like the one above, for moisture), curls dry completely frizz-free, defined, and not even the tiniest bit crunchy or lank.
Herbal Essences Totally Twisted Mousse, $3
BUY IT: walgreens.com.
4
Beyond the Zone Noodle Head Curling Cream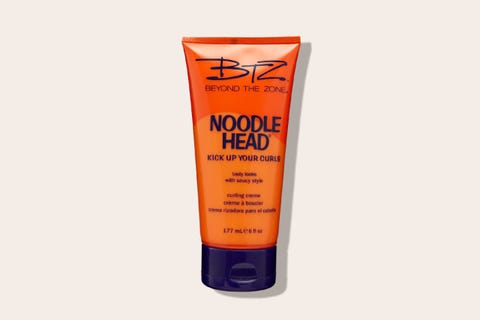 If you've ever talked to me about curly hair for more than 30 seconds, then you already know how I feel about this magical, cult-favorite cream. The lightweight formula feels a bit like melted taffy in your hands, but it's super slippery and easy to work through sopping wet hair (which is when you should do it), and it leaves even the finest, flattest curls looking defined and voluminous, without any heavy residue. Seriously.
Beyond the Zone Noodle Head Curling Cream, $12
BUY IT: amazon.com.
This content is created and maintained by a third party, and imported onto this page to help users provide their email addresses. You may be able to find more information about this and similar content at piano.io