3 Celebrity-Inspired Holiday Hair How-Tos
If there's one time of year to have a standout hairstyle, it's the holidays! We love the idea of getting glam for the season's parties, but we don't want to spend too much of our time off in the salon. So, we invited Tim Rogers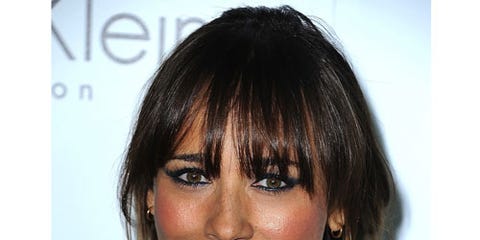 If there's one time of year to have a standout hairstyle, it's the holidays! We love the idea of getting glam for the season's parties, but we don't want to spend too much of our time off in the salon. So, we invited Tim Rogers — celebrity hairstylist and the creative director at Living Proof — to stop by our office and teach us a few simple (but special!) DIY styles. Read on for a step-by-step guide that will have you holiday party-ready in no time.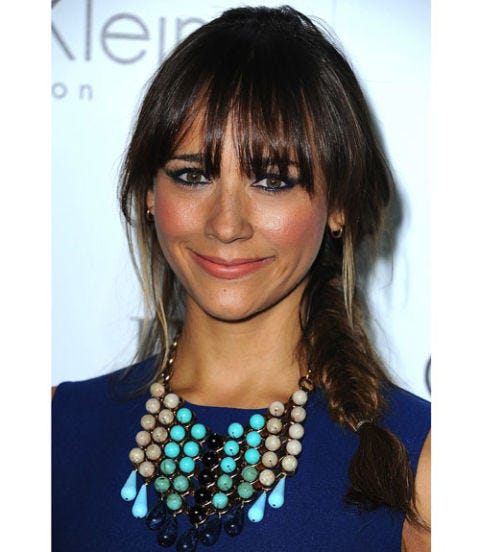 Festive Fishtail
Inspired by Rashida Jones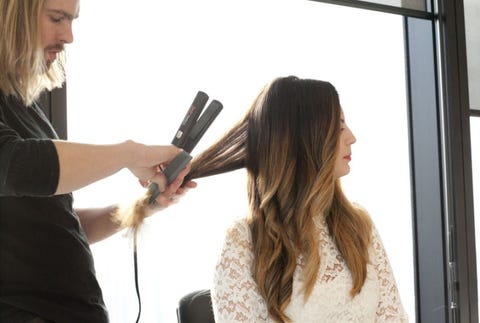 Festive Fishtail
First, prep the hair with Living Proof Restore hairspray and smooth it out using a flat iron. You'll start with a deep side part, which helps to make the look more dramatic.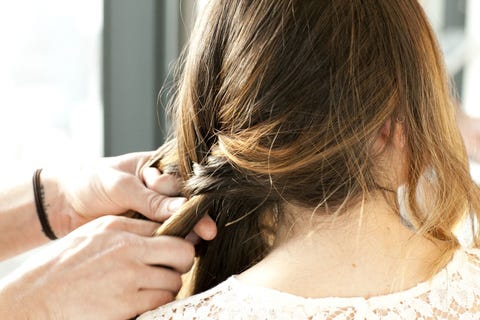 Festive Fishtail
Leaving some face-framing hair out on one side, piece out two sections of hair to start the fishtail braid.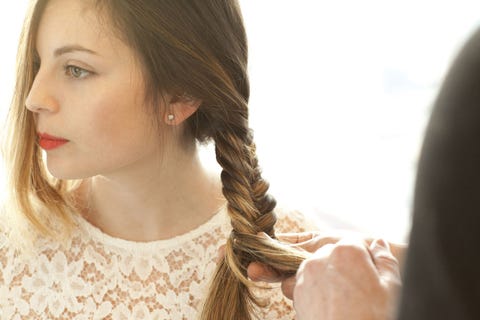 Festive Fishtail
This braid is easier than it looks — we promise! You start with two main sections, then take smaller sections from the back and criss-cross them, passing them over to the front. Here's an instructional video that you can use for reference if needed.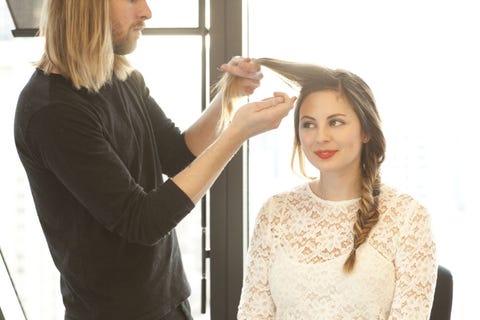 Festive Fishtail
Once the braid is done, secure it with an elastic. Take the hair that's left over and add some texture with Living Proof's Amp.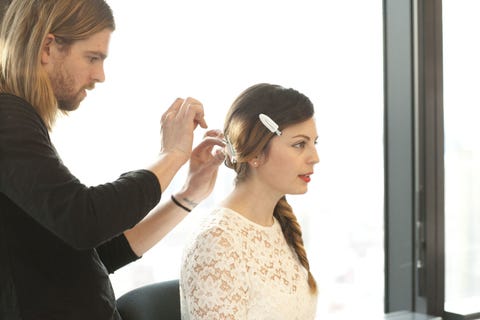 Festive Fishtail
Pin the hair back using bobby pins. Tim and his assistant Ryan decided to create a Marcel wave-inspired retro shape to give the look a little more glamour.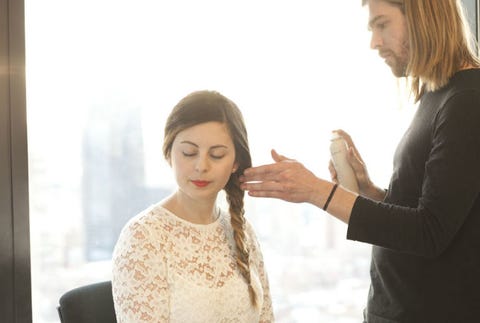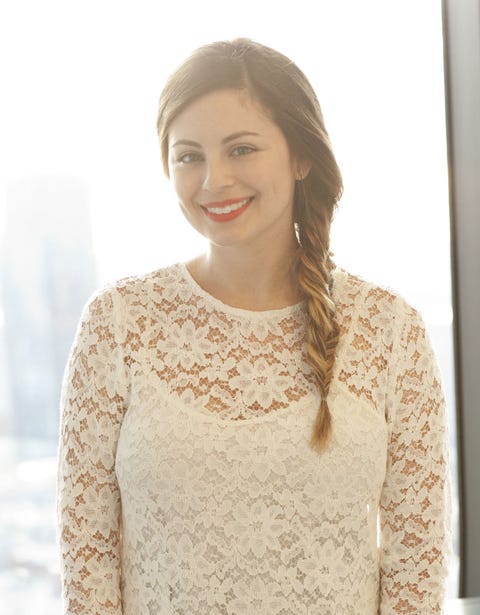 Festive Fishtail
Now you're ready to party!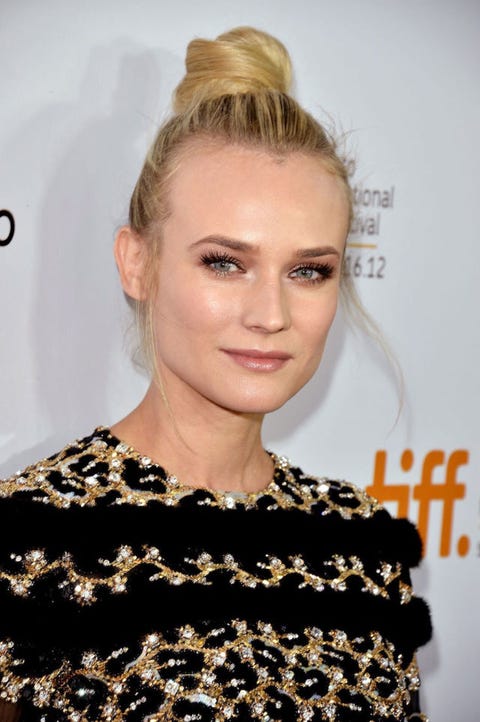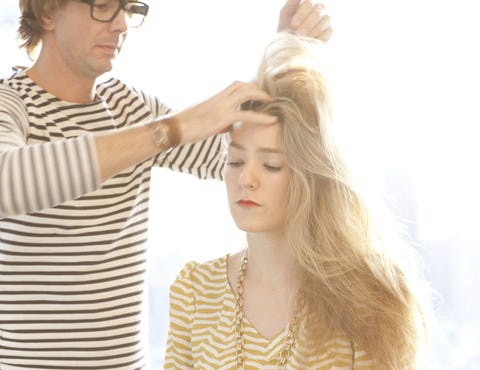 Twisted Top Knot
Tim suggests prepping with some of Living Proof's Amp styling product to give the hair some texture and grip before starting the top knot.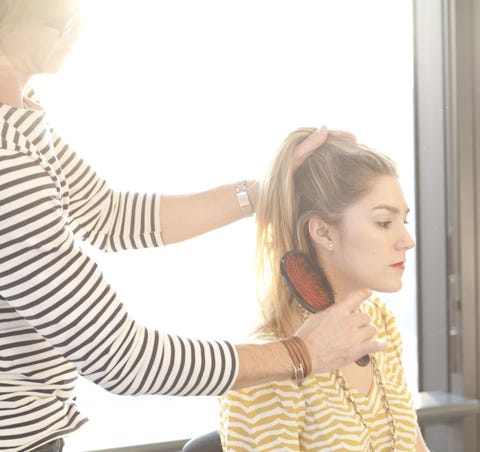 Twisted Top Knot
"Placement is key," Tim told us. "Everyone's face shape is different, so you need to make sure the knot isn't too high on the head — the back of the crown is universally flattering." Pull the top half of your hair back into a ponytail, making sure the front doesn't look too slicked back. It should appear as if the hair was "raked" with your fingers.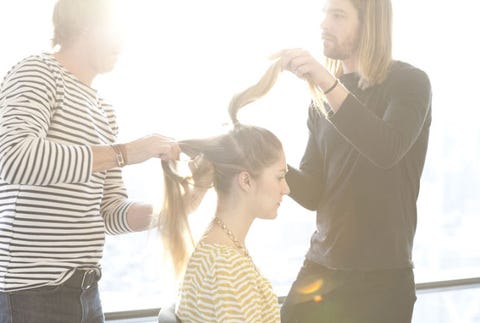 Twisted Top Knot
This is a two-step top knot, meaning that there are two separate ponytails that you will fuse together. First, secure the top ponytail with an elastic.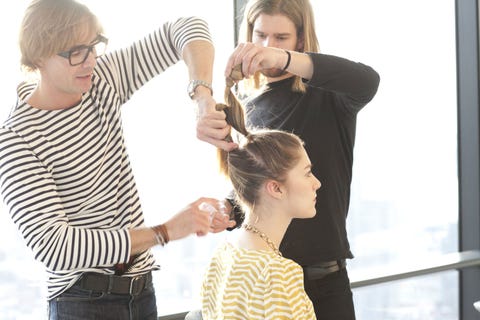 Twisted Top Knot
Tim's biggest hair pet peeve is loose, sagging hair at the nape of the neck when women throw their hair up into a messy bun. To avoid this, he twisted the hair in the bottom ponytail to keep it super-tight.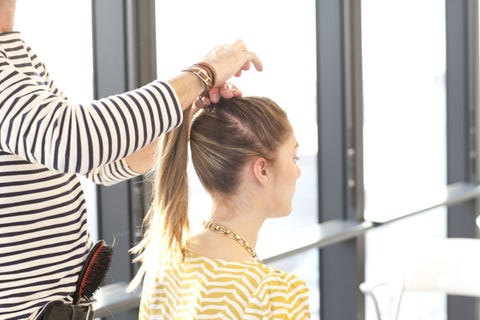 Twisted Top Knot
Once you've twisted the bottom half, secure it in an elastic with the top ponytail. You can hide the seam by combing over it with a brush.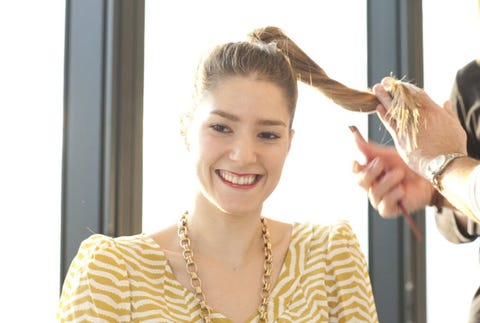 Twisted Top Knot
Next, backbrush the ponytail to give it some texture and volume.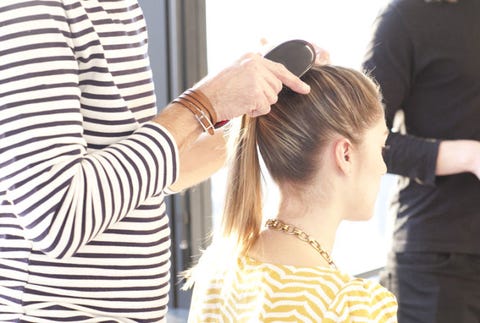 Twisted Top Knot
Twist the hair around itself to create the knot. Tim suggests that you avoid making it too round — the "ballerina bun" look can be severe — and loves when there's a bit of height to the style.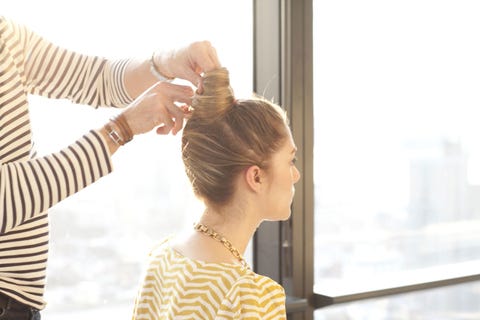 Twisted Top Knot
Secure the knot with bobby pins and hairspray.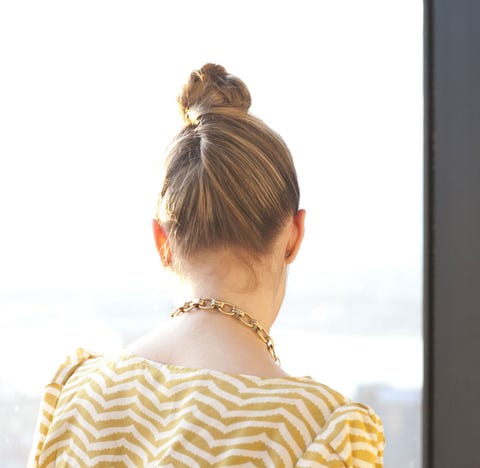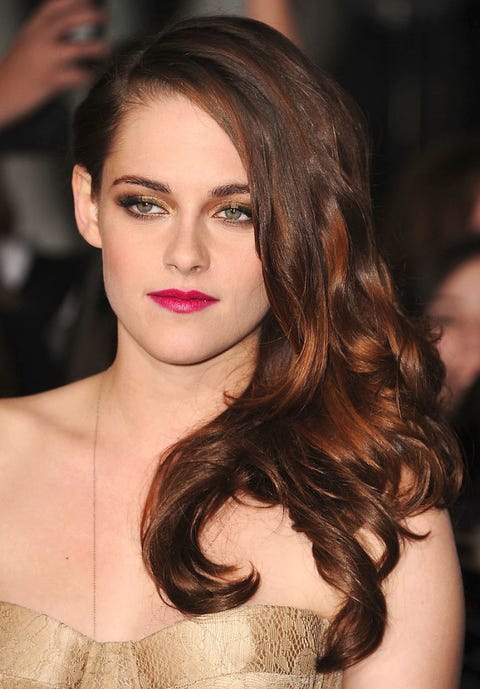 Vampy Volume
Inspired by Kristen Stewart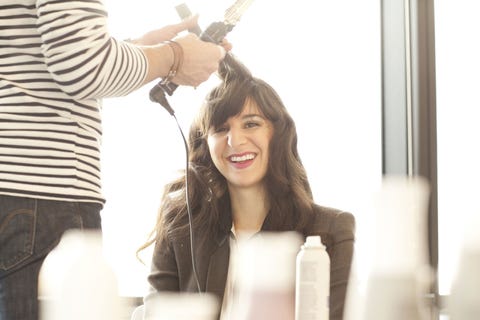 Vampy Volume
Start with a deep side part and grab your curling iron. "We are using the iron horizontally to avoid those round 'banana curls'," Tim told us. "Instead, we want a look that folds towards the face." You can create this look by curling large sections of hair in two steps each: Toward the root, fold the hair up in a loop forward, leaving the ends out. Then, in the second step, you'll curl those ends under.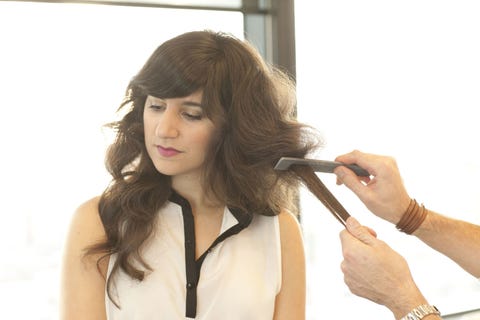 Vampy Volume
Tim points out that the key to this look is breaking up the wave, which you can achieve by backbrushing the top of each section — leave the curls at the bottom of each section intact.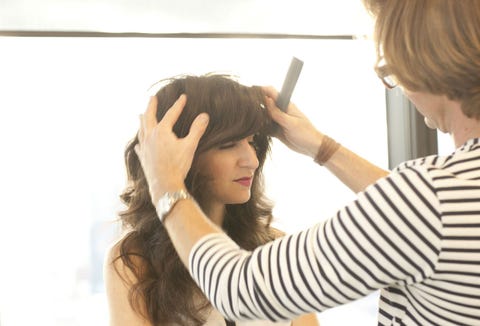 Vampy Volume
Don't be afraid to mess it up a bit! You can use Living Proof's Amp to give the hair some added lift at the crown.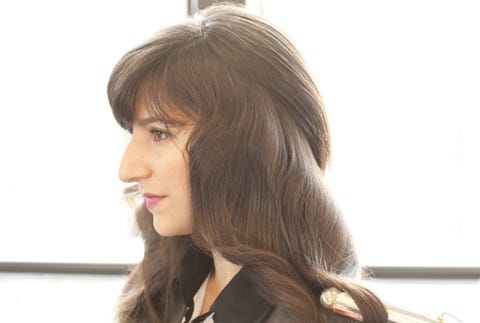 Vampy Volume
Continue this curling technique all the way around the head.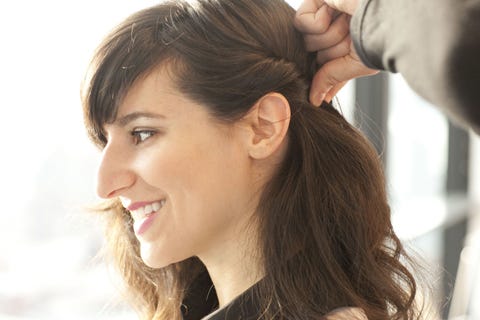 Vampy Volume
For some added drama, take a small section of hair from the front on one side. Twist it to create a roll that opens the hair away from your face.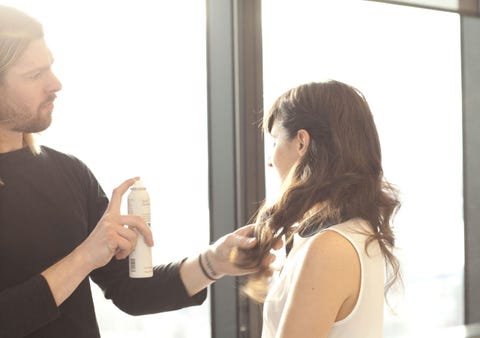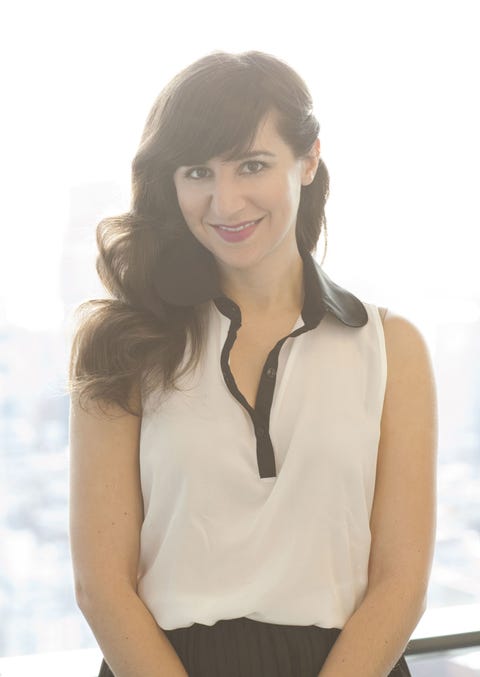 Vampy Volume
All glammed up and good to go.
This content is created and maintained by a third party, and imported onto this page to help users provide their email addresses. You may be able to find more information about this and similar content at piano.io