Celebrity Hairstyles: The Perfect Holiday Updo
From smooth and sleek to sexy messy, pulled back ponytails and updos are storming the red carpet this holiday season.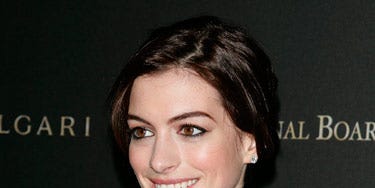 Jim Spellman/WireImage.com
From smooth and sleek to sexy messy, pulled back ponytails and updos are storming the red carpet this holiday season. Ready to rock your own swept-back style? Read our step-by-step guide to creating the perfect updo. Or check out our hairstyle handbook for guides to creating over 100 different hairstyles.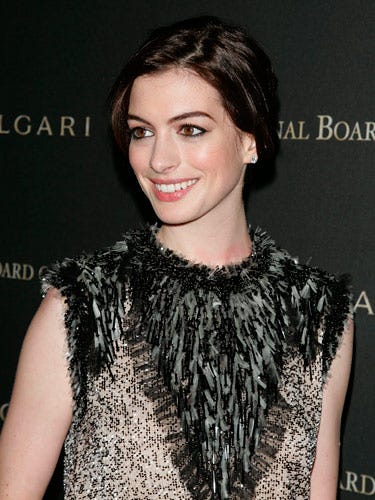 Jim Spellman/WireImage.com
Anne Hathaway
Anne Hathaway's simple pulled-back style perfectly frames her face and doesn't detract from the details of her dress. By loosely combing her hair back at the temples into a knot she steers clear of looking too matronly.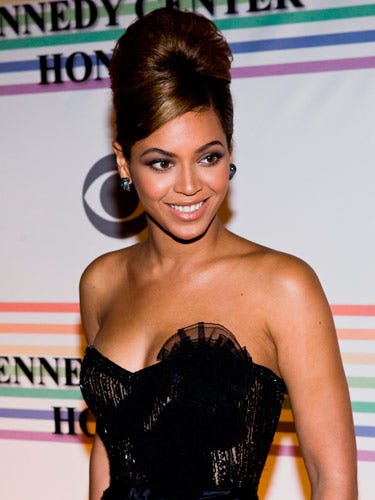 Paul Morigi/WireImage.com
Beyoncé
She proves that bouffant is not a dirty word. She opts for all-out glamour with this sleek look. This style requires a lot of effort to create — every hair is accounted for — but the end result is worth the time.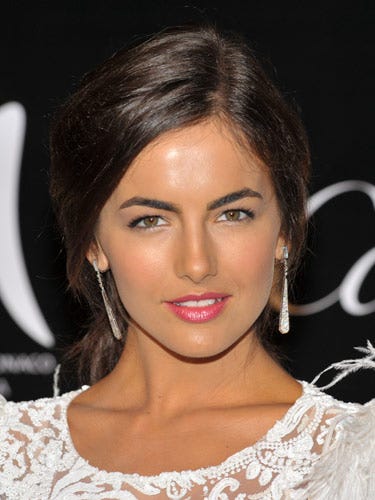 Dr. Billy Ingram/WireImage.com
Camilla Belle
There was a time when a ponytail was strictly reserved for schoolgirls and tennis players, but this season the sporty style has been a red carpet smash hit. Camilla Belle's low pony gives her a touch of grown-up elegance when paired with a lacy dress and some chic earrings.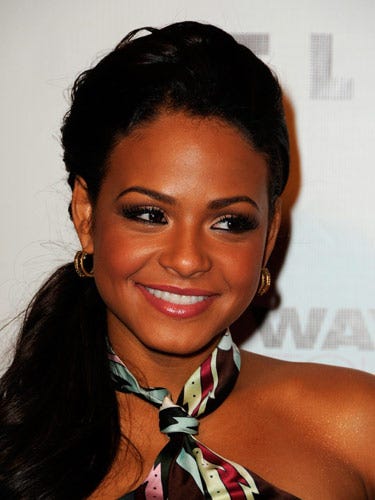 Jordan Strauss/WireImage.com
Christina Milian
Christina Milian, on the other hand, takes a more flirty approach to the ponytail look by pulling her hair off of her forehead with a little black headband, and fastening the rest of it to the side.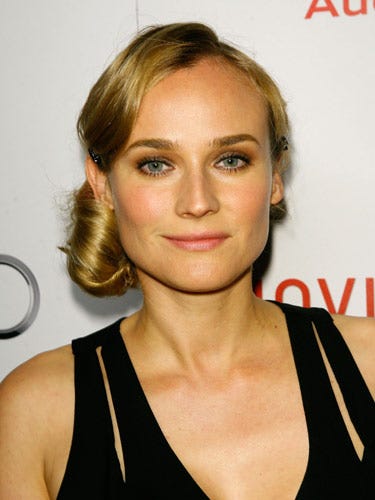 Michael Bezjian/WireImage.com
Diane Kruger
Retro glamour is a guarantee for red carpet success. A firmly structured and intricate bun like Diane Kruger's recalls old-fashioned elegance.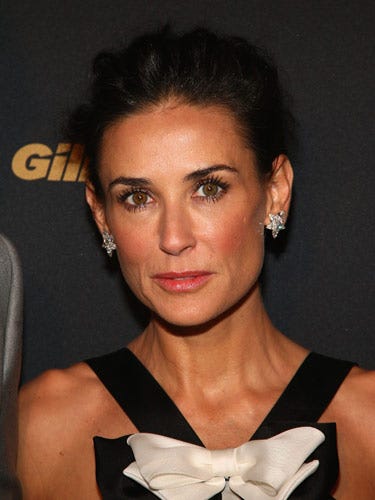 Demi Moore
She's successfully remained age-unidentifiable for decades; this messy updo is one reason why. Sweeping her hair up and away from her face and allowing a few loose strands to fall is youthful and elegant at the same time.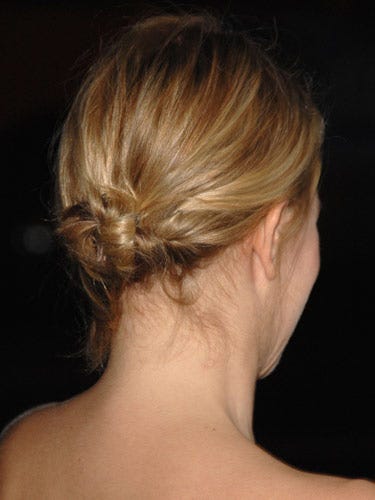 Steve Granitz/WireImage.com
Drew Barrymore
Her barely there wisps of hair still manage to pull off an updo. Lesson learned: No matter how short, as long as there's enough hair to hold one bobby pin, you can work this sleek style.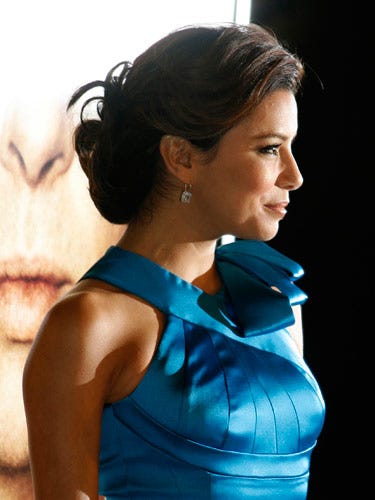 Eva Longoria Parker
One of the great reasons to rock an updo is simply for the silhouette. Eva Longoria Parker is a perfect example.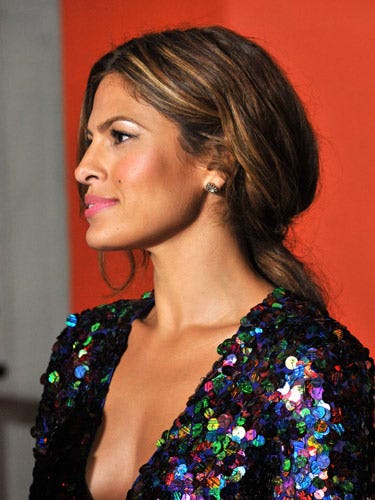 Eva Mendes
She proves that a little volume around back can make or break a beautiful ponytail. The look is created by teasing the hair at the nape of the neck, pulling the remaining strands over it loosely and fastening into a low pony. Then, wrap a swath of hair around the band for the finishing touch.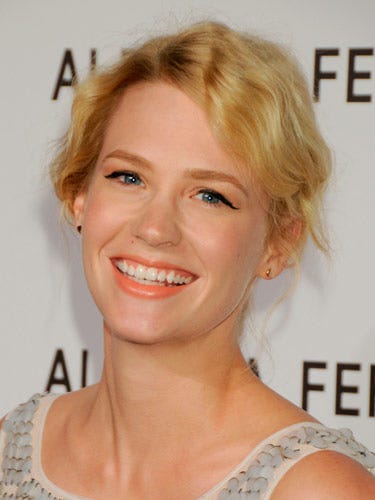 January Jones
Her tousled updo recalls a more relaxed version of a flapper's meticulously styled finger waves in the front. Jones finishes off the look by pinning the rest of her hair back at the nape of her neck. A great way to swing an updo with above-shoulder-length hair.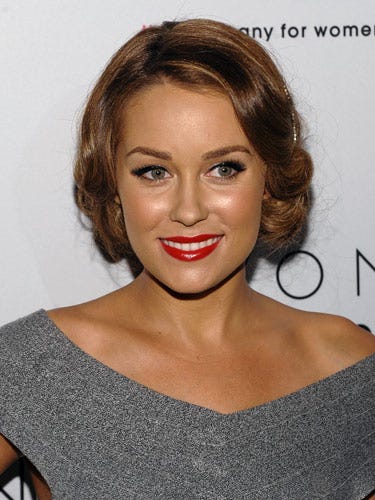 Dimitrios Kambouris/WireImage.com
Lauren Conrad
Old Hollywood glamour: Lauren Conrad looks like she stepped out of a black and white movie with this updo, and the look works perfectly with her bold red lipstick. If you're going to attempt this at home, may we suggest stocking up on bobby pins.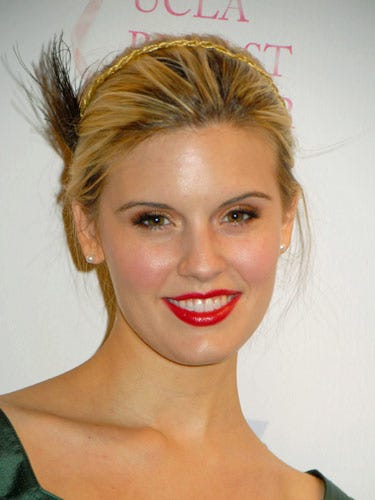 Maggie Grace
She attempts a more severe updo by pulling her hair back from her forehead tightly. In order to keep this look light she uses a headband with a playful feather embellishment.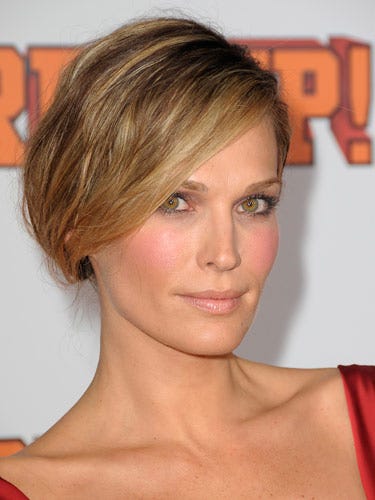 Jordan Strauss/WireImage.com
Molly Sims
The trick with hairspray is to look like you're not using it. Molly Sims's pulled-back style looks perfectly tousled, but rest assured, not one of those strands will fall out of place. In order to keep your style and avoid helmet hair, extend your arm, keeping hairspray at least six inches away from your head.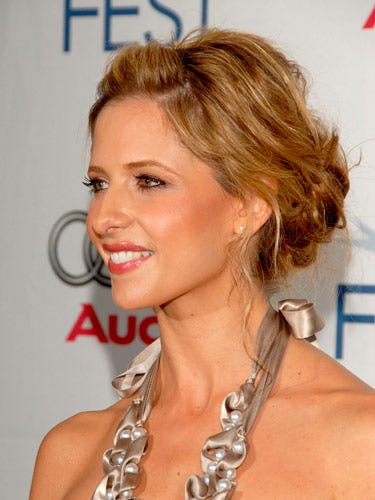 Mark Sullivan/WireImage.com
Sarah Michelle Gellar
To emphasize the texture of her messy bun, Sarah Michelle Gellar clips her hair to the side in front before pulling the rest of it into a pile of beautiful curls at the back of her neck.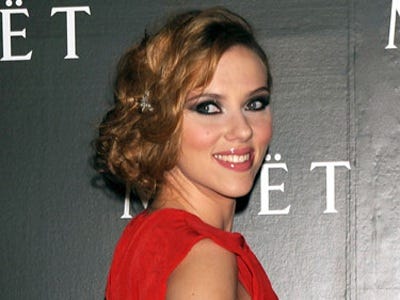 Scarlett Johansson
Another way of accessorizing the messy/curly updo is by using bobby pins to fasten only the ends of the hair to the crown of your head. To secure the loose hair into a distinct style, Scarlett Johansson uses a pretty, little barrette.
This content is created and maintained by a third party, and imported onto this page to help users provide their email addresses. You may be able to find more information about this and similar content at piano.io