Beauty Around The Clock: JoJo
The singer and new Broadway starlet shares all of her beauty secrets.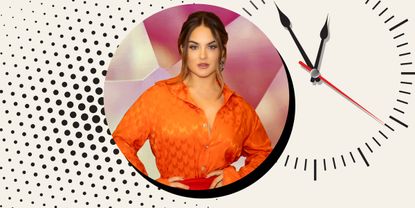 (Image credit: Future)
Welcome to Beauty Around the Clock, Marie Claire's weekly peek into the daily lives of some of the most game-changing men and women in their industries. Ever wonder how they get it all done in a day? Here's your answer.
It's not often that all of my niche hobbies align, but that's exactly how it felt talking to JoJo. The singer, who released the first album I ever bought back in 2004, is currently starring as Satine in Moulin Rouge! The Musical—the same Broadway musical I've seen three times over the past 18 months after becoming absolutely obsessed with the original film as a teen. The singer and actress is a part of the cast until July 30, and we sat down to chat about her beauty routine ahead of her debut performance.
From the best-selling eyebrow gel she uses to get her big, full brows to look even bigger and more full to the viral lip liner she swears by—which is a longtime favorite of mine as well—to her day-off self-care and chill-out routine, JoJo spills all of her best-kept beauty secrets. To get all of the details about her favorites, keep scrolling through.
Rise and Shine
When it comes to the products Marie Claire recommends, we take your faith in us seriously. Every product that we feature comes recommended by a MC writer or editor, or by an expert we've spoken to. Learn more about how we review products.
I like to sleep with the blinds open now. I'm getting up around sunrise, a little before seven—whenever the sun is rising now. I sometimes will set an alarm and be like, oh, just another 30 minutes if I can. But I do like to get up with the sun. Since I have my dog with me, she's the perfect reason to get outside ASAP.
From bed, as I'm rising, I typically read a few pages of whatever book I'm reading. Right now, I'm reading Shoe Dog by Phil Knight, which is about the founding of Nike. I'm also reading a book called From Suffering to Joy by Prem Baba. So I'll either read a few pages or journal a little bit depending on how I feel—and just get some good quality time staring into my dog's eyes.
So the first thing I do is wake up, start hydrating—I drink water immediately. I've started to put apple cider vinegar in my water. I'm drinking some water while we're on our walk, then I come back, feed her and then caffeinate myself. I make coffee, or I just got this green tea with collagen. I love a creamy beverage in the morning. I'm either going like a coffee with some type of non-dairy milk or I'm going a collagen matcha thing.
From there, I shower and try to put myself together in as quick an amount of time as possible. For me it's a lot about hydration, sun protection as well as reversing the effects of the sun that I've accumulated over the years because I have some like melasma and stuff like that.
Power Start
I tend to fast and stay fasted until lunch, but I love breakfast food. My reason [for fasting] is that I have more energy if I delay [breakfast] a little bit. I do an intermittent fasting type of thing, even though it's not a perfect fast since I have non-dairy milk in my coffee. I tend to wait until noon to eat, but sometimes I still want breakfast food. If I want a treat, I might have an almond croissant, or I might have another cappuccino from a local coffee shop. I'm a big fan of a really good cappuccino with cinnamon on top.
Or, I might go for a big salad with tons of stuff in it. It depends. I would call myself an intuitive eater. I just eat when I feel hungry and until I'm satisfied. The supplements I take are also a big part of my self-care and beauty routine: A probiotic, omega 3's, a multivitamin, and a collagen powder.
Signature Look
The Armani Luminous Silk Concealer is the best, I use shade four. I love their foundations and I just started using their amazing concealer. What I try to do is just look, if someone took a picture of me, like I had some type of life in me.
I focus mostly on my skin, brows, mascara and some liner-gloss combination, and that's it. And lots of hydration! Then I use a contour stick from Milk Makeup. It has nice cool undertones and it's more ashy which just works for me. I just use it to define myself a little bit. I love the NARS The Multiple in Orgasm, it really is the best.
The Anastasia Beverly Hills Brow Freeze is the only thing that really works for my brows. I use an old spoolie and just brush my hairs up. I have a lot of hair on my head, a lot of hair on my brow, and a lot of hair and on my body, so I'm constantly trying to either remove it or tame it or keep it doing what I want it to do, so that actually really holds it in place.
And then I'm using the Clinique High Impact Mascara right now. My favorite lip combo right now is Charlotte Tilbury Lip Cheat Iconic Nude and the NYX Butter Gloss in Caramelt. I would say that's my signature everyday go-to. I'm not known for any particular look, but this is what I do when I want to feel like, "Oh, ok I've got my shit together."
Fitness Fix
I move every day. If I'm not taking an Uber or the subway, I'm walking—tons and tons of walking. I end up walking four to five miles a day just with my dog and then back and forth to different places because I'm loving to explore this new city.
I also have been loving finding workout programs on YouTube or like through the Equinox app. They have a lot of really great things that you can follow along with. I follow some people on Instagram or on TikTok, like this girl Elise—Elise's Body Shop. I just follow along with what they do and then I'll put myself through a workout. I've been liking doing it at night actually.
I've been really loving Pilates lately. It's a different way of using my body and I'm just enjoying that. It feels like a combination of different things. There's some dance to it, there's some ballet to it, there's some stretching. It's really beautiful. I do strength training too, though—I like being physical.
Self-Care Ritual
I'm constantly checking in with my breathing because I tend to hold my breath and when I catch myself doing that, I'm lovingly reminding myself that it's just time to breathe. I'm big on candles, big on setting a mood, big on fragrance. I like the pairing of reading at night a candle and setting a space for that wind-down. I'm into sounds. At night I'll put on different sounds or I'll listen to a podcast or I'll have NPR on as I'm walking around.
I love baths. Oh—and I do some cold exposure, in the morning or at night. I started this on tour, actually. After I would get off stage, I would take a shower and I would rinse with regular, warm water and then I would expose myself to the cold shower for like a minute. That was actually really good. And I became really into it.
It's a good exercise for the nervous system. It can be really calming when you get yourself to breathe through it. It's not gonna hurt you. It's actually gonna help. It can boost some functions of your body.
Signature Scent
I combine two things right now. Tom Ford Oud Wood and Sweet Ash by Snif. I put them on top of each other and that's my go-to right now. I love fragrance! Like, my favorite compliment is, "Ooh, you smell so good."
Beauty Icon
One of my beauty icons is Hedy Lamarr. I've been thinking a lot about her lately, and a lot about these iconic beauties. She was such a muse and an archetype of femininity. I've been thinking about Marilyn Monroe and other women who exude a certain type of femininity. It's just something I've been spending some time thinking about. But Hedy Lamarr—her combination of all the things that made her, her as well as her stunning beauty. She's definitely one of my icons. I would also say J.Lo. She's so bomb. I would say Beyonce too. She just keeps getting better with age—In every single way!—and that's really inspiring.
Hair Care Routine
This is crazy, but I wash it once, maybe twice a week. On Broadway, they use wigs, which I didn't know they do or why they do that. I didn't know. But it's because the microphone and the receiver live inside the wig. I'm in protective mode with my hair right now. I'm just trying to let the natural oils come in. I brush it, but then I do a really deep clean and a condition once a week. Then I'll probably blow dry it with some heat protectant and then make it rock for the week. I'll touch up the style in two days or a day, and then I might do it again in another two days—and then I'll start relying on hats.
So, I wash my hair every three days or so when I'm on tour, for example, 'cause I'm really sweating every night. But, right now, I can stretch it out for a week since I am wearing a lot of hats and pin curls or hair cap under the show wig.
[My red hair] fades so fast. It's a commitment. But I like it! She's fun! Haley Williams makes a really good vibrant color line called Good Dye Young. Then I use this Color Depositing Mask by Moroccanoil in Hibiscus.
P.M Routine
Because I have Mondays off now, I take my Sunday night and I do my thing. I put a mask in my hair and at the same time that's setting in, I'll do this face mask by DMK. It exfoliates and then it makes you look like you're a hundred years old. It tightens on your face and then it cracks and you kind of just can't move. I like to do that once a week.
But then as far as things that I do nightly: I double cleanse always. If I have like a drop of makeup on my skin, I break out. I do like an oil cleanser and then I'll use something like Cetaphil or Biologique—a drugstore, good sensitive cleanser—on top of that. Then I'm using the AHA / BHA Toner from Buttah Skin. I am loving that line actually. I love their toner, it smells so good. Then I slather myself with a Kiehl's cream and then an oil on top of that.
Shop JoJo's Favorite Products
Marie Claire email subscribers get intel on fashion and beauty trends, hot-off-the-press celebrity news, and more. Sign up here.