Beyoncé Released a Line of School Supplies
And they're #FLAWLESS.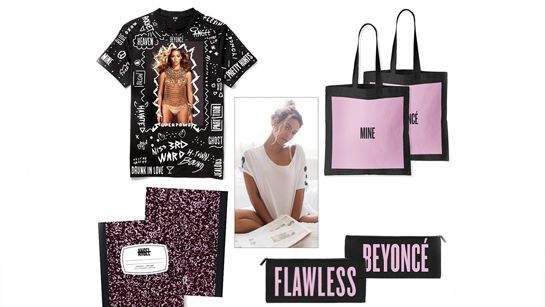 (Image credit: Courtesy of Company)
We need as much Beyoncé in our lives as possible, no matter what the occasion. To fill the back-to-school void in our lives, the superstar has released a line of supplies that we're already drunk in love with.
The bundle features a pack of pencils (one for each song from her latest album), a pouch to put them all in with "Flawless" scrawled on one side and "Beyoncé" on the other, two tote bags that read "Beyoncé" and "Mine", a Beyoncé-surrounded-by-graffiti emblazoned t-shirt, a Beyoncé composition notebook and of course, a Beyoncé poster that features Queen Bey looking #FLAWLESS in a simple white t-shirt, lounging in bed (#shewokeuplikethis). All the products feature the familar font and colors of her self-titled album. You can purchase the bundle on Beyoncé's website, natch.
Also available is the Beyoncé backpack, which retails for $125 at State Bags. The backpack is a lot less flashy than the other products, in a slate gray color with a simple "Bey Good" patch sewn to the bottom corner. Let's hope that Beyoncé school supplies will transfer a bit of her perfection into whatever you're working on, right?
Diana is a producer at ELLE.com. She previously wrote for MarieClaire.com. Diana is a Syracuse grad and a Chicago native, and therefore a pro at dealing with cold weather. She's also an Anglophile, which means she love all things British—especially Downton Abbey, London, and Will and Kate (and Prince George!)