The 18 Most Hilarious Tweets About Taylor Swift's 'Reputation' Album Release
Swifties cannot handle it.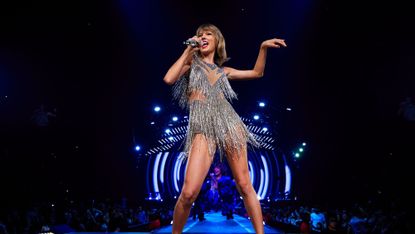 (Image credit: Archive)
Taylor Swift fans around the world have been rejoicing in unison over their leader's grand return to the music scene. If you're a Swiftie, it's likely you've tweeted about the album already and used the official hashtag for Reputation (yes, there's an official hashtag). Are you on your 10th listen of "Getaway Car" and have already mastered all they words to "New Year's Day?" Having a hard time deciding on your favorite Reputation track? You're not alone. Below, the best fan reactions to the release of Reputation.

Can't wait to lock myself in a bathroom, listen to 'New Year's Day' by Taylor Swift and cry in my champagne after the ball drops every year from now on. #reputationNovember 10, 2017
See more
Sorry, the old Clint can't come to the phone right now...why? Because he's dead because he's been up since midnight listening to #reputation. 🐍🔥 @taylorswift13 @taylornation13November 10, 2017
See more
ya know most of taylor's records have a fall ambience.....but rep is like a....middle of winter drunk on the streets freezing in ur hoe clothes albumNovember 10, 2017
See more
i was riding in a getaway car i was crying in a getaway car i was dying in a getaway car said goodbyEEEE in A GETAWAY CAR pic.twitter.com/4m3jCgK9apNovember 10, 2017
See more
YOU WERE DRIVIN THE GETAWAY CAR. WE WERE FLYIN BUT WE NEVER GET FAR. pic.twitter.com/hh8xwbQNUPNovember 10, 2017
See more
DIVE BAR ON THE EAST SIDE WHERE YOU AT PHONE LIGHTS ON MY NIGHTSTAND IN THE BLACK COME HERE YOU CAN MEET ME IN THE BACK DARK JEANS AND YOUR NIKES LOOK AT YOU OH DAMN NEVER SEEN THAT COLOR BLUE JUST THINK OF THE FUN THINGS WE COULD DO pic.twitter.com/wpqLnECDuQNovember 10, 2017
See more
Me after hearing @taylorswift13 say 'shit' as if she's not a 27 year old woman and I don't use it every day of my life #Repuation pic.twitter.com/jjM6WXrSNbNovember 10, 2017
See more
Celebrity news, beauty, fashion advice, and fascinating features, delivered straight to your inbox!
Peggy is Cosmopolitan.com's entertainment writer, specializing in Leonardo DiCaprio, This Is Us, and the royals. She's also a proud Canadian and pug lover. When Peggy's not obsessing over Leo's latest lover or gut size, she can be found watching old episodes of Friends or Gilmore Girls. Her dream is to one day live on a pug farm and write children's books, with illustrations by her very talented husband Greg.