No One Has Ever Handled a Major Wardrobe Malfunction Better Than Beyoncé Did Last Night
This is why she's the Queen Bee.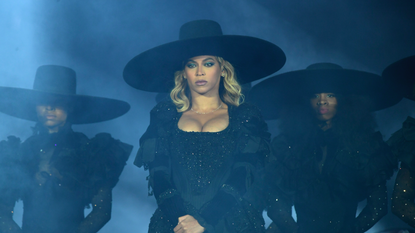 (Image credit: Getty Images)
Beyoncé absolutely slayed her second show at New York's Citi Field on Wednesday night, and everyone in attendance left feeling empowered AF and ready to take on the universe.
But what most members of the BeyHive may have missed is that Beyoncé actually had a major wardrobe malfunction at the end of her Formation World Tour show—and that's because Bey handled it like the flawless queen she is.
According to people in attendance, Beyoncé's gorgeous, sparkly leotard ripped right near the crotch while she was performing her final number, "Halo." You can see it pretty clearly here.
Rather than react how a normal person would react when your costume rips near the crotch in front of thousands of people, she instead held the garment together with her hand and calmly continued singing.
Seriously, even knowing that she was holding it together, it's hard to tell that's what she was doing—but it does explain why she never lifts her hand from her hip for the entire song. Either way, she continues to sing the hell out of "Halo," making everyone in the stadium very emotional.
All hail the Queen Bee. Your faves could never.
Follow Marie Claire on Facebook for the latest celeb news, beauty tips, fascinating reads, livestream video, and more.
Gina Mei is a writer and editor based out of Los Angeles. When she isn't writing, reading, and lost in an Internet vortex, she can usually be found petting the nearest dog.