The Best Celebrity Instagrams for Father's Day
See how stars are celebrating and honoring their dads.
Marie Claire Newsletter
Celebrity news, beauty, fashion advice, and fascinating features, delivered straight to your inbox!
Thank you for signing up to Marie Claire. You will receive a verification email shortly.
There was a problem. Please refresh the page and try again.
Happy Father's Day! While we strive to always show just them how much we care, today is obviously a special one for dads everywhere. And celebs are celebrating just like us—with adorable throwback photos and heart-melting tributes to the fathers, husbands, and paternal figures in their lives. Here, the sweetest #FathersDay photos star's have shared on Instagram so far:
Gisele Bündchen
Amy Schumer
Christy Turlington Burns
Chrissy Teigen
Victoria Beckham
Brooklyn Beckham
David Beckham
Kylie Jenner
Kendall Jenner
Kris Jenner
Scott Eastwood
The Clintons
Hailey Baldwin
Gigi Hadid
Bella Hadid
Lily Aldridge
Jessica Alba
The Obamas
Lena Dunham
Solange Knowles
Tina Knowles
Diane Kruger
Prince William
Emily Ratajkowski
Reese Witherspoon
Gwyneth Paltrow
Olivia Wilde
Ryan Reynolds
Poppy Delevingne
Naomi Watts
Ariana Grande
Elle Fanning
Dakota Fanning
Lea Michele
Kaley Cuoco
Ashley Benson
Mark Ruffalo
Shay Mitchell
James Franco
Caitlyn Jenner
Nicky Hilton
Rachel Zoe
Seth Meyers
Nicole Richie
Jaime King
Rita Ora
Camila Alves
Connie Britton
Hugh Jackman
Rachel Bilson
Kristin Cavallari
Doutzen Kroes
Joe Jonas
Carrie Underwood
Kelly Rowland
Katherine Schwarzenegger
Neil Patrick Harris
Lucy Hale
Halle Berry
Gina Rodriguez
Kate Upton
Ashley Tisdale
Celebrity news, beauty, fashion advice, and fascinating features, delivered straight to your inbox!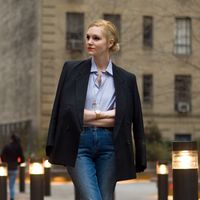 I am an experienced editor, writer, and creative strategist, specializing in fashion, beauty, and lifestyle content for digital media outlets, as well as video and social platforms. While I currently operate as a freelance contributor/consultant, with such clients as The Zoe Report, my 10+-year background in the industry was cultivated at the dot-coms of elite publications, including Harper's BAZAAR, ELLE, and Marie Claire.