At Last, Tom Hiddleston Is Talking About What It's Like to Date Taylor Swift
And responds to that dig Robert Downey Jr. made about his 'I ❤️ T.S.' tank.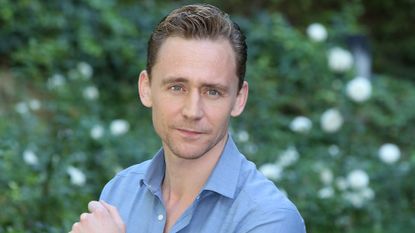 (Image credit: Getty Images)
Marie Claire newsletter
Celebrity news, beauty, fashion advice, and fascinating features, delivered straight to your inbox!
Thank you for signing up to . You will receive a verification email shortly.
There was a problem. Please refresh the page and try again.
It's about damn time.
The rumor mill has been buzzing non-stop with speculation about why Taylor Swift was at her parent's house (opens in new tab) when Tom Hiddleston returned from shooting in Australia instead of in LA to greet him; why it took three days for the couple to follow each other on Instagram (opens in new tab); not to mention the lingering whys and wonders about how recent chaotic events (opens in new tab) might have affected their relationship in its infancy—especially since Hiddleston has always been on the more private side of the celebrity spectrum. But we've hardly had any input from the lovebirds themselves.
Until now. Tom Hiddleston has *finally* opened up about what it's like to be the boyfriend of the mega-famous pop star. In a Facebook Live interview with The Hollywood Reporter (opens in new tab), Hiddleston addressed a fan's question about his high-profile relationship with Taylor Swift that has dominated headlines this summer. Here's what the Emmy-nominated actor had to say:
"We all live in a world where every phone has a camera and there's nothing new, really, about the spotlight on me. I think that's what happens when you're a public figure."
Hmm… sure, Tom. Except that a spotlight on your personal life is something new.
He continued: "What have I learned about it? I've learned to—I don't know, maybe it's too soon to tell. Um, I've learned that there are many sides to a story, and that sometimes there are a lot of stories out there which are false, and the hardest thing is to try to not let those falsehoods affect your own life. That's what I would say."
~So~ diplomatic. And what of his newly minted Instagram account (opens in new tab)?
"I literally just joined Instagram a week ago and it's been fun so far."
To which we say, post more pics please!
Watch the complete Q&A in the video below. (Around 19:20 is when the Swift question happens.)
In related news, Hiddleston has also responded to the not-so-subtle jab Robert Downey Jr. made at his infamous 'I ❤️ T.S.' tank (opens in new tab).
In an interview with the L.A. Times (opens in new tab), Hiddleston said, "Robert and I are very close and I got to know him working on The Avengers in 2011. "There's a lot of mutual affection. I feel like it's an expression of mutual admiration. It's great. He's very sweet. And within the Marvel Universe there's a lot of that going on—a lot of throwing paper airplanes."
Not the juicy clap-back we would've liked, but clearly that isn't Tom's style.
I am an experienced editor, writer, and creative strategist, specializing in fashion, beauty, and lifestyle content for digital media outlets, as well as video and social platforms. While I currently operate as a freelance contributor/consultant, with such clients as The Zoe Report, my 10+-year background in the industry was cultivated at the dot-coms of elite publications, including Harper's BAZAAR, ELLE, and Marie Claire.