'SNL' Spoofed the Presidential Debate During Last Night's Premiere
Alec Baldwin as Trump is so spot-on it's insane.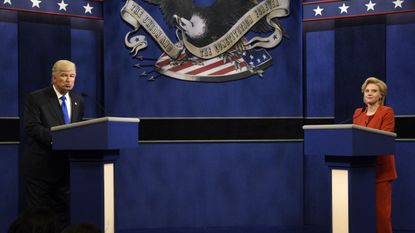 (Image credit: Getty Images)
Election years must feel like Christmas for the writers of Saturday Night Live—and this year in particular has provided so much parody-ready content to pull from. Last week's presidential debate, for example. SNL tackled the topic during its season premiere on Saturday, spoofing the most buzzed about bits from the political event to absolute comedic perfection. Kate McKinnon reprised her role as the White House-hungry Hillary Clinton, while Alec Baldwin took on Donald Trump. And can we just say, he is the best Trump impersonator the show has ever had. Like, Larry David as Bernie Sanders level good. From his froth of yellow hair and sourpuss pout to his exaggerated pronunciation of 'Gyy-nuh' (known to the rest of us as China). Watch the complete skit in the video below:
Follow Marie Claire on Facebook for the latest celeb news, beauty tips, fascinating reads, livestream video, and more.
I am an experienced editor, writer, and creative strategist, specializing in fashion, beauty, and lifestyle content for digital media outlets, as well as video and social platforms. While I currently operate as a freelance contributor/consultant, with such clients as The Zoe Report, my 10+-year background in the industry was cultivated at the dot-coms of elite publications, including Harper's BAZAAR, ELLE, and Marie Claire.