Everything We Know About Sophie Turner and Joe Jonas' Wedding Plans So Far
Nick Jonas says they took a lesson from his own big day.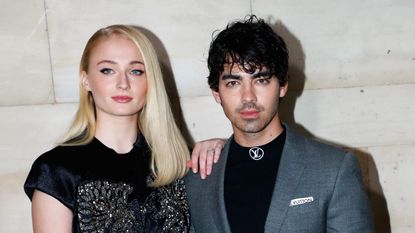 (Image credit: Getty Images)
There's only one Jonas wedding that anybody's been talking about this past year, but now that Priyanka Chopra and Nick Jonas have tied the knot, it's old news. Thank u, next. Now, it's time to turn our attention to JoBro Nuptials No. 2, with Game of Thrones star Sophie Turner and fiancé Joe Jonas still going strong in their engagement.
The couple, who first began dating in November 2016 after meeting through mutual friends, revealed that Jonas had popped the question less than a year later in October 2017. There's been an endless stream of adorable PDA moments since, but the pair haven't revealed even the slightest detail about their wedding plans—until now.
Just hours after the Chopra-Jonas wedding finished up in India, a Turner-Jonas wedding guest accidentally leaked the first real info about plans for their big day, after sharing a glimpse of their Save The Date favor online. Mike Bayer, Sophie's life coach, showed off a calligraphy-adorned wooden box containing some important info, so here's everything we know so far about the wedding.
The couple got married (again) in France, and the pics are stunning.
Update, 7/1: Well, it happened! Joe and Sophie had their second wedding in France, and it was apparently amazing and gorgeous and wonderful in every way. Diplo joked that he had his phone taken away from him so he wouldn't spoil anything, so the best we've gotten so far is a few snaps that are far away and blurry. STILL. We know what Sophie's dress looked like (white, poofy, full skirt, capped sleeves, stunning, surprisingly classic for her in my opinion), and we know Joe and the groomsmen had a big balcony moment at some point during the festivities with his 11 (!!) groomsmen. That big moment also included the couple's dog, Porky Basquiat, who also had his own little tux—sooo cute. Priyanka Chopra, meanwhile, wore a gorgeous petal pink saree (pictures here) designed by Sabyasachi, with a pretty floral drape overtop.
Otherwise, everyone was very quiet about the day and festivities. Maisie Williams posted a pic of her and her boyfriend, Reuben Selby, for the "white party" rehearsal dinner for Sophie and Joe:
Joe and Sophie wore red for the rehearsal dinner, drawing comparisons to the Game of Thrones "red wedding" (I mean, less terrible, obviously—a red wedding in name only). We got a teeny tiny glimpse of Sophie as she got out of the car:
I bet it was ammmaaaazing. It's not too late to post pictures, though, guys! I still want to see 'em!
The whole wedding party had a blast with pre-wedding activities.
Update, 6/29: Priyanka Chopra took to Instagram on Friday to hint that the wedding is happening very, very soon. "It's in the air.. ❤️," she wrote, along with a photo of herself wearing a stunning dress and cuddling in close to her own JoBro, Nick.
Update, 6/27: The adorable couple were spotted in Amsterdam, then Paris—Paris being the (reported) site of their celebratory nuptials. But, thanks to an Instagram comment by Dr. Phil (really, Dr. Phil??), we now know that the big day is the last weekend in June. Guests arrived early in Paris, living it up with boat rides and scenic views of the Eiffel Tower, but some guests, including Sophie BFF and co-maid of honor, Maisie Williams, were still en route.
Priyanka Chopra, Sophie's J-Sister, likely bridesmaid/co-maid of honor, and MVP, has been giving us tantalizing glimpses of what it's like to be partying in France for a week before your BFF gets married in what will likely be an over-the-top shindig. I am, seriously, sooooo jealous.
Meanwhile, Sophie and Joe have been giving fans clues and hints about their big day as well:
Normally, Joe and Sophie are pretty private, but they've been opening up more recently, and they seem to be embracing the positive attention their relationship's been getting. So, I speculate that we'll at least get a couple shots from the big day. Fingers crossed that we get a look at Sophie in her (likely exquisite) wedding dress, and Maisie in a bridesmaid dress being silly. There's a rumor that the Jonas Brothers might take the stage, too, so be sure to keep an eye on their official account just in case they decide to share. I will take anything I can get.
Priyanka Chopra gave us more details on both weddings.
Update, 5/9: In an interview, Priyanka Chopra confirmed that the big blowout bash for Joe and Sophie's nuptials will still be happening this summer as planned, and that it'll be a fun ceremony including football and ruby (ugh, amazing). She also dished about the whirlwind Vegas ceremony in detail:
We were at the Billboards. Joe I think had this idea that he wanted to do this. But we were at the Billboards and he had these little black cards that we all got. We were randomly inviting our friends, like people that we met. We were like, 'alright, we're going to set up this wedding now, we're going to the chapel right from here, and please arrive, please arrive.' We had Diplo, Khalid, they were really sweet, they arrived. Diplo Instagram Live-d the whole thing, it was awesome.
Considering we've gotten reports both that this was totally a surprise AND that Joe and Sophie secretly planned the wedding for a while, this somewhat makes sense. Joe had cards to share the plans with everyone, but it was a surprise to the guests. So spontaneous, I totally dig it.
Priyanka went on, "We were driving around this pink Hummer limo. I was outside the window. It was just epic. I had that long hair extensions that I thought was going to fly out of the window. It was that kind of night—a Jophie kind of night."
Oh yea, Priyanka also shared her nickname for the happy couple (Jophie, lol). Let's all start using that. Jophie for the win!
They are actually, legally married already.
Update, 5/2: Welp, that was unexpected! Turns out, after attending the 2019 Billboard Awards, Joe and Sophie totally got hitched in Las Vegas. And it had everything: an Elvis impersonator. Costume changes. Ringpops as stand-ins for their real rings. An actual marriage certificate—the two are really, truly married, you guys. And it seems like literally the absolute perfect move for the casual, so down-to-earth couple.
Better yet, there's video that proves it:
Looks like Sophie Turner and Joe Jonas are getting married!! pic.twitter.com/zSW17g5cHCMay 2, 2019
See more
I have a million questions. Did they know before the awards? How did she get a white jumpsuit so fast, after that iconic printed awards look? How did they manage to keep it a secret? Turns out Sophie had hinted at something when she told Harper's Bazaar, "We're trying to keep it as low-key as possible so it's more of an intimate thing." So sneaky, you guys.
Now, the immediate question that pops into everybody's brain (especially the people that nabbed an invite to Sophie and Joe's summer wedding) is—wait, will they still have a big, fancy wedding with all the crazy embellishments, just like a Jonas Brothers music video? It's impossible to say for certain, and they haven't commented, but considering that save the dates were sent, I'm saying yes. This was just a fun, spontaneous moment that serves as the legal ceremony, and then they'll do the big bash later. It's a JoBros/J-Sister party!
When will Sophie Turner and Joe Jonas get married?
Well, it looks like a summer wedding is in store for these lovebirds. Appearing on The Late Late Show with James Corden, Joe finally spilled some deets on what's to come for the two, nuptial-wise. "We're getting married this year. We're going to have a summer wedding," Jonas shared. So uh, summer officially starts on June 21, and goes until September 23, 2019. So that gives us a season, at least!
Oh, and they have plans for the event, including games. Who doesn't love games? Especially the ones Jonas and Turner have planned, which sound... rough. "I'm looking forward to it, it's going to be a lot of fun," he shared, "We're going to have a flag rugby game at the wedding, and a flag football game. So if all the groomsmen show up with black eyes and broken arms, I'll be very proud." Those will be wedding pictures to remember.
These are the first details about the nuptials since the leaking of the Save the Dates from Nick and Priyanka's wedding in November.
The now-deleted video (whoops), posted by Bayer and spotted by Us Weekly, clearly shows the words 'Sophie and Joe 2019' engraved elegantly into the wooden lid. It also includes one more important detail alongside the date, which leads us onto…
Where will Sophie Turner and Joe Jonas get married?
Expect romantic scenes, excellent cheese selections, a groom in a beret and maybe even a reception at the Eiffel Tower, if they're feeling really extra. According to the Save The Date invitation, the couple have chosen France for a picturesque, destination wedding.
Fans have guessed that, judging by the size of the wooden box, it may have also contained a bottle of wine which would be perfectly fitting for the French theme.
Who's expected to attend?
Although nothing about the guest list has been officially confirmed yet, it's easy enough to anticipate a few key celebrity names that are sure to make an appearance at the wedding of Sophie and Joe. Of course, each of the Jonas Brothers will be in the groom's party and, after Sophie was so prevalent in Priyanka's bachelorette celebrations, the Quantico actress is guaranteed to feature in the bridal squad.
Then, there's the Game of Thrones cast, who are all known to be close friends even now that filming for the show has wrapped. Sophie attended the wedding of Kit Harrington and Rose Leslie earlier this year so the favor will surely be returned, and it's already rumored that Maisie Williams has made the cut as bridesmaid to her on-screen sister and real life BFF.
What style of wedding will they choose?
Interestingly, the Game of Thrones bride-to-be has made it clear that she and Joe, known for their laid back attitude and fun-loving relationship, won't be throwing a wedding like Priyanka Chopra and Nick Jonas. Rather than following in their OTT, lavish, and luxury footsteps, she and Joe are planning something much more lowkey. While it will almost certainly be star-studded, you can still expect a wedding that's much more down to earth and away from the spotlight.
Speaking to Harper's Bazaar, Sophie revealed: "We're trying to keep it as low-key as possible so it's more of an intimate thing," she said.
What can guests expect?
Well, according to the groom, one big party. Asked in an interview on the Zach Sang Show, Joe admitted that his one requirement for the wedding to the love of his life is... beer. And a lot of it.
"I mean, we are getting married in France, so a lot of Coors Light is necessary," the singer joked (half-joked). "Not hard, really, to get that, but we needed to make sure that was going to happen," Jonas said.
Joe's rather short To Do list is actually the result of a major lesson learned from the wedding of his brother Nick Jonas to Priyanka Chopra. As Nick explained: "We learned a lesson from my wedding. Our friends drink a lot of beer, specifically, and we ran out of beer at the wedding, at my wedding, which was a big issue."
And, according to sensible Kevin, disaster is inevitable if that happens. "It starts to get very dark very fast with hard alcohol instead," he added. "It's just like 'Oh, we're doing this now? Okay.'"
The wedding is also going to reflect Joe and Sophie's quirky personalities.
"Joe and Sophie want to have a huge party," a source told Us Weekly. "The decor is going to be sophisticated, but there'll be some kitschy elements, including a really wild cake. There'll be a live band, and the Jonas Brothers are expected to take the stage."
These Jonas brothers really know how to throw a wedding, huh?
For more stories like this, including celebrity news, beauty and fashion advice, savvy political commentary, and fascinating features, sign up for the Marie Claire newsletter.
RELATED STORY
Celebrity news, beauty, fashion advice, and fascinating features, delivered straight to your inbox!
Lucy Wood spends most of her time writing about celebrity news, reading books, and waiting for the glorious day that she have enough millions for a pet sloth. She also has a YouTube channel on the go where she pretends to know things about fashion and life advice.