Overzealous, Shirtless Fan Pulls Beyonce Off Stage in Sao Paulo
Beyonce's signature stage move comes under serious threat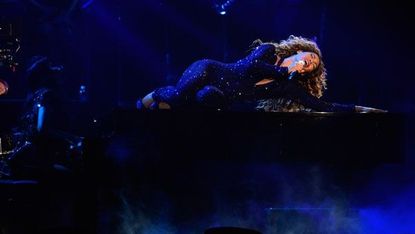 (Image credit: Getty)
Beyonce is no stranger to overly enthusiastic fans so it is no surprise that she handled Sunday night's incident at São Paulo's Estádio do Morumbi like a professional.
While performing her song "Irreplaceable" in a sequined jumpsuit, Bey was in the middle of one of her classic stage moves keeling mere inches from fans, when she was suddenly approached, rather aggressively, by a shirtless man. He grabbed on to the national treasure that is Beyonce with such force that the singer was yanked off stage.
She didn't miss a beat, however, and was quickly helped back onstage by a security guard and continued performing. After finishing the song, she approached the fan and told him, "It's alright, it's alright." After shaking his hand and asking him his name, Beyoncé added, "Nice to meet you. Thank you, I love you, too."