14 Tweets About 'Lemonade' That Will Make You Lol
Jay Z's face = 😐.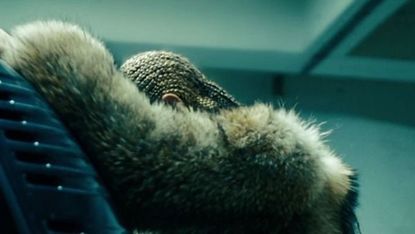 (Image credit: HBO)
Everyone who watched Beyoncé's Lemonade special on HBO (opens in new tab) on Saturday night had pretty much the same reaction: Jay-Z effed up, and Queen Bey served up a pretty raw dish to let him know. And it wasn't long before the Beyhive took to Twitter with some hilarious #realtalk.
Here, our favorite eep-this-is-awkward tweets.
1.
At home watching, Jay Z quietly realizes they won't be going to Red Lobster tonight. #LEMONADEApril 24, 2016
See more
2.
3.
jayz at the #lemonade listening party like pic.twitter.com/5kDR7cMPLeApril 24, 2016
See more
4.
5.
Unless I'm misunderstanding, these lyrics gonna have folks looking at Jay-Z like... #LEMONADE pic.twitter.com/PjwFsZncVLApril 24, 2016
See more
6.
7.
8.
OK but like when is the last time anybody has seen Jay Z aliveApril 24, 2016
See more
9.
Jay-Z, watching #Lemonade or nah? pic.twitter.com/pPw8m6bLhDApril 24, 2016
See more
10.
😂😂😂#Beyonce #JayZ #Lemonade#RP #Repost #Comedy #LOL #LMAO #LMBO #LMFAO #Humor #TooFunny #Funny #Hilarious #Dead #No… pic.twitter.com/sobROaXA5tApril 25, 2016
See more
11.
When it's about you but the music kinda go hard though #Lemonade pic.twitter.com/ChXCh4tpNjApril 24, 2016
See more
12.
13.
Jay-Z watching #LEMONADE like pic.twitter.com/pSTQIRa33kApril 24, 2016
See more
14.
Follow Marie Claire on Instagram (opens in new tab) for the latest celeb news, pretty pics, funny stuff, and an insider POV.
My writing has regularly appeared in The New York Times, The Paris Review, Salon, VICE, Guernica, The New York Observer, BuzzFeed, Cosmopolitan, Seventeen, Esquire, Elle, Harper's Bazaar, and many more publications.

I was previously the Senior News Editor at Best Life Online and the Viral Content Editor in the Newsroom of Hearst Digital Media. My portfolio consists of a vast and diverse body of work that includes personal essays, lifestyle articles, breaking news posts, and viral content. My areas of expertise, however, are Russia, sex and relationships, and mental wellness.